Metadata
Pangasius undescribed species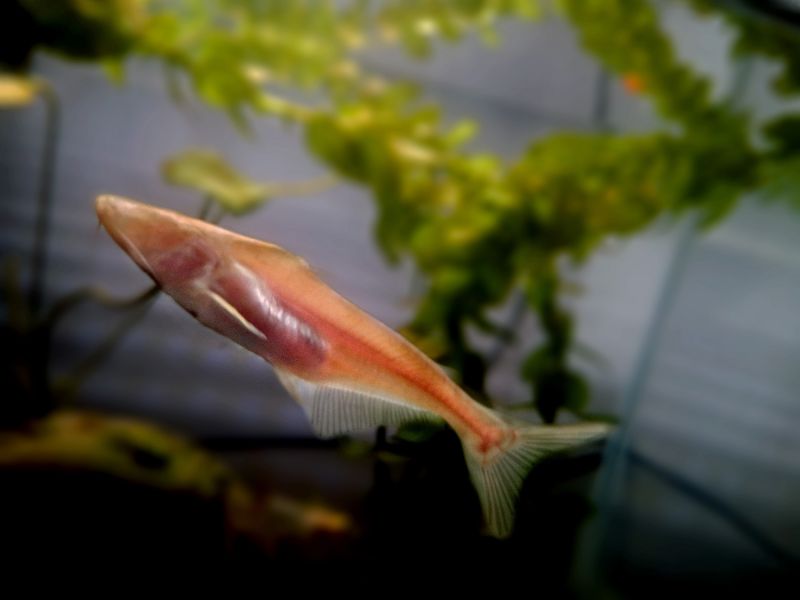 | ORDER | SUB-ORDER | FAMILY |
| --- | --- | --- |
| Siluriformes | Siluroidei | Pangasiidae |
Note
This fish was bought in a pet shop somewhere in Malaysia. Two individuals were kept as pets until both became ill and then died. Neither were preserved. Enquiries with the pet shop made no progress in finding out where the fishes came from originally except that it was somewhere in Malaysia. The fish is clearly very troglomorphic, it is very depigmented (see below) and there is no sign of the eye sockets at all. We are attempting to find out if any more is known and will report if anything is found out. Thanks to Andy Gluesenkamp for this information.
Original photograph by Wee Shu Yuan, used with permission. Image edited and considerably improved by Jerry Woodridge. (Click the image to enlarge and see another image below)
Synonyms
None.
Types
This species is not described and there are no types.
Distribution
Details unknown. The Malay Peninsula has 445 individual limestone hills (Liew et al. 2016), all of which could potentially have caves in them. The hills are in three principle clusters with a number of outliers.
Systematics
It is thought, from the overall body shape and appearance, (see Nelson, Grande and Wilson 2016:219) that this is a member of the Siluriformes and in the Family Pangasiidae, though this remains to be confirmed if other specimens are found (Andy Gluesenkamp and Dante Fenolio personal communication to Graham Proudlove).
Within the Family are four genera and this fish is probably in the genus Pangasius based on having 6 pelvic fins rays ( Rudhy Gustiano pers. comm. March 2021). It is tentatively placed in that genus as an undescribed species. The genus has about 24 described species with only four of them (Pangasius nasutus, Pangasius polyuranodon, Helicophagus waandersii and Pseudolais micronemus) recorded from the Malay Peninsula (Baharuddin 2016, Baharuddin et al. 2014).
Conservation Status
NE
Museum Holdings
None known.
Internet Resources
Limestone hills of the Malaysian peninsula
Paper on GIS of Malaysian peninsula limestone hills
Shape file for limestone hills of the Malaysian peninsula
Key References
| | | | |
| --- | --- | --- | --- |
| Kottelat, M. | Journal Article | 1989 | Zoogeography of the fishes from Indochinese Inland waters with an annotated check-list |
| Roberts, T.R. and Vidthayanon, C. | Journal Article | 1991 | Systematic revision of the Asian Catfish Family Pangasiidae, with biological observations and descriptions of three new species |
| Vidthayanon, C. | Thesis | 1993 | Taxonomic revision of the catfish family Pangasiidae |
| Pouyaud, L., Gustiano, R. and Legendre, M. | Conference Paper | 1998 | Phylogenetic relationships among pangasiid catfish species (Siluriformes, Pangasiidae) and new insights on their zoogeography |
| Pouyaud, L., Teugels, G.G., Gustiano, R. and Legendre, M. | Journal Article | 2000 | Contribution to the phylogeny of pangasiid catfishes based on allozymes and mitochondrial DNA |
| Pouyaud, L., Gustiano, R. and Teugels, G.G. | Journal Article | 2002 | Systematic revision of Pangasius polyuranodon (Siluriformes, Pangasiidae) with description of two new species |
| Hogan, Z.S. and May, B.P. | Journal Article | 2002 | Twenty-seven new microsatellites for the migratory Asian catfish family Pangasiidae |
| Gustiano, R. | Thesis | 2003 | Taxonomy and phylogeny of Pangasiidae catfishes from Asia (Ostariophysi, Siluriformes) |
| Pouyaud, L., Gustiano, R. and Teugels, G.G. | Journal Article | 2004 | Contribution to the phylogeny of the Pangasiidae based on mitochondrial 12S rDNA |
| Bin Hassan, M.Z. | Thesis | 2006 | Morphology and general reproductive stages of Pangasius nasutus from Sg. Pahang in Maran District, Pahang, Malaysia |
| Gustiano, R. and Pouyaud, L. | Journal Article | 2007 | Taxonomy and genetic relationships of Pangasiidae, Asian catfishes, based on morphological and molecular analyses |
| Gustiano, R. and Pouyaud, L. | Journal Article | 2008 | Systematic revision of the genera of Pangasiidae (Siluriformes, Ostariophysi) |
| Chong, V.C., PLee, P.K.Y. and Lau, C.M. | Journal Article | 2010 | Diversity, extinction risk and conservation of Malaysian fishes |
| Kottelat, M. | Book | 2013 | The Fishes of the Inland Waters of Southeast Asia: A catalogue and core bibliography of the fishes known to occur in freshwaters, mangroves and estuaries |
| Baharuddin, H., Rizman-idid, M., Muniandy, S.and Zakaria-Ismail, M. | Journal Article | 2014 | The occurrence of Pangasius polyuranodon Bleeker, 1852 (Teleostei: Pangasiidae) in Peninsular Malaysia with remarks on the comparative morphology with Pseudolais micronemus (Bleeker, 1847) |
| Baharuddin, H. | Thesis | 2016 | Morphometric, phylogenetic analyses and DNA barcoding of Pangasiid catfishes (Teleostei:Pangasiidae) in Peninsular Malaysia |
| Liew, T.-S., Price, L. and Clements, G.R. | Journal Article | 2016 | Using Google Earth to improve the management of threatened limestone karst ecosystems in Peninsular Malaysia |