A series of short passages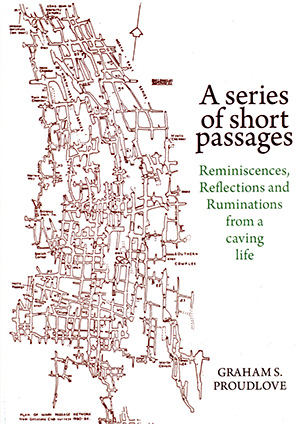 A series of short passages. Reminiscences, reflections and ruminations from a caving life
The book is 210 pages, 50 chapters plus notes etc., with many fine photographs and other illustrations (thanks to numerous kind people for providing these).
It is available in hardback (100 copies available) at £20, and in paperback (500 copies available) at £10. To order a copy, or copies, of the book follow the guide below:
1. Go to cavefishes.org.uk.
2. Find the Menu, top right, and drop to the bottom entry "A series of short passages".
3. Choose the type of cover you want and Add to Cart.
4. Once in Cart choose the number of copies you want and then checkout.
5. You can pay either from a PayPal account, if you have one, or pay by card if you don't.
6. If you pay by card choose "Send to billing address" and I will be sent your postal address to post the book to.
7. Email me at g.proudlove@manchester.ac.uk if you have any questions or issues.
8. If you have no email, or prefer not to use it, phone me on 07806 433484.
9. If you are a caving shop and want a number of copies contact me via 7 or 8 and we can discuss your requirements.
10. The book will also be available from shops and other outlets in due course.
19th April 2021
Buy your copy here