Metadata
Triplophysa gejiuensis
(Chu and Chen 1979) Chen, Yang and Xu 1992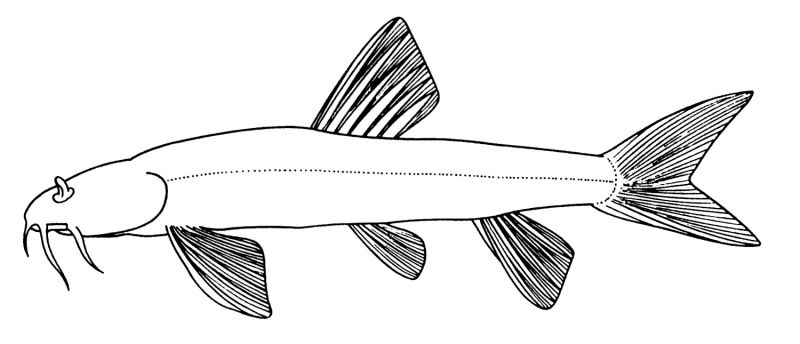 | ORDER | SUB-ORDER | FAMILY |
| --- | --- | --- |
| Cypriniformes | Cobitoidei | Nemacheilidae |
Synonyms
Noemacheilus gejiuensis Chu and Chen 1979
Types
Holotype: KIZ 7803001 49mm "body length". Paratypes: KIZ 7803002‑7803008 42mm‑ 52mm "body length".
Distribution
Known only from the type locality, a cave entered from a mine (no natural entrance known) at Bajianjing, 4 km from Qiafang and 22 km south of Gejiu, in the mountains of Yunnan, subordinate to the Qiafang Peoples Commune, Yunnan, China (23o20'N, 103o10'E).
Habitat
Nothing known. The fishes were collected in a series of passages breeched by a mine tunnel. A stream flows from one phreatic region to another across the tunnel and it was in this that the fishes were collected.
Systematics
Nalbant and Linares (1987) placed this species in the genus Triplophysa but without giving their reasons. Chen, Yang and Xu (1992) re-examined the type specimens of this species and of Noemacheilus xiangxiensis. They concluded that both were members of the genus Triplophysa because of an absence of a procesus dentiformis on the upper jaw and the presence, in males, of a raised tuberculate area below the nares and thickened tuberculate pads on the back of the pectoral fin rays. A good comparison of subterranean Triplophysa species is provided by Wu et al. (2018).
Conservation Status
(Kottelat, M. 1996. Triplophysa gejiuensis. The IUCN Red List of Threatened Species 1996: http://dx.doi.org/10.2305/IUCN.UK.1996.RLTS.T22201A9364327.en. Downloaded on 05 July 2017). R (IUCN 1990, 1993). Yue and Chen (1998:199-200) record that the water in the stream occupied by this species is being abstracted for industrial and domestic use. They comment "... they are now almost extinct and up to now they have not been discovered in any other karst caves." It seems likely that a higher level of threat status is appropriate for this species.
Museum Holdings
One specimen in addition to type series (42mm "body length"), same location. Dissected and found to be a gravid female.
Key References
Need to add Li et al. 2017, not yet in biblio.
| | | | |
| --- | --- | --- | --- |
| Chu, S. and Chen, Y. | Journal Article | 1979 | A new blind cobitid fish (Pisces, Cypriniformes) from subterranean waters un Yunnan, China |
| Nalbant, T. T. and Linares, O. | Book Section | 1987 | A study of a subterranean population of Trichomycterus guianense (Eigenmann, 1909) from Venezuela (Pisces, Siluriformes, Trichomycteridae) |
| Zhu, S. Q. | Book | 1989 | The loaches of the subfamily Nemacheilinae in China (Cypriniformes, Cobitidae) |
| Yang, J. X. | Book Section | 1990 | Nemacheilinae (Cypriniformes: Cobitidae) |
| Chen, Y.R., Yang, J.X. and Xu, G.C. | Journal Article | 1992 | A new blind loach of Triplophysa from Yunnan Stone Forest with comments on its phylogenetic relationship |
| Yang, J. X. and Chen, Y. R. | Journal Article | 1993 | The cavefishes from Jiuxiang Limestone Cave of Yunnan, China with reference to character evolutions |
| Zhou, W. and Cui, G. H. | Journal Article | 1993 | Status of the scaleless species of Schistura in China, with description of a new species (Teleostei, Balitoridae) |
| Yue, P. and Chen, Y. | Book | 1998 | China Red Data Book of Endangered Animals. Pisces |
| Kottelat, M. | Journal Article | 2012 | Conspectus cobitidum: An inventory of the loaches of the world (Teleostei: Cypriniformes: Cobitoidei) |
| Zhang, C.G. and Zhou, Y.H. | Book | 2016 | Species diversity and distribution of inland fishes in China |
| Zhang, Y., Wang, Z., Zhang, Z., Wu, M.. Chen, J. and Zhao, Y. | Journal Article | 2018 | The complete mitochondrial genome of Triplophysa brevibarba with phylogenetic consideration |
| Wu, W.J., He, A.Y., Yang, J.X. and Du, L.N. | Journal Article | 2018 | Description of a new species of Triplophysa (Teleostei: Nemacheilidae) from Guizhou Province, China |
| Yang, X., Liu, H., Ma, Z., Zou, Y., Zou, M., Mao, Y., Li, X., Wang, H., Chen, T.,Wang, W. and Yang, R. | Journal Article | 2019 | Chromosome‐level genome assembly of Triplophysa tibetana, a fish adapted to the harsh high‐altitude environment of the Tibetan Plateau |
| He, Y. and He, D.K. | Journal Article | 2023 | X-ray microtomography study of cranium, pectoral fin and girdle, and Weberian Apparatus development in juvenile Triplophysa stewarti (Nemacheilidae) |