Metadata
Speolabeo hokhanhi
Tan, Cao, Deng and Zhang 2018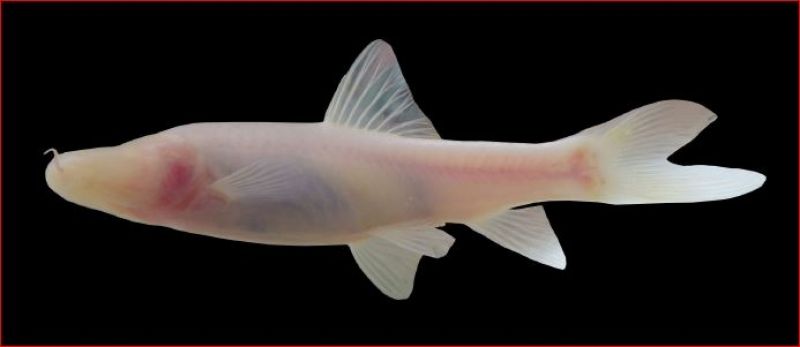 | ORDER | SUB-ORDER | FAMILY |
| --- | --- | --- |
| Cypriniformes | Cyprinoidei | Cyprinidae |
Synonyms
None.
Types
Holotype: IHB 2016092883 74.6 mm SL. Paratypes: IEBR 2884–5 50.7 and 54.4 mm SL, IHB 2016092886–8 3 specimens 61.8–69.0 mm.
SL
Distribution
Known only from the type locality: Hang Va Cave, Phong Nha-Ke Bang National Park (Son River basin) at Tan Trach Commune, Bo Trach District, Quang Binh Province, Central Vietnam. (17o29'29''N, 106o17'06''E).
Habitat
Collected from a small vadose pool with a muddy substrate. Up to 30 individuals observed. The troglobitic shrimp Macrobrachium phongnhaense (Decapoda: Palaemonidae) is found in the same cave and is probably part of the food supply for the fishes (Do and Nguyen 2014).
Systematics
Speolabeo is currently placed in the tribe Labeonini in the subfamilly Labeoninae (Tan and Armbruster 2018) but it is by no means certain that this will remain the case. A morphological analysis by Tao et al. (2018) suggests that the, currently, congeneric Speolabeo musaei may be more closely related to species in the genera Bangana and Altigena (also within the Labeonini) than it is to S. hokhanhi. There is a sugestion that the tribal placement may be wrong and that molecular evidence would be valuable in this regard.
Conservation Status
MuG TLO [NE]
Museum Holdings
As above only
Key References
| | | | |
| --- | --- | --- | --- |
| Kottelat, M. and Steiner, H. | Journal Article | 2010 | Bangana musaei, a new cave fish from central Laos |
| Do, V.T. and Nguyen, T.C. | Journal Article | 2014 | A new species of troglobitic freshwater prawn of the genus Macrobrachium Bate, 1868 (Crustacea: Decapoda: Palaemonidae) from Phong Nha—Ke Bang National Park, Quang Binh province |
| Kottelat, M. | Journal Article | 2017 | Speolabeo, a new genus name for the cave fish Bangana musaei (Teleostei: Cyprinidae) |
| Tao, N.D., Cao, L., Deng, S. and Zhang, E. | Journal Article | 2018 | Speolabeo hokhanhi, a new cavefish from Central Vietnam (Teleostei: Cyprinidae) |