Metadata
Homatula dotui
Nguyen, Wu, Cao and Zhang 2021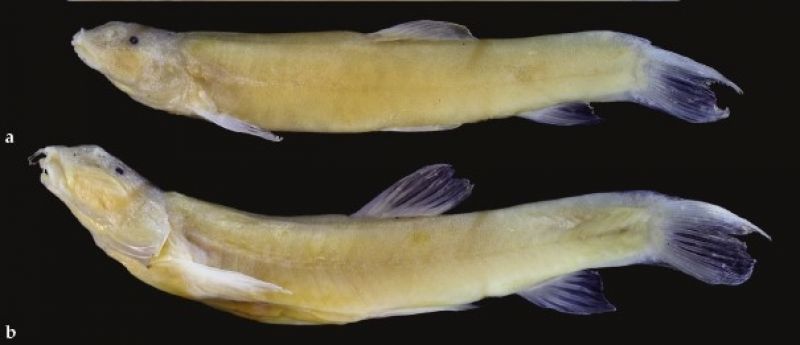 | ORDER | SUB-ORDER | FAMILY |
| --- | --- | --- |
| Cypriniformes | Cobitoidei | Nemacheilidae |
Synonyms
None.
Types
Holotype: IHB 201300440, 60.0 mm SL.
Paratype: IEBR 00439, 1, 66.0 mm SL.
Distribution
Known only from the type locality: Hang 21 Cave, 36 km from tourist center of Phong Nha Ke Bang, emptying into the Gianh River, Quang Binh Province, Vietnam (106°12'46" E 17°24'53").
Systematics
Nguyen et al. (2021) report cyt b data which suggests that Homatula dotui is sister to a group of Homatula species including: H. wuliangensis, H. anguillioides, H.acuticephalus, H. pycnolepis, H. potanini, H. variegata, and H. longidorsalis. However, further genetic data presented by Li et al. (2022) confound this initial suggestion and it seems very likely, on both genetic and distributional grounds, that the species dotui is not a member of the genus Homatula and requires a genus of its own.


Conservation Status
TLO [NE]
Key References
| | | | |
| --- | --- | --- | --- |
| Nguyen, D.T., Wu, H., Cao, L. and Zhang, E | Journal Article | 2021 | Homatula dotui, a new cave loach from Central Vietnam |
| Li, X., Yang, B., Guo, Y. and Zhou, W. | Journal Article | 2022 | Three new species of Homatula (Teleostei: Nemacheilidae) from Yunnan, China, with comments on habitat conservation |