Metadata
Typhlobarbus nudiventris
Chu and Chen 1982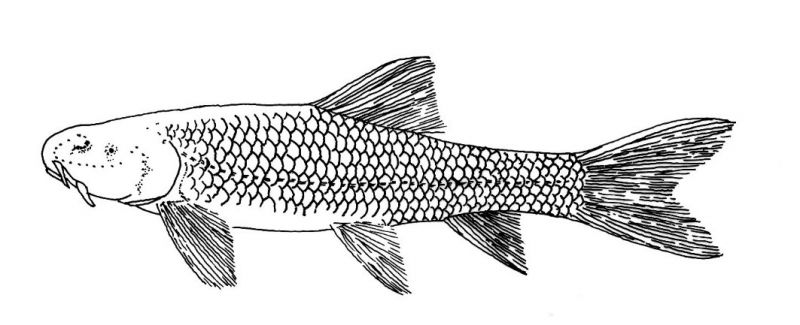 | ORDER | SUB-ORDER | FAMILY |
| --- | --- | --- |
| Cypriniformes | Cyprinoidei | Cyprinidae |
Synonyms
None.
Types
Holotype: KIZ 811101 46mm SL. Paratypes: KIZ 811102 37mm SL, KIZ 764001 34mm SL. The species is known only from these three specimens and is the type species by original designation and monotypy of the cave restricted genus Typhlobarbus.
Distribution
Known only from the type locality: Yangjieba, Jianshui County, southern Yunnan Province, China (c. 23o39'N, 102o46'E).
Habitat
The only information available is that the collection site is 100m deep and situated at an altitude of 1450m.
Systematics
Chu and Chen (1982) considered the species to be a member of the subfamily Barbinae but were unable to determine relationships below this level. Howes (1991) barbin lineage is placed in the subfamily Cyprininae so it seems that the systematic position of this species may need reassessment. In a thorough phylogenetic classification of the Cypriniformes Tan and Armbruster (2018) placed Typhlobarbus as incertae sedis within Cyprinidae as they were unable to determine the subfamily into which to place it.
Conservation Status
MG TLO [VU D2:2.3:1996]
R (IUCN, 1990), R (IUCN, 1993), VU D2 (IUCN, 1996, 2000). Yue and Chen (1998:110-112) observe that population size is of small but unknown magnitude and that very few animals are caught. This species is listed as a second class protected animal of Yunnan Province in 1989.
Museum Holdings
As above only.
Key References
| | | | |
| --- | --- | --- | --- |
| Chu, X. and Chen, Y. | Journal Article | 1982 | A new genus and species of blind cyprinid fish from China with special reference to its relationships, Typhlobarbus nudiventris |
| Yue, P. and Chen, Y. | Book | 1998 | China Red Data Book of Endangered Animals. Pisces |