Metadata
Ituglanis epikarsticus
Bichuette and Trajano 2004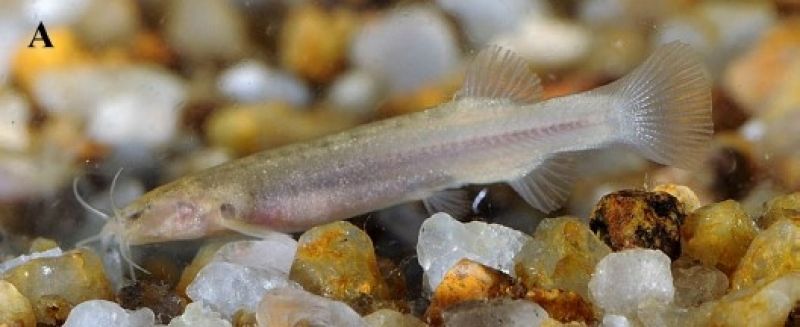 | ORDER | SUB-ORDER | FAMILY |
| --- | --- | --- |
| Siluriformes | Loricarioidei | Trichomycteridae |
Synonyms
None.
Types
Holotype: MZUSP 79869 26.0mm SL.
Paratypes: MZUSP 79870 34.0mm SL, MZUSP 79871 29.2mm - 30.6mm SL, MZUSP 79872 29.9mm SL. Type catalog: Ferraris 2007:407.
Distribution
Rimstone dams in São Mateus Cave, Terra Ronca State Park, São Domingos, Goiás State, Brazil. 13°40'S, 46°22'W.
Habitat
Inhabits pools above river level fed by percolation water from the epikarst (Pipan 2005).
Conservation Status
TLO [NE] [VU D2:3.1:2011]
"Ituglanis epikarsticus occurs in a single cave, São Mateus Cave (13o40'S, 46o22' W) of the São Mateus-Imbira System, Paranã River basin, Alto Tocantins, municipality of São Domingos, Goiás. It occurs in a very specific environment: an upper aquifer formed by infiltration water into the rock, which emerges through a "shower" on the roof of the cave, supplying several areas of travertine. The area of ​​the upper aquifer is estimated at about 1km2. This area is inside the Terra Ronca State Park. Although the main environment of the species is apparently protected, the upper aquifer has reduced flow in the 2011 dry season, a fact never seen in the last 30 years, which represents a potential threat. Therefore, Ituglanis epikarsticus was categorized as Vulnerable (VU) under criterion D2. It is urgent to monitor the water level of this water table, in addition to the detailed mapping of the cave in search of other places of occurrence of the species" [Google Translate].
Key References
| | | | |
| --- | --- | --- | --- |
| Bichuette, M.E., Garz, M.A. and Moller, D. | Journal Article | 2001 | Preliminary studies on cave-dwelling catfishes, Ituglanis sp., from Goias, Brazil |
| Fernandez, L. and Bichuette, M.E. | Journal Article | 2002 | A new cave dwelling species of Ituglanis from the Sao Domingos karst, central Brazil (Siluriformes: Trichomycteridae) |
| Bichuette, M.E. | Journal Article | 2002 | Behaviour of subterranean catfishes, genus Ituglanis, from central Brazil (Siluriformes: Trichomycteridae) |
| Bichuette, M.E. | Thesis | 2003 | Distribuicao, biologia, ecologia populacional e comportamento de peixes subterraneos, generos Ituglanis (Siluriformes: Trichomycteridae) e Eigenmannia (Gymnotiformes: Sternopygidae) da area carstica de Sao Domingos, nordeste de Goias |
| Bichuette, M.E. | Journal Article | 2004 | Population ecology of troglobitic catfishes, genus Ituglanis, from central Brazil (Siluriformes: Trichomycteridae) |
| Bichuette, M.E. and Trajano, E. | Journal Article | 2004 | Three new subterranean species of Ituglanis from central Brazil (Siluriformes: Trichomycteridae) |
| Pipan, T. | Book | 2005 | Epikarst - A promising habitat |
| Bichuette, M.E. and Trajano, E. | Journal Article | 2008 | Ituglanis mambai, a new subterranean catfish from a karst area of Central Brazil, rio Tocantins basin (Siluriformes: Trichomycteridae) |
| Simões, L.B., dos Santos Ferreira, T.C. and Bichuette, M.E. | Journal Article | 2013 | Aquatic biota of different karst habitats in epigean and subterranean systems of Central Brazil – visibility versus relevance of taxa |
| Culver, D.C. and Pipan, T | Book | 2014 | Shallow subterranean habitats: Ecology, evolution and conservation |
| Rizzato, P.P. and Bichuette, M.E. | Journal Article | 2014 | Ituglanis boticario, a new troglomorphic catfish (Teleostei: Siluriformes: Trichomycteridae) from Mambai karst area, central Brazil |
| Datovo, A., Aquino P. de P.U. and Langeani, F. | Journal Article | 2016 | A new species of Ituglanis (Siluriformes: Trichomycteridae) from the Tocantins and Paranaíba river basins, central Brazil, with remarks on the systematics of the genus |
| Rizzato, P.P. and Bichuette, M.E. | Journal Article | 2017 | The laterosensory canal system in epigean and subterranean Ituglanis (Siluriformes: Trichomycteridae), with comments about troglomorphism and the phylogeny of the genus |
| Ochoa, L.E., Roxo, F.F., DoNascimiento, C., Sabaj, M.H., Datovo, A., Alfaro, M. and Oliveira, C. | Journal Article | 2017 | Multilocus analysis of the catfish family Trichomycteridae (Teleostei: Ostariophysi: Siluriformes) supporting a monophyletic Trichomycterinae |
| Katz, A.M., Barbosa, M.A., de Oliveira Mattos, J.L. and Moreira da Costa, W.J.E.M. | Journal Article | 2018 | Multigene analysis of the catfish genus Trichomycterus and description of a new South American trichomycterine genus (Siluriformes, Trichomycteridae) |
| Bichuette, M.E., Simões, L.B., Zepon, T., von Schimonsky, D.M. and Gallão, J.E. | Journal Article | 2019 | Richness and taxonomic distinctness of cave invertebrates from the northeastern state of Goiás, central Brazil: a vulnerable and singular area |
| Bichuette, M.E. and Trajano, E. | Journal Article | 2021 | Monitoring Brazilian cavefish: Ecology and conservation of four threatened catfish of genus Ituglanis (Siluriformes: Trichomycteridae) from central Brazil |