Metadata
Caecieleotris morrisi
Walsh and Chakrabarty 2016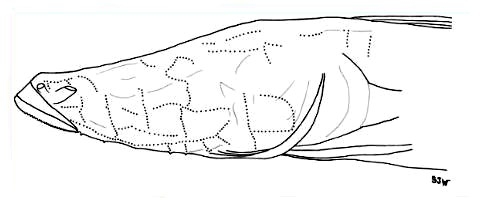 | ORDER | SUB-ORDER | FAMILY |
| --- | --- | --- |
| Gobiiformes | Gobioidei | Eleotridae |
Synonyms
None.
Types
Holotype: CNPE-IBUNAM 19073 (ex. UF 101173) 34.1mm SL. Paratypes: LSUMZ 17726 (ex. UF 101173) 28.0mm SL, UF 101173 (9 specimens) 11.6mm - 31.6mm SL, UMMZ 231174 19.3mm SL and 29.9mm SL.
Genus Zoobank registered.
Species Zoobank registered.
Distribution
Known only from the type locality: an unexplored phreatic cave below Presa Miguel Alemán reservoir, Oaxaca, Mexico. (18°11'22.58"N, 96°36'56.02"W).
Habitat
No details are known of the true habitat.
Conservation Status
TLO [NE]
Museum Holdings
As above only.
Key References
| | | | |
| --- | --- | --- | --- |
| Walsh, S.J. and Chakrabarty, P. | Journal Article | 2016 | A new genus and species of blind sleeper (Teleostei: Eleotridae) from Oaxaca, Mexico: First obligate cave Gobiiform in the western hemisphere |