Metadata
Schistura papulifera
Kottelat, Harries and Proudlove 2007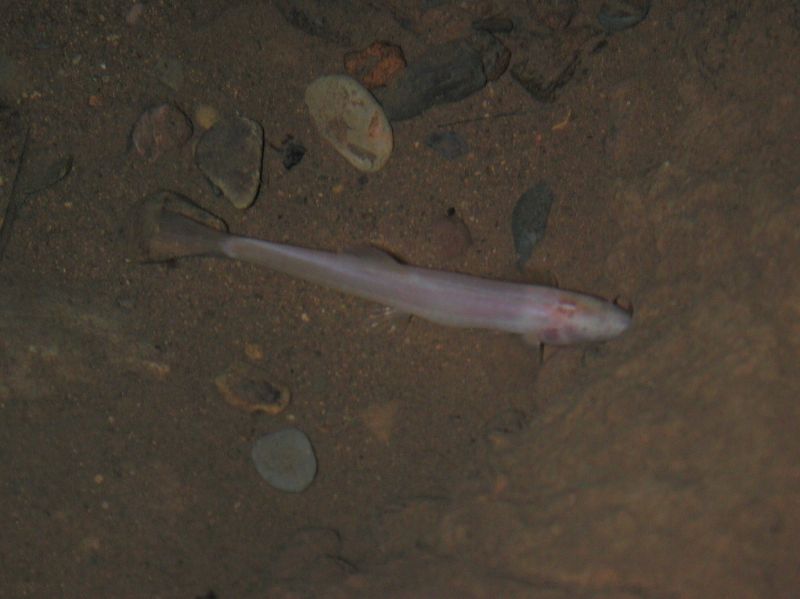 | ORDER | SUB-ORDER | FAMILY |
| --- | --- | --- |
| Cypriniformes | Cobitoidei | Nemacheilidae |
Synonyms
None.
Types
Holotype: MHNG 2680.074, Paratype: CMK 16040 (1).
Distribution
Known for certain only from the type locality: Synrang Pamiang cave system, Jaintia Hills, Krem Umsngat entrance, 25°11'14"N, 92°21'03"E, Meghalaya State, India.
Conservation Status
[CR B1ab(iii)+2ab(iii):3.1:2010]
(Vishwanath, W. 2010. Schistura papulifera. The IUCN Red List of Threatened Species 2010:http://dx.doi.org/10.2305/IUCN.UK.2010-4.RLTS.T168546A6511934.en. Downloaded on 14 July 2017). Schistura papulifera is currently known with certainty only from the Krem Synrang Pamiang cave system of less than 15 km², in the Jaintia Hills, eastern Meghalaya The species is considered to be Critically Endangered as it is known from a single location with highly restricted extent of occurrence and area of occupancy with threats from mining and quarrying resulting in habitat loss and decline in habitat quality.
Choudhury et al. (2017) record that the environmental conditions around the type locality are deterierating significantly and therefore the above category and criteria are clearly justified.
Museum Holdings
Khynriam and Sen (2014:20) report that a specimen of this species is in the collection of ZSI Shillong (V/F/ERS/ZSI/3032). However, this specimen was examined by Choudhury et al. (2017) who found that it is not S. papulifera but an undescribed species of Schistura which may, or may not, be a subterranean fish.
Key References
| | | | |
| --- | --- | --- | --- |
| Kottelat, M., Harries, D.R. and Proudlove, G.S. | Journal Article | 2007 | Schistura papulifera, a new species of cave loach from Meghalaya, India (Teleostei: Balitoridae) |
| Harries, D.B., Ware, F.J., Fischer, C.W., Biswas, J. and Kharpran-Daly, B.D. | Journal Article | 2008 | A review of the biospeleology of Meghalaya, India |
| Biswas, J. | Journal Article | 2009 | The biodiversity of Krem Mawkhyrdop of Megalhaya, India, on the verge of extinction |
| Ramanujam, S.N., Manorama, M. and Dey, S. | Journal Article | 2010 | Ichthyodiversity of Meghalaya, India |
| Gebauer, H.D. | Book | 2011 | Resources on the speleology of Meghalaya state, India, Part 3: West Khasi Hills |
| Tringham, M. | Book Section | 2012 | The geology of the Kopili area in relation to its caves |
| Kottelat, M. | Journal Article | 2012 | Conspectus cobitidum: An inventory of the loaches of the world (Teleostei: Cypriniformes: Cobitoidei) |
| Khynriam, D and Sen, N | Journal Article | 2014 | Taxonomic Study on Nemacheiline Loaches of North East India |
| Gebauer, H.D. | Book | 2015 | Resources on the speleology of Meghalaya State, India, Part 6: Lumshnong (East Jaintia Hills) |
| Choudhury, H., Mukhim, D.K.B., Basumatary, S., Warbah, D.P. and Sarma, D. | Journal Article | 2017 | Schistura larketensis, a new cavernicolous fish (Teleostei: Nemacheilidae) from Meghalaya, Northeast India |
| Absar, P.F., Mitra, S. and Kharkongor, I.J. | Journal Article | 2017 | Teretamon spelaeum, a new species of freshwater crab (Crustacea: Decapoda: Potamidae) from a limestone cave in Meghalaya, India |
| Saikia, U., Thabah, A., Chachula, O.M. and Ruedi, M. | Book Section | 2018 | The bat fauna of Meghalaya, northeast India: Diversity and conservation |
| Hajong, P., Wanlambok Sanglyne, M., Dirborne, C.M., Koch, U. and Ramanujam, P. | Journal Article | 2021 | Diversity and distribution of algae in cave ecosystems of Meghalaya: An overview |
| Kosygin, L., Laskar, B.A. and Khynriam, D. | Journal Article | 2023 | Cavefishes of Meghalaya |
| Marak, W.K. and Singh, Y.L. | Journal Article | 2023 | Osteology of incomplete lateral lined schisturid loaches of Meghalaya: a comparative account |