Metadata
Draconectes narinosus
Kottelat 2012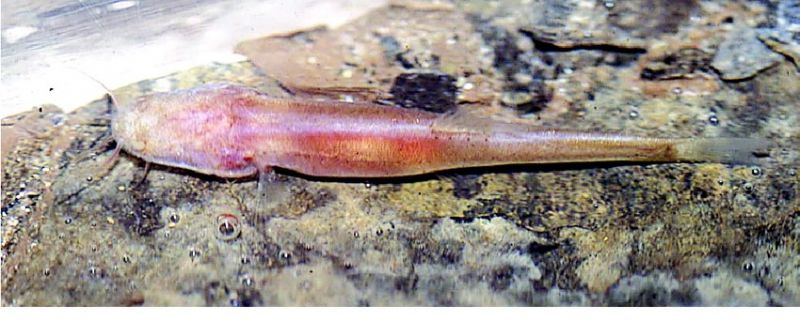 | ORDER | SUB-ORDER | FAMILY |
| --- | --- | --- |
| Cypriniformes | Cobitoidei | Nemacheilidae |
Synonyms
None.
Types
Holotype: MHNG 2730.080 24.7mm SL. Paratype: OBBFUL uncat. 20.8mm SL.
Distribution
Known only from the type locality: Phreatic lake in Dông Duc Tiên, Dáo Van Giô Island, Ha Long Bay, Quang Ninh Province, Vietnam. 20°50.34"N, 107°16.77'E.
Systematics
Draconectes is a monotypic and hypogean-restricted genus.
Conservation Status
MG TLO [NE]
Museum Holdings
As above only.
Key References
| | | | |
| --- | --- | --- | --- |
| Waltham, A.C. | Journal Article | 2000 | Karst and caves of Ha Long Bay |
| Kottelat, M. | Journal Article | 2012 | Draconectes narinosus, a new genus and species of cave fish from an island of Halong Bay, Vietnam (Teleostei: Nemacheilidae). |
| Kottelat, M. | Journal Article | 2012 | Conspectus cobitidum: An inventory of the loaches of the world (Teleostei: Cypriniformes: Cobitoidei) |
| Kottelat, M. | Journal Article | 2012 | Corrigendum: Draconectes narinosus, a new genus and species of cave fish from an island of Halong Bay, Vietnam (Teleostei: Nemacheilidae) |