Metadata
Ancistrus galani
Perez and Viloria 1994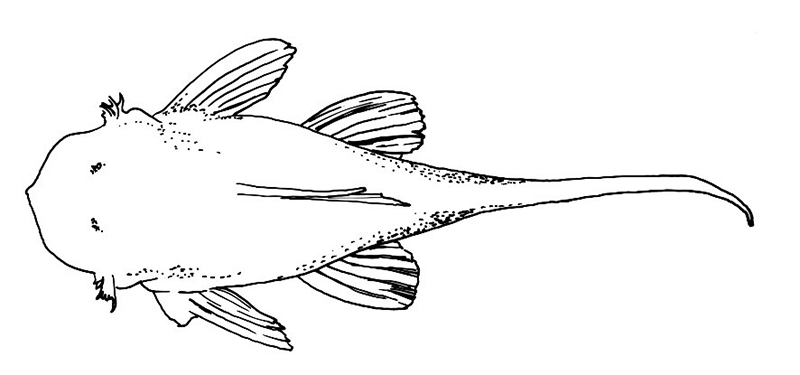 | ORDER | SUB-ORDER | FAMILY |
| --- | --- | --- |
| Siluriformes | Loricarioidei | Loricariidae |
Synonyms
None.
Country
Venezuela
Types
Holotype: MBLUZ-04351, 37.3mm SL. Paratype: MCP-15634 55.8mm SL. (Details from Table 1 in Perez and Viloria (1994), the SL of the paratype is given elsewhere as 52.82mm).
Distribution
Known only from the type locality: Cueva de Los Laureles (=Zu 31), Rio Socuy, Sierra de Perija, Zulia State, Venezuela (10o24'04"N, 72o27'42"W). The stygobitic trichomycterid Trichomycterus spelaeus inhabits a nearby system (DoNascimiento, Villarreal and Provenzano 2001)
Habitat
The cave contains a population of Oilbirds which may provide a source of food. It is also inhabited by species of freshwater crabs in the genus Chaceus (Pseudothelphusidae) including Chaceus caecus which is stygomorphic and stygobitic. See Rodriguez and Bosque (1990) for further habitat details.
Systematics
The most closely related species is Ancistrus bevifilis bodenhameri which lives in both epigean and hypogean habitats. There is a stygophilic population of this species on Cueva de Los Laureles. It is thought that A. galani evolved during the Pleistocene and that the current sympatry is due to the much more recent colonisation of the hypogean domain by Ancistrus bevifilis bodenhameri.
Conservation Status
TLO [NE]
Museum Holdings
As above only.
Key References
| | | | |
| --- | --- | --- | --- |
| Rodriguez, G and Bosque, C | Journal Article | 1990 | A stygobiont crab Chaceus caecus n. sp. and its related stygophile spcies Chaceus motiloni Rodriguez, 1980 (Crustacea, Decapoda, Pseudothelphusidae) from a cave in the Cordillera de Perija, Venexuela |
| Viloria, A., Herrera, F. and Galan, C. | Journal Article | 1992 | Resultados preliminares del estudio del material biologico colectado en Mesa Turik y Cuenca del Rio Socuy |
| Perez, A. and Viloria, A. | Journal Article | 1994 | Ancistrus galani n. sp. (Siluriforme: Loricariidae), with comments on biospeological explorations in western Venezuela |
| DoNascimiento, C, Villarreal, O and Provenzano, F | Journal Article | 2001 | Descripcion de una nueve especie de bagre anoftalmo del genero Trichomycterus (Siluriformes, Trichomycteridae), de una vueva de la Sierra de Perija, Venezuela |
Internet Resourses