Metadata
Chaetostoma undescribed species
[Lujan 2017 pers. comm.]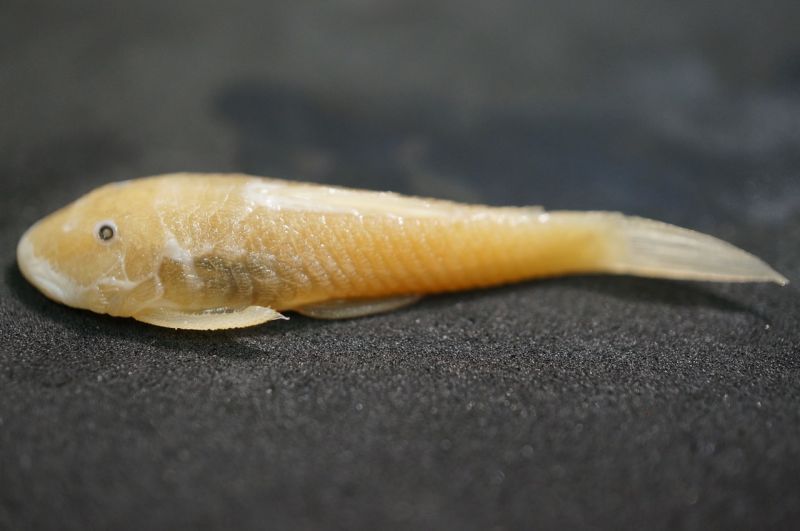 | ORDER | SUB-ORDER | FAMILY |
| --- | --- | --- |
| Siluriformes | Loricarioidei | Loricariidae |
Synonyms
None.
Types
This species is currently undescribed and there are no types. It will be studied by Nathan Lujan of the Center for Systematic Biology and Evolution, Academy of Natural Sciences, Drexel University, Philadelphia.
Distribution
Currently thought to be known only from Jumandi Cave Archidona, near Tena, Ecuador (0o30'S, 78o00'W), where it coexists with Astroblepus pholeter. This distribution requires confirmation.
Habitat
Jumandi Cave consists of a vadose stream passage 800m in length with a further 400m of side passages. The stream rises from a sump, flows through the cave, falls over a waterfall 0.8m high, and resurges from the cave mouth. Water temperature is 15o‑20oC, pH neutral, and water medium hard. The other aquatic species to be commonly seen are a characin fish Creagrutus muleri, a prawn Machrobrachium brasiliense, and nymphs of a mayfly Euthyplocia. The last of these provide the bulk of the diet of A. pholeter (Brown 1981; Hanson 1981; Brown and Hanson 1981). Sket (1985) records the amphipod Bogidiella gammariformis.
Systematics
There is currently no data on any aspect of the systematics of this species.
Conservation Status
TLO [NE]
Museum Holdings
None known.
Internet Resources
Web page for the Family Loricariidae
Key References
| | | | |
| --- | --- | --- | --- |
| Sket, B. | Journal Article | 1979 | [Fauna in the Caverna de Jumandi] |
| Brown, P. and Hanson, P.D. | Journal Article | 1981 | The Jumandi Cave of Ecuador |
| Brown, P | Report | 1981 | Southampton University expedition to Ecuador 1979 |
| Hanson, P. D. | Book Section | 1981 | The aquatic fauna |
| Peck, S. B. | Journal Article | 1985 | The invertebate fauna of the tropical American caves. Part 6:Jumandi Cave, Ecuador |
| Sket, B. | Journal Article | 1985 | Bogidiella (s.l.) gammariformis sp. n. (Amphipoda) from Ecuador |
| Romero, A. and Paulson, K.M. | Journal Article | 2001 | Humbodt's alleged subterranean fish from Ecuador |
| Armbruster, J.W. | Journal Article | 2004 | Phylogenetic relationships of the suckermouth armoured catfishes (Loricariidae) with emphasis on the Hypostominae and the Ancistrinae |
| Lujan, N.K. and Armbruster, J.W. | Journal Article | 2012 | Morphological and functional diversity of the mandible in suckermouth armored catfishes (Siluriformes: Loricariidae) |
| Bauz, R., Andrea, C., Mena, A. and Estefania, A. | Thesis | 2015 | Revista sobre la biodiversidad y el ecoturismo de las Cavernas de Jumandy, en el cantón Archidona en la Provincia de Napo-Tena |
| Lujan, N.K., Meza-Vargas, V., Astudillo-Clavijo, V., Barriga-Salazar, R. and Lopez-Fernandez, H. | Book | 2015 | A multilocus molecular phylogeny for Chaetostoma clade genera and species with a review of Chaetostoma (Siluriformes: Loricariidae) from the central Andes |
| Hoese, G., Addison, A., Toulkeridis, T. and Toomey, R. | Journal Article | 2015 | Observation of the catfish Chaetostoma microps climbing in a cave in Tena, Ecuador |
| Sánchez, J., Zurita, M., Schwarz, A., Cárdenas, V.,Bonilla, J., Quilumba, D., ... and Monar, M. | Book | 2017 | Guía espeleológica de la Provincia de Napo. |
| Jiménez, A., Ampuero, A., Valencia, B.G., Mayta, V.C., Cruz, F.W., Vuille, M., Novello, V.F., Misailidis Stríkis, N., Aranda, N., Conicelli, B., | Journal Article | 2022 | Stable isotope variability of precipitation and cave drip-water at Jumandy cave, western Amazon River basin (Ecuador) |