Metadata
Schistura oedipus
(Kottelat, 1988) Kottelat 1990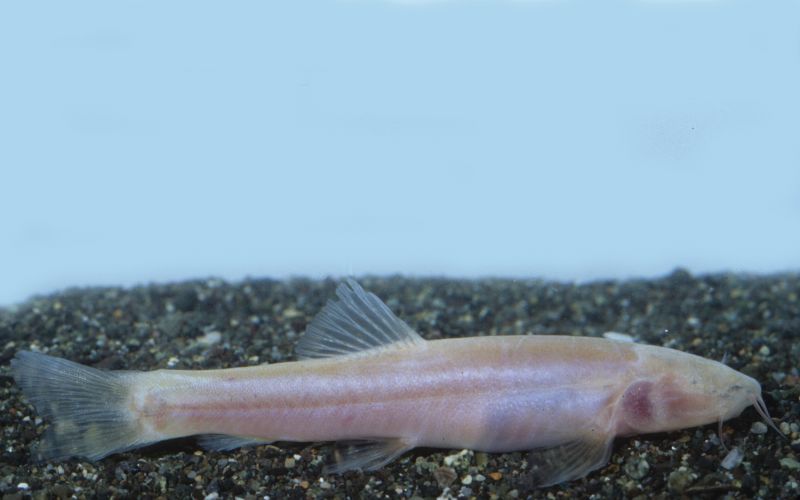 | ORDER | SUB-ORDER | FAMILY |
| --- | --- | --- |
| Cypriniformes | Cobitoidei | Nemacheilidae |
Synonyms
Nemacheilus oedipus Kottelat 1988
Types
Holotype: AMS I.25986‑002 70.4mm SL. Paratype: AMS I.25986‑001 74.3mm SL.
Distribution
Type locality: Tham Nam Lang, Pang Ma Pha District, Mae Hong Son Province, Thailand (19o31'N, 98o09'E). Known also from Tham Mae La Na, where it coexists with Cryptotora thamicola, Tham Plah (= Tham Hud), Tham Ban Pok Kut, Ban Nong Pha Cham and "Christmas Cave" (Richard Borowsky pers. comm.).
Habitat
Within Tham Mae La Na this species lives in gour pools while its co-inhabitant, Cryptotora thamicola, is found in water cascading over flowstone. A population estimate suggests that there are 104-105 individuals, a large population for a subterranean fish (Trajano, Mugue, Krejca, Vidthayanon, Smart and Borowsky 2002).
Systematics
Nemacheilus reidi is postulated as a sister species of this species although it is pointed out that the relationships of the fish fauna of Thailand are very poorly known (Kottelat 1988a). Data on pigmentation and behaviour collected by Trajano, Mugue, Krejca, Vidthayanon, Smart and Borowsky (2002) suggest that this species is a neo stygobite.
Conservation Status
(Vidthayanon, C. 2011. Schistura oedipus. The IUCN Red List of Threatened Species 2011: http://dx.doi.org/10.2305/IUCN.UK.2011-1.RLTS.T19976A9126230.en. Downloaded on 14 July 2017). This species is only known from subterranean streams in caves of Pang Mapha karst formation in north-western Thailand. Given the nature of the hydrological system and the likely limited extent of occurrence (considered to be much less than 2,000 km²), the species is assessed as Vulnerable (D2). Current and potential threats are tourism development and degradation of the surrounding watershed and water quality. R (IUCN 1990), R (IUCN 1993).
Museum Holdings
As above only.
Key References
| | | | |
| --- | --- | --- | --- |
| Kottelat, M. | Journal Article | 1988 | Two species of cavefishes from northern Thailand in the genera Nemachilus and Homaloptera (Osteichthyes, Homalopteridae) |
| Kottelat, M. | Journal Article | 1990 | New species and populations of cave nemacheilines in south and south-east Asia (Osteichthyes, Balitoridae) |
| Deharveng, L. and Bedos, A. | Book Section | 2001 | Thailande |
| Borowsky, R. and Mertz, L. | Journal Article | 2001 | Genetic differentiation among populations of cave fish Schistura oedipus (Cypriniformes: Balitoridae) |
| Borowsky, RL and Vidthayanon, C | Journal Article | 2001 | Nucleotide diversity in populations of balitorid cave fishes from Thailand |
| Trajano, E., Mugue, N., Krejca, J., Vidthayanon, C., Smart, D. and Borowsky, R. | Journal Article | 2002 | Habitat, distribution, ecology and behaviour of cave balitorids from Thailand (Teleostei: Cypriniformes) |
| Kottelat, M. | Journal Article | 2012 | Draconectes narinosus, a new genus and species of cave fish from an island of Halong Bay, Vietnam (Teleostei: Nemacheilidae). |
| Duboue, E.R. and Borowsky, R. | Journal Article | 2012 | Altered rest-activity patterns evolve via circadian independent mechanisms in cave adapted balitorid loaches |
| Brancelj, A., Boonyanusith, C., Watiroyram, S. and Sanoamuang, L. | Journal Article | 2013 | The groundwater-dwelling fauna of Southeast Asia |
| Ellis, M. | Journal Article | 2018 | The recorded fauna of the limestone caves of Thailand to April 2018 |
| Ellis, M. | Journal Article | 2020 | The caves of northern Thailand |