Metadata
Triplophysa longibarbata
(Chen, Yang, Sket and Aljancic 1998) Du, Chen and Yang 2008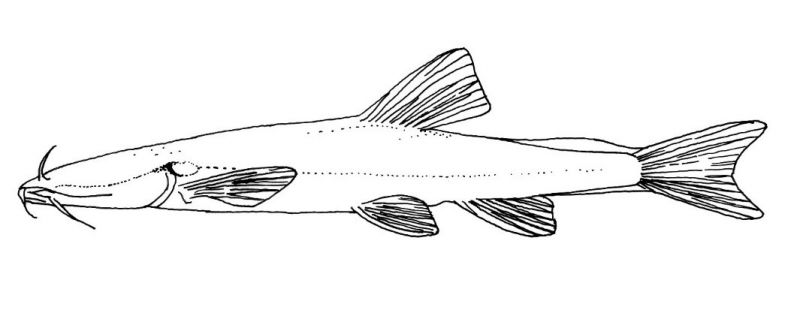 | ORDER | SUB-ORDER | FAMILY |
| --- | --- | --- |
| Cypriniformes | Cobitoidei | Nemacheilidae |
Synonyms
Paracobitis longibarbatus Chen, Yang, Sket and Aljancic 1998
Paracobitis posterodarsalus Li, Ran and Chen 2006
Paracobitis maolanensis Li, Ran and Chen 2006
Homatula posterodarsalus (Li, Ran and Chen 2006) Hu and Zhang 2010
Homatula maolanensis (Li, Ran and Chen 2006) Hu and Zhang 2010
Nemacheilus liboensis Chen 2000 nomen nudum
Oreonectes liboensis Wang 1991 nomen nudum
Types
Holotype: KIZ (?) 953001 70mm TL, 68mm SL. Paratypes: KIZ (?) 953002 35mmTL, 29mm SL; KIZ (?) 953003 36mm TL, 30mm SL.
Distribution
Known only from the type locality: An unnamed cave 13 km north east of the town of Libo, Libo County, southern Guizhou, China (25o30'N, 107o50'E). This is in the Xijiang river basin.
Habitat
The cave is 500m above sea level. Not far from the entrance shaft the cave stream ends at a 90m long lake which eventually sumps. The flow rate is 10l/sec and the substrate sand and rocks. Up to 10 animals were visible on each of three visits made by the explorers. The fishes live in total darkness but are sensitive to light, moving away from any light pointed at them.
Systematics
Related to, and probably descended from, Paracobitis variegatus longidorsalis, which occurs in the same (Xijiang) river basin. The generic position of these species is called into question by the opinion of Banarescu and Nalbant (1995:443) that "The genus is exclusively western Asian." They place Paracobitis variegatus in the genus Homatula Nichols, 1925 (though they incorrectly date this genus as 1929). Eschmeyer (1998:1970) consider the genus Homatula as a synonym of Schistura.
Yang, Wu and Lan (2011:570) consider Paracobitis posterodarsalus Li, Ran and Chen 2006 and Paracobitis maolanensis Li, Ran and Chen 2006 as valid species of Triplophysa.
Conservation Status
TLO [NE]
Museum Holdings
As above only.
Key References
| | | | |
| --- | --- | --- | --- |
| Chen, Y., Yang, J., Sket, B. and Aljancic, G. | Journal Article | 1998 | A new blind cave loach of Paracobitis with comment on its characters evolution |
| Kottelat, M | Journal Article | 2012 | Draconectes narinosus, a new genus and species of cave fish from an island of Halong Bay, Vietnam (Teleostei: Nemacheilidae). |
| Zhang, C. G. and Zhou, YH | Book | 2016 | Species diversity and distribution of inland fishes in China |
| Zhang, Y., Wang, Z., Zhang, Z., Wu, M.. Chen, J. and Zhao, Y. | Journal Article | 2018 | The complete mitochondrial genome of Triplophysa brevibarba with phylogenetic consideration |