Metadata
Rakthamichthys rongsaw
(Britz, Sykes, Gower and Kamei 2018) Britz, Dahanukar, Standing, Philip, Kumar and Raghavan 2020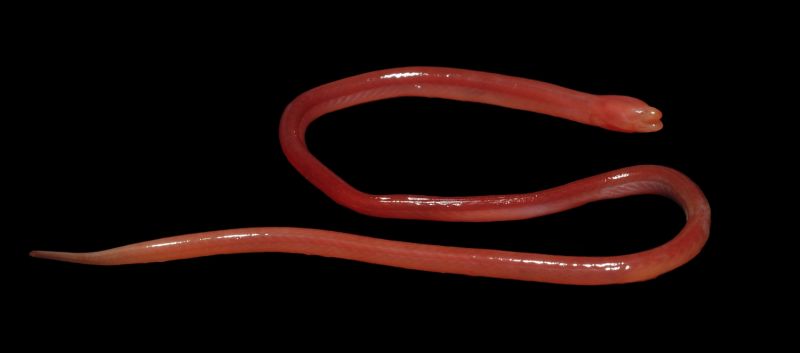 | ORDER | SUB-ORDER | FAMILY |
| --- | --- | --- |
| Synbranchiformes | Synbranchoidei | Synbranchidae |
Synonyms
Monopterus rongsaw Britz, Sykes, Gower and Kamei 2018
Types
Holotype and only known specimen: BNHS FWF 611, 179 mm TL.
Distribution
Known only from the type locailty: dug from soil at Nongriat Village, Sohra (= Cherrapunji), Khasi Hills, Meghalaya, India (25°14'49.2" N 91°40'1.2" E) 440 m asl.
Habitat
The original description gives the following details: "The holotype of Monopterus rongsaw was collected during daytime soil-digging searches with bladed hoes for fossorial caecilian amphibians. The specimen was found at a depth of ~ 40 cm in moist, rocky soil in a secondary forest ~ 4 km trekking distance from Double Decker living roots bridge in Nongriat. The specimen was unearthed ~ 50 m from an unnamed stream." (Britz et al. 2018).
Traditionally subterranean biologists have not considered the soil fauna as part of the subterranean realm and they have not studied it. However there are a number of similarities of habitat, especially darkness but also confined space analagous to interstitial habitats, and of evolutionary trajectories such as reduction in eyes and pigment and in body size (Culver and Pipan 2014:128-141). This species and Monopterus luicolus are the only known soil dwelling fishes but there are 35 known species which inhabit the interstitial subterranean environment which is in many ways analagous. Both are shallow, dark and space limited (Culver and Pipan 2014:106-127) and if the two Monopterus species are compared morphologicall to the most exteme interstitial species many similarities can be noted. [See also Culver and Pipan (2008) and Pipan and Culver (2012) for discussions of shallow (or superficial) subterranean habiitats, SSHs].
Systematics
A member of the 'Amphipnous group' of Monopterus.
Conservation Status
TLO [NE]
Museum Holdings
As above only.
Key References
| | | | |
| --- | --- | --- | --- |
| Rosen, D. E. and Greenwood, P. H. | Journal Article | 1976 | A fourth neotropical species of synbranchid eel and the phylogeny and systematics of synbranchiform fishes |
| Ranjit Daniels, R.J. | Journal Article | 2001 | Endemic fishes of the Western Ghats and the Satpura hypothesis |
| Culver, D.C. and Pipan, T. | Journal Article | 2008 | Superficial subterranean habitats - gateway to the subterranean realm? |
| Ramanujam, S.N., Manorama, M. and Dey, S. | Journal Article | 2010 | Ichthyodiversity of Meghalaya, India |
| Britz, R., Lalremsanga, H.T., Lalrotluanga and Lalramliana | Journal Article | 2011 | Monopterus ichthyophoides, a new species of scaled swamp eel (Teleostei: Synbranchiformes: Synbranchidae) from Mizoram, India |
| Pipan, T. and Culver, D.C. | Book Section | 2012 | Shallow subterranean habitats |
| Culver, D.C. and Pipan, T | Book | 2014 | Shallow subterranean habitats: Ecology, evolution and conservation |
| Britz, R., Doherty-Bone, T.M., Kouete, M.T., Sykes, D. and Gower, D.J. | Journal Article | 2016 | Monopterus luticolus, a new species of swamp eel from Cameroon (Teleostei: Synbranchidae) |
| Varma, A. | Book | 2017 | Groundwater resource and governance in Kerala: status issues and prospects |
| Britz, R., Sykes, D., Gower, D.J. & Kamei, R.G. | Journal Article | 2018 | Monopterus rongsaw, a new species of hypogean swamp eel from the Khasi Hills in Northeast India (Teleostei: Synbranchiformes: Synbranchidae). |
| Britz, R., Sudasinghe, H., Sykes, D. and Tharindu Ranasinghe, R.H. | Journal Article | 2020 | Ophichthys desilvai, a poorly known synbranchid eel from Sri Lanka (Teleostei: Synbranchidae) |
| Britz, R., Dahanukar, N., Standing, A., Philip, S., Kumar, B. amd Raghavan, R. | Journal Article | 2020 | Osteology of 'Monopterus' roseni with the description of Rakthamichthys, new genus, and comments on the generic assignment of the Amphipnous Group species (Teleostei: Synbranchiformes). |
| Raghavan, R., Britz, R. and Dahanukar, N. | Journal Article | 2021 | Poor groundwater governance threatens ancient subterranean fishes |
| Vasan, T., Das, P., Varma, V., Tiwari, A., Prakash, A., Manilal, D., Thomas, L., Arjun, C.P., Philip, S., Raghavan, R. and Binoy, V.V. | Journal Article | 2021 | Captivity-induced behaviour and spatial learning abilities in an enigmatic, aquifer-dwelling blind eel, Rakthamichthys digressus |
| Hajong, P., Wanlambok Sanglyne, M., Dirborne, C.M., Koch, U. and Ramanujam, P. | Journal Article | 2021 | Diversity and distribution of algae in cave ecosystems of Meghalaya: An overview |