Metadata
Garra lorestanensis
Mousavi-Sabet and Eagderi 2016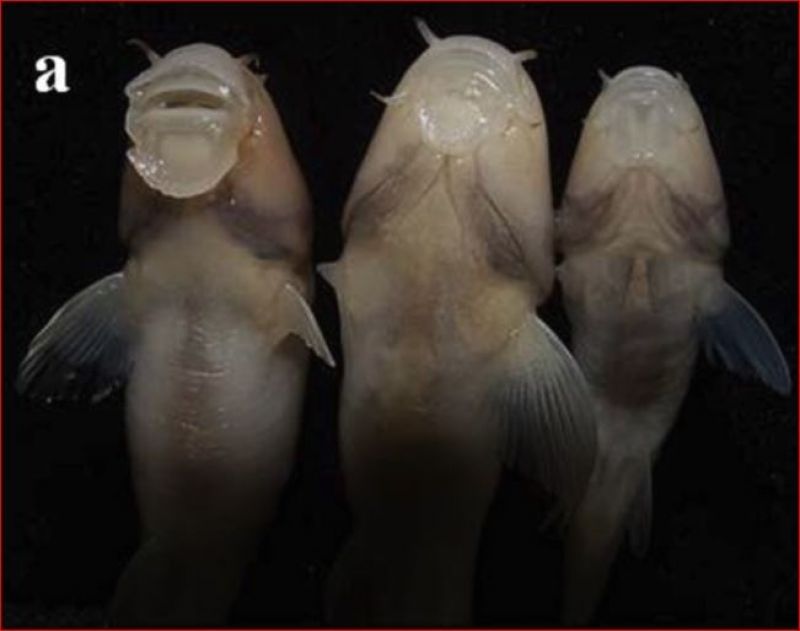 | ORDER | SUB-ORDER | FAMILY |
| --- | --- | --- |
| Cypriniformes | Cyprinoidei | Cyprinidae |
Synonyms
Iranocypris typhlops Bruun and Kaiser 1944 (in part)
Garra typhlops (Bruun and Kaiser 1944) (in part)
Types
Holotype: VMFC GL-H 55.0mm SL. Paratypes: VMFC GL-P1 – P3 (3) 27.2mm-58.0mm SL, GUIC GL-P1 31.6mm SL, GUIC GL-P2 45.1mm SL.
Distribution
Type locality: Loven Cave, Tigris River drainage, Persian Gulf basin, Lorestan Province, Iran. 33°04'39"N, 48°35'33"E. Known also from Tuveh Spring in the Dez River drainage 31km from the type locality.
Habitat
The true habitat of this species is not known. The collection site is the flood overflow for a large resurgence. The resurgence was explored by diving (Farr 1977, 1984:117) but the way on underwater became too narrow at 2m depth. The flood overflow was also dived but without conclusion. Another sump is located in the same area but was not examined (Farr 1977).
Systematics
It has been known since 2008 (Sargeran et al. 2008) that some of the fishes at the type locailty have a mental disk while others do not (Figure a, below). Hashemzadeh Segherloo et al. (2012) used cytochrome c oxidase I (coI ) sequences for the two morphological forms. They concluded that "Pronounced coI sequence divergence between the two forms of I. typhlops (3·8% K2P distance) was observed. This sequence divergence is higher than the mean intraspecific divergence values reported in other taxa, e.g.0·46% in Lepidoptera, 0·60% in Guyanese bats, 0·27% in North American birds, 0·39% in marine fishes and 0·27% K2P distance in freshwater fishes. The high sequence divergence between the two forms, along with the morphological differences, including the presence of a mental disc, the longer intestine, and either a single chambered or bipartite swimbladder in the specimens with disc, v. the absence of the mental disc, shorter intestine and bipartite swimbladder in the second form, as reported by Sargeran et al. (2008), indicate that the two forms might represent separate species" (Hashemzadeh Segherloo et al. 2012). But they did not go so far as to state that two species were actually present nor to describe the second one. They also showed that the two cave forms are close to Garra rufa.
Farashi et al (2014), still assuming that the two forms were the same species (Iranocypris typhlops), used mitochondrial cytochrome b sequences and concluded that the species was close to the genus Garra and recommended that Iranaocypris typhlops should be transferred to the genus Garra Hamilton, 1822.
It was not until 2016 (Mousavi-Sabet and Eagderi 2016) that the second and most recently discovered form (the form with a mental disc) was described as a separate species to Garra typhlops. It was named Garra lorestanensis.
Most recently Hashemzadeh Segherloo et al. (2018), using a mixture of molecular markers, showed that G. typhlops and G. lorestanensis were sister species and that both were sister to the geographically close Garra gymnothorax. The evidence suggets that the two cave species evolved by sympatric speciation. A mitochondria divergence of 3.6% between the two cave species suggest a divergence time of 5-6 million years.
Zamani-Faradonbe et al. (2021) found a different topology. Their data make G. typhlops sister to a group containing G. tiam, G. meymehensis and G. gymnothorax. The sister to this group is G. lorestanensis.
Jalili and Eagderi (2014) examined the osteology of what they called Iranocypris typhlops (now Garra typhlops). However, the three specimens used in their study each had a mental disk so were, in fact, Garra lorestanensis.
Conservation Status
[NE]
Museum Holdings
As above only.
Internet Resources
Garra lorestanensis COI (Hashemzadeh Segherloo et al. 2018)
Key References
| | | | |
| --- | --- | --- | --- |
| Mahjoorazad, A. and Coad, B.W. | Journal Article | 2009 | A new cave fish locality for Iran |
| Esmaeili, H.R., Coad, B.W., Gholamifard, A., Nazari, N. and Teimory, A. | Journal Article | 2010 | Annotated сhecklist of the freshwater fishes of Iran |
| Hashemzadeh Segherloo, I, Bernatchez, L, Golzarianpour, K., Abdoli, A, Primmer, C. R. and Bakhtiary, M. | Journal Article | 2012 | Genetic differentiation between two sympatric morphs of the blind Iranian cave barb Iranocypris typhlops |
| Raeisi, E., and Laumanns, M. | Book | 2012 | Cave Directory of Iran: 3rd edition |
| Esmaeilzadegan, E. | Thesis | 2013 | Comparison of morphological characteristics of the sang-lis (Garra ruffa) and Iranian cave fish (Iranocypris typhlops). |
| Hashemzadeh Segherloo, I., Rahmati, S., Purahmad, R., Golzarianpour, K. and Abdoli A. | Journal Article | 2013 | Analysis of the systematic status of the blind Iran cave barb, Iranocypris typhlops, using COI gene. |
| Jalili, P and Eagderi, S | Journal Article | 2014 | Osteological description of Iran cave barb (Iranocypris typhlops Bruun and Kaiser, 1944) |
| Farashi, A., Kaboli, M., Rezaei, H.R., Naghavi, M.R., Rahimian, H. and Coad, B.W. | Journal Article | 2014 | Reassessment of the taxonomic position of Iranocycpris typhlops Bruun and Kaiser, 1944 (Actinopterygii: Cyprinidae) |
| Farashi, A., Kaboli, M., Rezaei, H.R., Naghavi, M.R. and Rahimian, H. | Journal Article | 2014 | Plankton composition and environmental parameters in the habitat of the Iranian cave barb (Iranocypris typhlops) in Iran |
| Sayyadzadeh, G., Esmaeili, H.R. and Freyhof, J. | Journal Article | 2015 | Garra mondica, a new species from the Mond River drainage with remarks on the genus Garra from the Persian Gulf basin in Iran |
| Farashi, A., Kaboli, M., Rahimian, H., Rezaei, H. R. and Naghavi, M. R. | Journal Article | 2015 | Selecting suitable habitat for Iranian blind fish (Iranocypris typhlops) |
| Jouladeh-Roudbar, A., Vatandoust, S., Eagderi, S., Jafari-Kenari, S. and Mousavi-Sabet, H. | Journal Article | 2015 | Freshwater fishes of Iran: An updated checklist |
| Mousavi-Sabet, H. and Eagderi, S. | Journal Article | 2016 | Garra lorestanensis, a new cave fish from the Tigris River drainage with remarks on the subterranean fishes in Iran (Teleostei: Cyprinidae) |
| Teimori, A., Mostafavi, H. and Esmaeli, H.R. | Journal Article | 2016 | An update note on diversity and conservation of the endemic fishes in Iranian inland waters |
| Bagheri, M., Goudarzi, F., Zalaghi, A.H. and Savabieasfahani, M. | Journal Article | 2016 | Habitat characteristics and population size of Iranocypris typhlops, the Iran cave barb |
| Esmaeili, H.R., Sayyadzadeh, G., Coad, B.W. and Eagderi, S. | Journal Article | 2016 | Review of the genus Garra Hamilton, 1822 in Iran with description of a new species: a morpho-molecular approach (Teleostei: Cyprinidae) |
| Mousavi-Sabet, H., Vatandoust, S., Fatemi, Y. and Eagderi, S. | Journal Article | 2016 | Tashan Cave a new cavefish locality for Iran; and Garra tashanensis, a new blind species from the Tigris River drainage (Teleostei: Cyprinidae) |
| Nebeshwar, K and Vishwanath, W | Journal Article | 2017 | On the snout and oromandibular morphology of genus Garra, description of two new species from the Koladyne River basin in Mizoram, India, and redescription of G. manipurensis (Teleostei: Cyprinidae) |
| Esmaeili, H.R., Mehraban, H., Abbasi, K., Keivany, Y. and Coad, B. | Journal Article | 2017 | Review and updated checklist of freshwater fishes of Iran: Taxonomy, distribution and conservation status |
| Vardanjani, H.K., Bahadorinia, S. and Ford, D.C. | Book Section | 2017 | An introduction to hypogene karst regions and caves of Iran. |
| Hashemzadeh Segherloo, I., Abdoli, A., Eagderi, S., Esmaeili, H.R., Sayyadzadeh, G., Bernatchez, L., Hallerman, E., Geiger, M.F., Ozulug, M., Laroche, J. and Freyhof, J. | Journal Article | 2017 | Dressing down: convergent reduction of the mental disc in Garra (Teleostei: Cyprinidae) in the Middle East |
| Malek-Hosseini, M.J. and Zamani, A. | Journal Article | 2017 | A checklist of subterranean arthropods of Iran |
| Hashemzadeh Segherloo, I., Normandeau, E., Benestan, L., Rougeux, C., Cote, G. Moore, J.-S., Ghaerahmati, N.A., Abdoli, A. and Bernatchez, L. | Journal Article | 2018 | Genetic and morphological support for possible sympatric origin of fish from subterranean habitats |
| Khalaji-Pirbalouty, V., Fatemi, Y., Malek-Hosseini, M.J. and Kuntner, M. | Journal Article | 2018 | A new species of Stenasellus Dollfus, 1897 from Iran, with a key to the western Asian species (Crustacea, Isopoda, Stenasellidae) |
| Esmaeili, H.R., Sayyadzadeh, G., Eagderi, S. and Abbasi, K. | Journal Article | 2018 | Checklist of freshwater fishes of Iran |
| Barmaki, M.D., Rezaei, M., Raeisi, C.E. and Ashjari, J. | Journal Article | 2019 | Comparison of surface and interior karst development in Zagros karst Aaquifers, southwest Iran. |
| Vatandoust, S., Mousavi‐Sabet, H., Geiger, M.F. and Freyhof, J. | Journal Article | 2019 | A new record of Iranian subterranean fishes reveals the potential presence of a large freshwater aquifer in the Zagros Mountains |
| Fatemi, Y., Malek Hosseini, M.-J., Falniowski, A., Hofman, S., Kuntner, M. and Grego, J. | Journal Article | 2019 | Description of a new genus and species as the first gastropod species from caves in Iran |
| Hashemzadeh, I., Tabatabaei, S.N., Ghaed Rahmati, N., Amiri, M. and Bernatchez, L. | Journal Article | 2020 | The analysis of the relationship between Lorestan cave barbs (Garra typhlops and Garra lorestanensis) and Garra gymnothorax populations in Dez and Karkheh River drainages. |
| Saemi-Komsari, M., Mousavi-Sabet, H., Sattari, M., Eagderi, S., Vatandoust, S. and Doadrio, I. | Journal Article | 2020 | Descriptive osteology of Garra rossica (Nikolskii 1900) |
| Jouladeh-Roudbar, A., Ghanavi, H.R. and Doadrio, I. | Journal Article | 2020 | Ichthyofauna from Iranian freshwater: Annotated checklist, diagnosis, taxonomy, distribution and conservation assessment |
| Sungur, S., Eagderi, S., Jalili, P. and Cicek, E. | Journal Article | 2020 | Caudal osteology and its application to reconstruct phylogenetic relationship in the genus Garra |
| Zamani-Faradonbe, M. and Keivany, Y. | Journal Article | 2021 | Comparative osteology of two Garra species (Cypriniformes, Cyprinidae) from Hormuz and Sistan basins of Iran |
| Zamani-Faradonbe, M., Zhang, E. and Keivany, Y. | Journal Article | 2021 | Garra hormuzensis, a new species from the upper Kol River drainage in the Persian Gulf basin (Teleostei: Cyprinidae) |
| Hashemzadeh Segherloo, I., Tabatabaei, S.N., Abdolahi-Mousavi, E., Hernandez, C., Normandeau, E., Laporte, M., Boyle, B., Amiri, M., GhaedRahmati, N., Hallerman, E. and Bernatchez, L. | Journal Article | 2021 | eDNA metabarcoding as a means to assess distribution of subterranean fish communities: Iranian blind cave fishes as a case study |
| Ashraf, S., Nazemi, A. and AghaKouchak, A. | Journal Article | 2021 | Anthropogenic drought dominates groundwater depletion in Iran |
| Zamani-Faradonbe, M., Keivany, Y., Dorafshan, S. and Zhang, E. | Journal Article | 2021 | Two new species of Garra (Teleostei: Cyprinidae) from western Iran |
| Zamani-Faradonbe M. and Keivany Y. | Journal Article | 2021 | Biodiversity and distribution of Garra species (Teleostei: Cyprinidae) in Iran |
| Zamanpoore, M. | Book Section | 2021 | Biodiversity of the freshwater Amphipods in Iran |
| Freyhof, J., Kaya, C. and Ali, A. | Book Section | 2021 | A critical checklist of the inland fishes native to the Euphrates and Tigris drainages |
| Malek-Hosseini, M.J., Jugovic, J., Fatemi, Y., Kuntner, M., Kostanjšek, R., Douady, C.J. and Malard, F. | Journal Article | 2022 | A new obligate groundwater species of Asellus (Isopoda, Asellidae) from Iran |
| Yousefi, M., Jouladeh-Roudbar, S. and Kafash, A. | Journal Article | 2023 | Mapping endemic freshwater fish richness to identify high priority areas for conservation: an ecoregion approach |