Metadata
Rhamdia macuspanensis
Weber and Wilkens 1998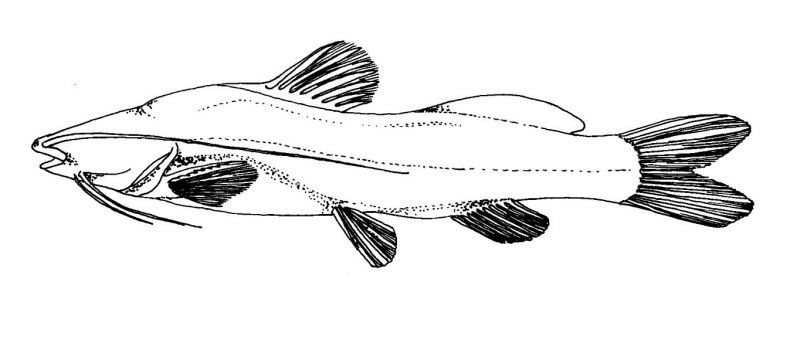 | ORDER | SUB-ORDER | FAMILY |
| --- | --- | --- |
| Siluriformes | Siluroidei | Heptapteridae |
Synonyms
None.
Types
Holotype: ZMH 8874, 124.7mm SL, 150.8mm TL. Paratypes: ZMH 8875, 138mm SL, 168mm TL. ZMH 8876 (8 specimens, 78.3 - 135.9mm SL).
Distribution
Known only from the type locality: Grutas de Agua Blanca, Balneario de Agua Blanca, on the road from Villahermosa to Chetumal, 20 km SE of the village of Macuspana, Tabasco, México (17o37'15.5"N, 92o28'22.6"W).
Habitat
The cave stream runs over bare limestone but there are areas of sand and gravel. No food was seen when the type series was collected and it is likely that it arrived with flood events. The fishes were well fed with deposits of adipose tissue. Bat guano may also supply some supplies (Weber and Wilkens 1998). The stygobiootic crab Rodriguezia adani Alvarez and Villalobos 2018 is also found at this site (see Zoobank entry), as are the pseudothelphusid crab Odontothelphusa palenquensis, an undescribed species of Macrobrachium prawn, a Procambarus crayfish and asellid isopods (Alvarez and Villalobos 2018). These animals are likely to be food for R. macuspanensis.
Conservation Status
TLO [NE]
Threatened (Contreras-Balderas et al. 2003)
Museum Holdings
As above only.
Key References
| | | | |
| --- | --- | --- | --- |
| Williams, J.E., Johnson, J.E., Hendrickson, D.A., Conteras-Balderas, S., Williams, J.D., Navarro-Mondoza, M., McAllister, D.E. and Deacon, J.E. | Journal Article | 1989 | Fishes of North America endangered, threatened or of special concern 1989 |
| Wilkens, H. | Journal Article | 1991 | Comparative study and phylogenetic age of epigean and cave forms of the genus Rhamdia (Pimelodidae, Teleostei) |
| Langecker, T.G. and Wilkens, H. | Journal Article | 1992 | Comparative ultrastructural studies on the pineal organ of the Mexican catfish Rhamdia laticauda Heckel, 1858 and one of its cave-dwelling derivatives (Pimelodidae, Teleostei) |
| Junge, P. | Journal Article | 1992 | Egg size and larval development of epigean and cave forms of Rhamdia guatemalensis (Pimelodidae, Pisces) |
| Wilkens, H. | Journal Article | 1993 | A new species of Rhamdia (Pisces, Pimelodidae) from a cave in the Sierra de Zongolica (Veracruz, Mexico) |
| Wilkens, H. | Journal Article | 1993 | Adaptation and phylogenetic age of Mexican epigean and cave Rhamdia (Pimelodidae) |
| Weber, A. | Journal Article | 1995 | The lateral line system of epigean and cave dwelling catfishes of the genus Rhamdia (Pimelodidae, Teleostei) in Mexico |
| Silfvergrip, A.M.C. | Book | 1996 | A systematic revision of the neotropical catfish genus Rhamdia (Teleostei, Pimelodidae) |
| Weber, A. | Journal Article | 1996 | Cave dwelling catfish populations of the genus Rhamdia (Pimelodidae, Siluroidei, Teleostei) in Mexico |
| Weber, A. and Wilkens, H. | Journal Article | 1998 | Rhamdia macuspanensis: A new species of troglobitic pimelodid catfish (Siluriformes; Pimelodidae) from a cave in Tabasco, Mexcio |
| Weber, A. | Journal Article | 1998 | Mexican cave catfish of the genus Rhamdia (Pimelodidae): notes on adaptation and distribution |
| Wilkens, H. | Journal Article | 2001 | Convergent adaptations to cave life in the Rhamdia laticauda catfish group (Pimelodidae, Teleostei) |
| Perdices, A., Bermingham, E., Montilla, A. and Doadrio, I. | Journal Article | 2002 | Evolutionary history of the genus Rhamdia (Teleostei: Pimelodidae) in Central America |
| Contreras-Balderas, S, Almada-Villela, P, Lozano-Vilano, M de L and Garcia-Ramirez, ME | Journal Article | 2003 | Freshwater fish at risk or extinct in Mexico |
| Weber, A | Thesis | 2003 | Taxonomie und Artstatus hohlenbewohnender und oberirdischer Welse der Gattung Rhamdia (Pimelodidae, Teleostei) in Mexiko |
| Contreras-Balderas, S and others, 13 | Journal Article | 2008 | Freshwater fishes and water status in México: A country-wide appraisal |
| Contreras-Macbeath, T., Rodriguez, M.B., Sorani, V., Goldspink, C., and McGregor Reid, G. | Journal Article | 2014 | Richness and endemism of the freshwater fishes of Mexico |
| Palacios-Vargas, J.G., Juberthie, C. and Reddell, J. | Book | 2014-2015 | Encyclopaedia Biospeologica Mexico |
| Ricci, J.M.B.,Martinez, E.R.M., Butzge, A.J., Doretto, L.B., Oliveira, M.A., Bombardelli, R.A., Bogerd, J. and Nóbrega, R.H. | Journal Article | 2018 | Characterization of vasa homolog in a neotropical catfish, Jundiá (Rhamdia quelen): Molecular cloning and expression analysis during embryonic and larval development |
| Alvarez, F. and Villalobos, J.L. | Journal Article | 2018 | A new species of stygobitic freshwater crab of the genus Rodriguezia Bott, 1969 (Crustacea: Decapoda: Trichodactylidae) from Tabasco, Mexico |
| Scaglione, M.C., Cerutti, R.D., Arfuso, F. and Piccione, G. | Journal Article | 2018 | Light and dark rations and the photic entrainment of circadian locomotor activity patterns in the South American Silver Catfish (Rhamdia quelen, Quoy & Gaimard, 1824) |
| Koerber, S. and Reis, R.E. | Journal Article | 2019 | The current situation of Rhamdia Bleeker, 1858 (Siluriformes: Heptapteridae) – Gather available information, define a zero point, and start all over again |
| Warren, M.L. and Burr, B.M. | Book | 2020 | Freshwater fished of North America. Volume 2 Characidae to Poeciliidae |
| Thomas, M.R. and Sabaj, M.H. | Book Section | 2020 | Heptapteridae: Seven-finned catfishes |
| Koerber, S. and Reis, R.E. | Journal Article | 2020 | Evidence for the true type-locality of Rhamdia quelen (Siluriformes: Heptapteridae), and the geographical origin and invalid neotype designation of four of its synonyms |