Metadata
Lucifuga dentata
Poey 1858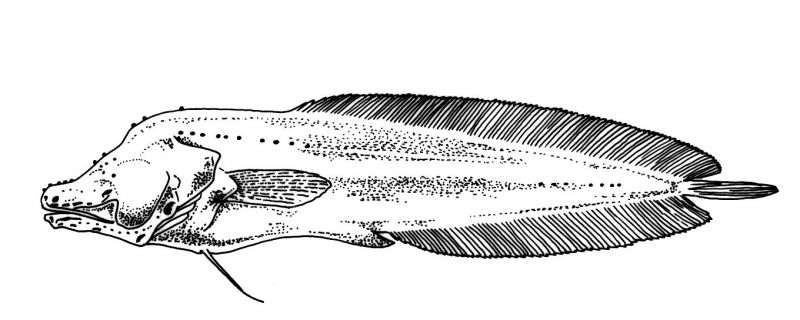 | ORDER | SUB-ORDER | FAMILY |
| --- | --- | --- |
| Ophidiiformes | Bythitoidei | Bythitidae |
Synonyms
Lucifuga dentatus Poey 1858
Stygicola dentatus Gill 1863
Types
Described from a syntype series of three individuals: MCZ 12415 (1 specimen), MCZ 32329 (1 specimen), ZMB 5961 (1 specimen) (Eschmeyer, Fricke and van der Lann 2017). This species is the type species by monotypy of the genus Stygicola.
Distribution
Type locality: Cueva de Cajio, potrero de Torres, dos leguas, (c. 8.5 km), Sur de Guira de Melena, Habana province, Cuba. Other sites from which this species has been collected are given by Garcia Debras, Gonzalez and Yager (1999) (22o-23oN,80o-84oW). This species has been found in locations from the extreme east and west sides of Cuba.
Habitat
Inhabits anchialine caves.
Systematics
Diaz Perez, Misas and Virsida (1987) created the subspecies Lucifuga dentatus holguinensis (which they call a variety) for a female from Aguada de Macigo, Gibara, Holguin province. It had most of the important characters of the species but lacked palatine teeth. In the subfamily Brosmophycinae.
Conservation Status
MuG [NE]
Alfredo Garcia Debras (pers. comm.) reports that some historical locations for this species have been partially or totally destroyed, some are affected by pollution from industrial and /or domestic sources and others by various engineering works. He also states that some marine fish species have been introduced into the habitat of Lucifuga species, where they not only compete for resources (mainly food), but also actively prey on the cave fishes.
Museum Holdings
Only the above known about but there must be others in Museums in Cuba and the United States.
Key References
| | | | |
| --- | --- | --- | --- |
| Lane, H. H. | Journal Article | 1903 | The ovarian structure of the viviparous blind fishes Lucifuga and Stygicola |
| Lane, H. H. | Journal Article | 1908 | On the ovary and ova of the Cuban cavefishes |
| Eigenmann, C. H. | Journal Article | 1909 | Cave vertebrates of America, a study in degenerative evolution |
| Kosswig, C. | Journal Article | 1934 | Uber bislang unbekannte Sinnesorgane dei dem blinden Hohlenfisch Stygicola dentatus (Poey) |
| Nunez Jimenez, A. | Journal Article | 1944 | Los peces ciegos en Cuba |
| Juberthie, C. | Journal Article | 1971 | Notes sur l'ecologie des poissons souterraines de Cuba |
| Taboada, G.S. | Book | 1974 | Sinopsis de la espeleofauna Cubana. Serie espeleologica y carsologica No. 43 |
| Vina, N., Davila, Zaida and Grana, A. | Journal Article | 1975 | Contribucion al conocimiento de los peces cavernicolas de Cuba |
| Thines, G. and Piquemal, M. | Journal Article | 1978 | Observations sur les comportements de Lucifuga subterranea Poey (Pisces, Ophidiidae), poisson cavernicole de Cuba |
| Cohen, D. M. and Nielsen, J. G. | Journal Article | 1978 | Guide to the identification of genera of the fish order Ophidiiformes with a tentative classification of the order |
| Durand, J. P. | Journal Article | 1978 | Phenomenes de convergences tissulaires et cytologiques, lies aux processus degeneratifs qui affectent l'oeil chez deux teleoteens cavericoles Asytyanax (Anoptichthys) mexicanus (Characidae) et Lucifuga (Stygicola) dentatus (Ophidiidae) |
| Vergara, R. | Journal Article | 1980 | Principales caracteristicas de la ictiofauna dulceacuicola cubana |
| Vergara, R. | Journal Article | 1980 | Estudio fenetico de los peces ciegos del genero Lucifuga |
| Vergara, R. | Journal Article | 1980 | Estudio filogenetico del los peces ciegos del genero Lucifuga (Pisces, Ophidiidae). I Sistematica filogenetica |
| Nunez Jimenez, A. | Journal Article | 1980 | 40 anos explorando a Cuba |
| Varela, E., Barros, O. and Jimenez, S. | Book Section | 1980 | The effects of sugar-waste disposal on a karstic limestone aquifer |
| Vergara, R. | Journal Article | 1981 | Estudio filogenetico del los peces ciegos del genero Lucifuga (Pisces, Ophidiidae). II Bibliografia filogenetica |
| Vergara, R. | Journal Article | 1981 | Estudio filogenetico del los peces ciegos del genero Lucifuga (Pisces, Ophidiidae). III Aspectos evolutivos |
| Nalbant, T. T. | Journal Article | 1981 | A study of the subterranean species of Lucifuga from Cuba, with the description of Lucifuga simile sp. n. (Pisces, Ophidiiformes, Bythitidae) |
| Burgess, G.H. | Book Section | 1983 | Lucifuga |
| Diaz Perez, P. A., Misas, E. and Virsida, G. | Journal Article | 1987 | Peces ciegos fel genero Lucifuga (Ophidiiformes, Bythitidae) en dos casimbas cubanas |
| Burgess, G. H. and Franz, R. | Book Section | 1987 | Zoogeography of the Antillean freshwater fish fauna |
| Wilkens, H., Strecker, U. and Yager, J. | Journal Article | 1989 | Eye reduction and phylogenetic age of ophidiiform cave fishes |
| Yager, J., Spokane, R. B., Bozanic, J. E., Williams, D. W. and Balado, E. | Journal Article | 1994 | An ecological comparison of two anchialine caves in Cuba with emphasis on water chemistry |
| Coy, A., Garcia, N. and Ventosa, L. | Journal Article | 1997 | Helmintos de peces cubanos del genero Lucifuga Poey, 1858 (Ophidiiformes: Bythitidae) |
| Durand, J.P. | Journal Article | 1998 | Degenerescence spontanee des yeax du poisson cavernicole Lucifuga subterraneus Poey, 1861 (Teleostei, Ophidioidei) |
| Garcia Debras, A. and Gonzalez, A.P. | Journal Article | 1999 | Estudio sobre la dieta de peces Cubanos (Ophidiiformes: Bythitidae) |
| Garcia-Debras, A., Gonzalez, A.P. and Yager, J. | Journal Article | 1999 | Distribucion geografica de los peces ciegos (Ophidiiformes: Bitytidae) Cubanos |
| Garcia, N., Coy, A. and Ventosa, L. | Journal Article | 1999 | Nematodos asociados a la espeleofauna Cubana |
| Nielsen, J. G., Cohen, D. M., Markle, D.F. and Robins, C. R. | Journal Article | 1999 | Ophidiiform fishes of the world (Order Ophidiiformes). An annotated and illustrated catalogue of pearlfishes, cusk-eels, brotulas and other ophidiiform fishes known to date |
| Garcia-Machado, E, Hernandez, D, Moller, PR, Bernatchez, L and Casane, D | Journal Article | 2011 | Phylogenetic relationships among Cuban and Bahamian species of the blind cave-fishes genus Lucifuga: A shared lineage among two isoloated archipelagoes |
| Moller, PR, Knudsen, SW, Schwarzhans, W and Nielsen, JG | Journal Article | 2016 | A new classification of viviparous brotulas (Bythitidae) – with family status for Dinematichthyidae – based on molecular, morphological and fossil data |