Metadata
Triplophysa xiangxiensis
(Yang, Yuan and Liao 1986) Chen, Yang and Xu 1992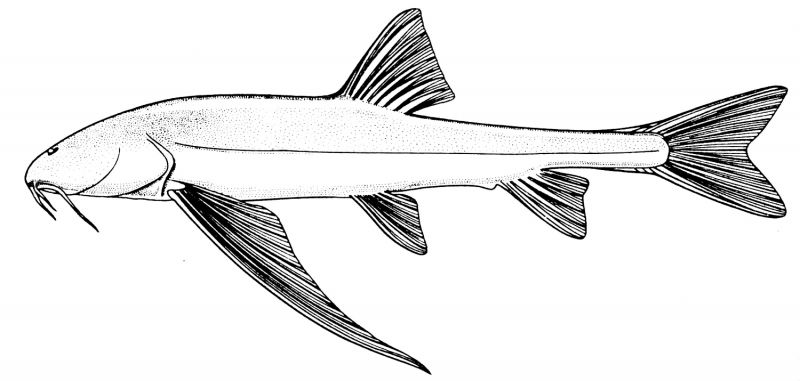 | ORDER | SUB-ORDER | FAMILY |
| --- | --- | --- |
| Cypriniformes | Cobitoidei | Nemacheilidae |
Synonyms
Noemacheilus xiangxiensis Yang, Yuan and Liao 1986
Types
Holotype: HAU 8401 85.0mm "body length". Paratypes: HAU 8601‑8602 45.0mm‑67.0mm "body length", KIZ 863001.
Distribution
Known only from the type locality: Feihu Dong (= cave), north‑west Longshan County, Xiangxi, Hunan Province, China (29o29'N, 109o25'E).
Habitat
Nothing known, the specimens were collected "from the subterranean water at a depth of 20m under the ground surface".
Systematics
Chen, Yang and Xu (1992) re-examined the type specimens of this species and of Noemacheilus gejiuensis. They concluded that both were members of the genus Triplophysa because of an absence of a procesus dentiformis on the upper jaw and the presence, in males, of a raised tuberculate area below the nares and thickened tuberculate pads on the back of the pectoral fin rays. Sgouros et al. (2019) found that T. xiangxiensis is sister species to T. rosa. A good comparison of subterranean Triplophysa species is provided by Wu et al. (2018).
Conservation Status
(Kottelat, M. 1996. Triplophysa xiangxensis. The IUCN Red List of Threatened Species 1996: http://dx.doi.org/10.2305/IUCN.UK.1996.RLTS.T22202A9364418.en. Downloaded on 05 July 2017). R (IUCN 1990), R (IUCN 1993)
Museum Holdings
As above only.
Internet Resources
Key References
| | | | |
| --- | --- | --- | --- |
| Yang, G., Yuan, F. and Liao, Y. | Journal Article | 1986 | A new blind cobitidae fish from the subterranean water in Xiangxi, China |
| Zhu, S. Q. | Book | 1989 | The loaches of the subfamily Nemacheilinae in China (Cypriniformes, Cobitidae) |
| Chen, Y.R., Yang, J.X. and Xu, G.C. | Journal Article | 1992 | A new blind loach of Triplophysa from Yunnan Stone Forest with comments on its phylogenetic relationship |
| Yang, J. X. and Chen, Y. R. | Journal Article | 1993 | The cavefishes from Jiuxiang Limestone Cave of Yunnan, China with reference to character evolutions |
| Zhou, W. and Cui, G. H. | Journal Article | 1993 | Status of the scaleless species of Schistura in China, with description of a new species (Teleostei, Balitoridae) |
| Durand, J., Keller, N., Laumont, C. and Delprat, B. | Journal Article | 1996 | Sur l'oeil depigmente et degenere d'un nouveau poisson des eaux souterraines de Chine (Triplophysa xiangxiensis) |
| He, L., Wang, X., Chen, Q. and Xiang, J. | Journal Article | 2006 | Morphological description on Triplophysa xiangxiensis |
| He, G., He, L., Xu, Y., Zhang. Z and Li, X. | Journal Article | 2008 | Study on germplasm characters of Triplophysa xiangxiensis. |
| Yao, Y. H., Wang, D. Q., He, L. and Yu, L. N. | Journal Article | 2012 | Isolation and characterization of sixteen microsatellite loci of a blind cavefish, Triplophysa xiangxiensis |
| Kottelat, M. | Journal Article | 2012 | Conspectus cobitidum: An inventory of the loaches of the world (Teleostei: Cypriniformes: Cobitoidei) |
| Yang,J., Chen,X., Bai,J., Fang,D., Qiu,Y., Jiang,W., Yuan,H., Bian,C., Lu,J., He,S., Pan,X., Zhang,Y., Wang,X., You,X., Wang,Y., Sun,Y., Mao,D., Liu,Y., Fan,G., Zhang,H., Chen,X., Zhang,X., Zheng,L., Wang,J., Cheng,L. | Journal Article | 2016 | The Sinocyclocheilus cavefish genome provides insights into cave adaptation |
| Li, J.X. Wang, Y., Jina H.F.,Li, W.J., Yan, C.C., Yan, P.F., Zhang, X.Y., He, S.P. and Song, Z.B. | Journal Article | 2017 | Identification of Triplophysa species from the Qinghai-Tibetan Plateau (QTP) and its adjacent regions through DNA barcodes |
| Zhang, YH, Wang, Z, Zhang, Z, Wu, MS and Chen, JY | Journal Article | 2017 | The complete mitochondrial genome of Triplophysa brevibarbata with phylogenetic considerations |
| Wang, X., Liang,C. and Zhang, E. | Journal Article | 2017 | The complete mitochondrial genome sequence of Triplophysa xiangxiensis (Teleostei: Nemacheilidae) |
| Zhang, Y., Wang, Z., Zhang, Z., Wu, M.. Chen, J. and Zhao, Y. | Journal Article | 2018 | The complete mitochondrial genome of Triplophysa brevibarba with phylogenetic consideration |
| Wu, W.J., He, A.Y., Yang, J.X. and Du, L.N. | Journal Article | 2018 | Description of a new species of Triplophysa (Teleostei: Nemacheilidae) from Guizhou Province, China |
| Sgouros, K., Page, L.M., Orlofske, S.A. and Jadin, R.C. | Journal Article | 2019 | A revised molecular phylogeny reveals polyphyly in Schistura (Teleostei: Cypriniformes: Nemacheilidae) |
| Yang, X., Liu, H., Ma, Z., Zou, Y., Zou, M., Mao, Y., Li, X., Wang, H., Chen, T.,Wang, W. and Yang, R. | Journal Article | 2019 | Chromosome‐level genome assembly of Triplophysa tibetana, a fish adapted to the harsh high‐altitude environment of the Tibetan Plateau |
| Wang, Y., Xiao, N., Wang, S., Luo, T., Yang, X., Liu, T. and Zhou, J. | Journal Article | 2021 | The complete mitochondrial genome of a cavedwelling loach Triplophysa baotianensis (Teleostei:Nemacheilidae) |
| Huang, S., Zhao, M., Luo, X., Bedos, A., Wang, Y., Chocat, M., Tian, M. and Liu, W. | Journal Article | 2023 | Feihu Dong, a new hotspot cave of subterranean biodiversity from China |
| He, Y. and He, D.K. | Journal Article | 2023 | X-ray microtomography study of cranium, pectoral fin and girdle, and Weberian Apparatus development in juvenile Triplophysa stewarti (Nemacheilidae) |