Metadata
Schistura sijuensis
(Menon, 1987) Kottelat 1990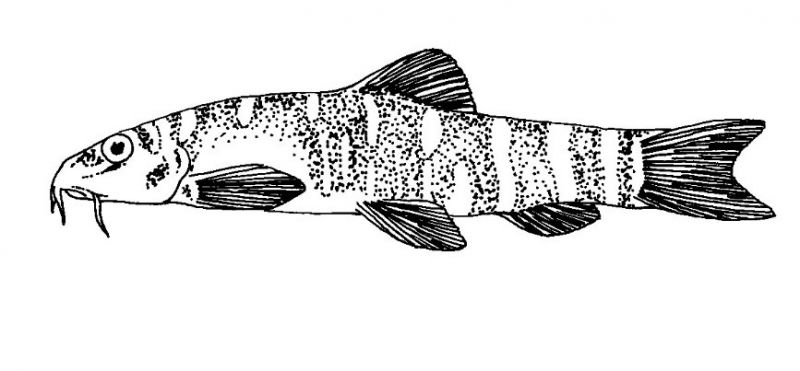 | ORDER | SUB-ORDER | FAMILY |
| --- | --- | --- |
| Cypriniformes | Cobitoidei | Nemacheilidae |
Synonyms
Noemacheilus sijuensis Menon 1987
Nemachilus sp. Hora 1924
Nemachilus beavani Gunther 1868 (by Hora 1935)
Noemacheilus multimexicanus Day, 1878 (by Pillai and Yazdani 1977)
Types
Holotype: SRS/ZSI F570 51.5mm SL. Paratypes : SRS/ZSI F571 25.0mm ‑ 41.5mm SL (14 specimens).
Distribution
Type locality: Siju Cave, Garo Hills, Meghalaya, India (25o21'02"N, 90o41'04"E). Recorded also in an epigean habitat: Pathar Syllang Stream, Mawsyiar Village, West Khasi Hills district, Meghalaya, India (25o33'44.2"N, 91o17'42.3"E) (Khynriam and Sen 2014:26).
Habitat
A detailed description with survey is provided by Brooks and Smart (1995).
Systematics
Listed as Noemacheilus Mesonoemacheilus sijuensis on the plate caption in Menon (1987). It is not certain that the epigean specimens collected in Pathar Syllang Stream, some distance from the type locality, are in fact this species.
Conservation Status
(Vishwanath, W. 2010. Schistura sijuensis. The IUCN Red List of Threatened Species 2010: http://dx.doi.org/10.2305/IUCN.UK.2010-4.RLTS.T19977A9127221.en. Downloaded on 14 July 2017). This species is only found in a single location, the Siju cave of Garo Hills, Meghalaya, which has an area of approximately 400 km². Several threats, such as mining, quarrying and deforestation, are destroying this species' habitat. It is therefore assessed as Endangered. R (IUCN 1990), R (IUCN 1993), VU D2 (IUCN 1996, 2000).
Museum Holdings
Other material at ZSI, including V/F/ERS/ZSI/3186 (5 specimens) (Khynriam and Sen 2014:26).
Key References
| | | | |
| --- | --- | --- | --- |
| Kemp, S. and Chopra, B. | Journal Article | 1924 | The Siju Cave, Garo Hills, Assam |
| Hora, S. L. | Journal Article | 1924 | Fishes of the Siju Cave, Garo Hills, Assam |
| Pillai, R. S. and Yazdani, G. M. | Journal Article | 1977 | Ichthyo-fauna of the Garo Hills, Meghalaya (India) |
| Menon, A. G. K. | Book Section | 1987 | Noemacheilus sijuensis sp. nov |
| Kottelat, M. | Journal Article | 1990 | New species and populations of cave nemacheilines in south and south-east Asia (Osteichthyes, Balitoridae) |
| Talwar, P. K. and Jhingran, A. G. | Book Section | 1992 | Nemacheilus sijuensis (Menon) |
| Brooks, S. J. and Smart, C. M. | Book | 1995 | Caving in the abode of the clouds. The caves and karst of Meghalaya, North East India |
| Kottelat, M. | Journal Article | 2012 | Draconectes narinosus, a new genus and species of cave fish from an island of Halong Bay, Vietnam (Teleostei: Nemacheilidae). |
| Khynriam, D and Sen, N | Journal Article | 2014 | Taxonomic Study on Nemacheiline Loaches of North East India |