Metadata
Sinocyclocheilus furcodorsalis
Chen, Yang and Lan 1997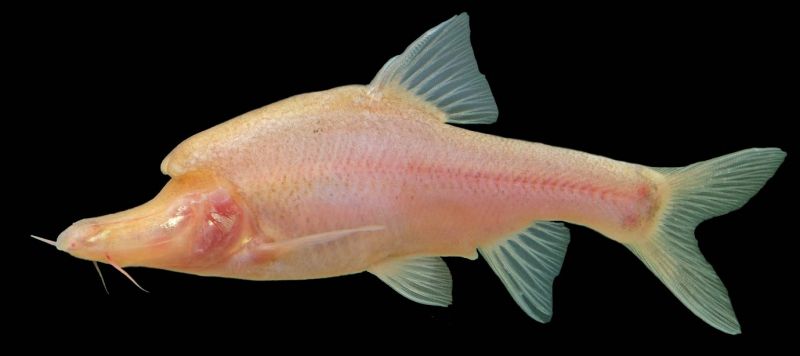 | ORDER | SUB-ORDER | FAMILY |
| --- | --- | --- |
| Cypriniformes | Cyprinoidei | Cyprinidae |
Synonyms
Sinocyclocheilus tianeensis Li, Xiao and Luo 2003
Types
Holotype: KIZ 9309002 (104mm SL). Paratypes: KIZ 9309001, 9309003, 9309010 (3 specimens, 65-93mm SL).
Distribution
An "underground river" in Tiane County, Guangxi Zhuang, China (c. 25oN, 107oE).
Habitat
No published details.
Systematics
Wang and Chen (1998) revised the diagnosis of the genus Sinocyclocheilus.
Genbank accession numbers from Yang et al. (2015)
| | | | | | |
| --- | --- | --- | --- | --- | --- |
| CO1 | Cytb | 16S | ND4 | ND5 | Mitogenome |
| GU589570 | GU589570 | GU589570 | GU589570 | GU589570 | GU589570 |
Li at al. (2018) obtained a complete mitochondrial genome of Sinocyclocheilus oxycephalus. This allowed them to show that 11 species in the genus comprised a monophyeltic group: S. grahami, S. wumengshanensis, S. oxycephalus, S. ranganensis, S. jii, and the hypogean S. anophthalmus, S. anshuiensis, S. altishoulderus, S. bicornutus, S. rhinocerous and S. furcodorsalis. This grouping does not agree with the clades proposed by Zhao and Zhang (2009) who placed the hypogean species in three separate clades angularis, cyphotergous and tingi. This situation will require further study to resolve.
Yu et al. (2021) obtained a mitochondrial genome of S. xiaotunensis (see below). They found that it lead to a clade of S. xiaotunensis with S. altishoulderus and S. furcodorsalis. [Note: at the time of publication of Yu et al. (2021) (May 2021) it does not appear that S. xiaotunensis has been formally described].
Conservation Status
TLO [NE]
Museum Holdings
As above only.
Key References
| | | | |
| --- | --- | --- | --- |
| Chen, Y.R., Yang, J.X and Lan, J. H. | Journal Article | 1997 | One new species of blind cavefishfrom Guangxi with comments on its phylogentic status (Cypriniformes: Cyprinidae: Barbinae) |
| Wang, D. and Chen, Y.Y. | Journal Article | 1998 | On the diagnosis of Sinocyclocheilus and the taxonomic position of its closely related genus Anchicyclocheilus (Cypriniformes: Cyprinidae: Barbinae) |
| Xiao, H, Zhang, R, Feng, J, Ou, Y., M, Li, W, Chen, S and Zan, R | Journal Article | 2002 | Nuclear DNA content and ploidy of seventeen species of fishes in Sinocyclocheilus |
| Romero, A., Zhao, Y.H. and Chen, X.Y. | Journal Article | 2009 | The hypogean fishes of China |
| Zhao, Y.H. and Zhang, C.G. | Book | 2009 | Endemic fishes of Sinocyclocheilus (Cypriniformes: Cyprinidae) in China - Species diversity, cave adaptation, systematics and zoogeography |
| Zhao, Y.H., Gozlan, R.E. and Zhang, C.G. | Journal Article | 2011 | Out of sight out of mind: current knowledge of Chinese cave fishes |
| He,S., Liang,X.F., Chu, W.Y. and Chen, D.X | Journal Article | 2012 | Complete mitochondrial genome of the blind cave barbel Sinocyclocheilus furcodorsalis (Cypriniformes: Cyprinidae) |
| Waryani, B., Zhao, Y. H., Zhang, C. G., Dai, R. J. and Abbasi, A. R. | Journal Article | 2013 | Anatomical Studies of the Olfactory Epithelium of Two Cave Fishes Sinocyclocheilus jii and S. furcodorsalis (Cypriniformes: Cyprinidae) from China |
| Fenolio, D.B., Zhao, Y., Niemiller, M.L. and Stout, J.F. | Journal Article | 2013 | In-situ observations of seven enigmatic cave loaches and one cave barbel from Guangxi, China, with notes on conservation status |
| Zhang, C.G. and Zhou, Y.H. | Book | 2016 | Species diversity and distribution of inland fishes in China |
| Yang,J., Chen,X., Bai,J., Fang,D., Qiu,Y., Jiang,W., Yuan,H., Bian,C., Lu,J., He,S., Pan,X., Zhang,Y., Wang,X., You,X., Wang,Y., Sun,Y., Mao,D., Liu,Y., Fan,G., Zhang,H., Chen,X., Zhang,X., Zheng,L., Wang,J., Cheng,L. | Journal Article | 2016 | The Sinocyclocheilus cavefish genome provides insights into cave adaptation |
| Li, C.Q., Huang, H.T., Yang, S., He, H., Fu, Q.Y., Chen, S.Y. and Xiao, H. | Journal Article | 2018 | Complete mitochondrial genome and phylogenetic analysis of Sinocyclocheilus oxycephalus (Cypriniformes: Cyprinidae) |
| Niu, C., Luo, J., Yang, J. and Zhao, Y. | Journal Article | 2018 | Length–weight relationships of four cavefish species from China |
| Soares, D., Pluviose, M. and Zhao, Y. | Journal Article | 2019 | Ontogenetic development of the horn and hump of the Chinese cavefish Sinocyclocheilus furcodorsalis (Cypriniformes: Cyprinidae) |
| Chen, H., Li, C., Liu, T., Chen, S. and Xiao, H. | Journal Article | 2019 | A metagenomic study of intestinal microbial diversity in relation to feeding habits of surface and cave-dwelling Sinocyclocheilus species |
| Lunghi, E., Zhao, Y., Sun, X. and Zhao, Y. | Journal Article | 2019 | Morphometrics of eight Chinese cavefish species |
| Mao, T.-R., Liu, Y.-W., Meegaskumbura, M., Yang, J., Ellepola, G., Senevirathne, G., Fu, C.-H., Gross, J.B. and Pie, M.R. | Journal Article | 2020 | Evolution in Sinocyclocheilus cavefish is marked by rate shifts, reversals and origin of novel traits |
| Zhao, Y., Zhang, C. and Proudlove, G.S. | Book | 2021 | Fishes of the Genus Sinocyclocheilus (Cypriniformes: Cyprinidae) in China. Systematics, biology, biogeography and cave adaptation |