Metadata
Astyanax jordani
(Hubbs and Innes 1936) Buckup 2003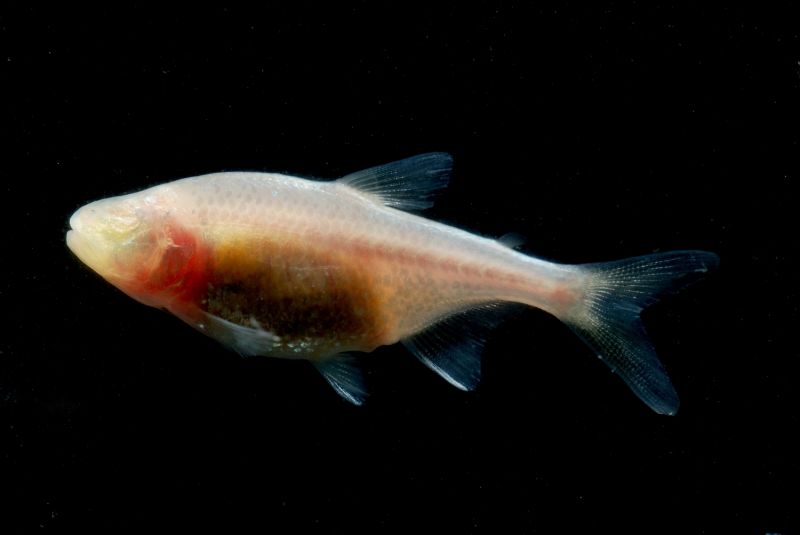 | ORDER | SUB-ORDER | FAMILY |
| --- | --- | --- |
| Characiformes | Characoidei | Characidae |
Note
The status of the hypogean populations of Astyanax species in San Luis Potosi and Tamaulipas, Mexico, and the consequences for taxonomy and nomenclature, have been debated since their discovery in 1936. The problems have been exacerbated because there are no modern taxonomic or systematic studies of the genus. Although originally included in a separate genus (Anoptichthys) most references to these animals called them either Astyanax mexicanus (de Filippi 1853) or Astyanax fasciatus (Cuvier 1819). This was in recognition that the hypogean and epigean populations are able to interbreed, a tenet of the Biological Species Concept. There are however many important autapomorphies in the hypogean populations and, under the Phylogenetic Species Concept, the hypogean and epigean animals are separate species. This debate will continue, but I have decided here to follow my own instincts and include the hypogean forms as a separate species. This decision is supported in the most recent authoritative account of the genus (Buckup 2003). In this account A. jordani is treated as a valid separate species, and is not placed in the synonymy of either A. fasciatus or A. mexicanus. Numerous other authors (e.g. Reddell 1981; Trajano 2001) accept that the hypogean and epigean fishes belong to different species. See also the discussion of this topic in Kullander (1999:339-340) which also concludes that the epigean and hypogean populations must be considered as separate species. Two of the most recent reviews of the biology of the fishes (Wilkens and Strecker 2017, Elliott 2018) also draw this conclusion.
There are complications ahead, as it is very likely that more than one invasion of caves from the surface has taken place and that more than one species is now present in the caves of the area. However, at least one of these (from the type locality, Cueva Chica) will be validly Astyanax jordani. The others will obtain names when the situation is better understood.
Synonyms
Anoptichthys jordani Hubbs and Innes 1936
Anoptichthys antrobius Alvarez 1946
Anoptichthys hubbsi Alvarez 1947
These are the only true synonyms. Since the cave fish has often been regarded as conspecific with Astyanax mexicanus (de Filippi, 1853), and with Astyanax fasciatus (Cuvier 1819), it has often been referred to under these names. Reddell (1981:238 243, 325) provides a list of names used and a full bibliography to that date.
Types
Holotype of Anoptichthys jordani: UMMZ 113514, adult 51mm SL. Paratypes of Anoptichthys jordani: UMMZ 114486, 4 specimens; BMNH 1951.12.3:14‑17; plus others.
Distribution
Type locality: La Cueva Chica, San Luis Potosí, México. Sites from which this species has been recorded are distributed from 21o50' – 23o10'N, 98o50' – 99o14'W, see Mitchell, Russell and Elliott (1977) and Elliott (2018) for full details. Caves in which the fishes are found in seven areas:
| | | |
| --- | --- | --- |
| Area and cave | Length (m) | Depth (m) |
| Gómez-Farías area | | |
| Sótano de Jineo + | 302 | 144 |
| Sótano del Molino | 658 | 138 |
| Sótano Escondido + | 100 | 148 |
| Chamal-Ocampo area | | |
| Bee Cave + | 245 | 119 |
| Sótano de Caballo Moro | 285 | 211 |
| Sótano de Vásquez | 1500 | 277 |
| Northern Sierra de El Abra | | |
| Cueva de El Pachón | 1000 | 8 |
| Sótano del Venadito + | 3663 | 206 |
| Yerbaniz cluster | | |
| Sótano de Yerbaniz | 2238 | 97 |
| Sótano de Matapalma | 1722 | 86 |
| Sótano de Japonés | 4500 | 140 |
| Los Sabinos area | | |
| Sótano del Tigre + | 3000 | 162 |
| Sótano de la Roca + | 20 | 42 |
| Cueva de Los Sabinos | 1502 | 96 |
| Sótano del Arroyo | 7202 | 133 |
| Sótano de la Tinaja | 4502 | 82 |
| Sótano de Soyate + | 206 | 234 |
| Sótano de Pichijumo (Montecillos) | 1330 | 82 |
| Sótano de Jos + | 338 | 85 |
| Sótano de las Piedras | 405 | 52 |
| Sótano de la Palma Seca | 164 | 54 |
| Southern Sierra de El Abra | | |
| Cueva de la Curva | 214 | 19 |
| Sótano de Toro | 66 | 5 |
| La Cueva Chica * | 302 | 19 |
| Los Cuates + | 400 | 33 |
| Cueva Chiquitita | 20 | 16 |
| Cueva de Otates + | 269 | 15 |
| Micos and Tamasopo areas | | |
| Cueva del Río Subterráneo | 475 | 32 |
| Cueva del Otates | 269 | 15 |
| Cueva Lienzo + | 225 | 23 |
| Cueva del Fraile + | 50 | 10 |
The known distribution of Astyanax jordani. * type locailty, + caves not yet sampled for genetic studies and therefore of high priority to do so. Information from Elliott (2018)
Habitat
Most of the populations are known from lakes and streams within the vadose region of the caves. Two exceptions to this are the populations in Sótano de Soyate and Sótano del Venadito which are almost certainly living in the low level phreatic zone of the karst area. In particular the Soyate population is in a huge deep lake-like area which is probably the main groundwater flow in this area. During high flow the water levels rise considerably and fishes from the phreatic populations may become washed into vadose areas and become stranded there for a time.
Systematics
This fish is the most extensively studied of cave dwelling animals. The reason for its pre-eminence is that it is easy to breed in captivity and interfertile with the epigean Astyanax mexicanus. These properties allow very detailed studies, and in particular genetical ones, to be made easily. A large number of publications have resulted from these studies (see Elliott (2018) and this web site for bibliographies) but there has been great confusion as to the name and status of the animal. The following discussion outlines the problem and poses a solution.
The first population to be discovered, in La Cueva Chica, was described by Hubbs and Innes (1936) as a new genus and species, Anoptichthys jordani. In the following ten years two other populations were discovered in La Cueva de El Pachon and La Cueva de Los Sabinos. Alvarez (1946, 1947) included them in the genus Anoptichthys as Anoptichthys antrobius and Anoptichthys hubbsi respectively. It is now known that the cave fishes are widespread (Mitchell, Russell, and Elliott 1977), (Reddell 1981:238‑243, 325), (Elliott 2018) and there are now 31 known sites.
In their original description of Anoptichthys jordani Hubbs and Innes (1936) recognised that: "Anoptichthys agrees with the genus and subgenus Astyanax in all apparent characters other than those associated with blindness and subterranean life". The epigean Astyanax mexicanus (for a discussion of the Astyanax mexicanus / Astyanax fasciatus "problem" see Miller and Smith 1986) and the hypogean Anoptichthys jordani are not only very similar in morphology, but they possess the same (or very similar) karyotype (Kirby, Thompson, and Hubbs 1977) and are interfertile. These, plus the sympatric distribution, provide strong evidence that Anoptichthys jordani is very closely related to, and in all probability, directly evolved from, Astyanax mexicanus. There is therefore no reason for recognising a distinct genus for the cave fishes. (See Greenwood (1976), Roberts and Stewart (1976), and Banister and Bunni (1980) for discussions of this philosophy). So, should the cave and surface fishes be regarded as members of the same species (with specifically adapted local races) or as distinct subspecies or species within the genus Astyanax ? Most authors have uncritically accepted that they are conspecific because of the interfertility. However there are a number of trenchant differences between the epigean and hypogean populations. They differ in fright reaction (Pfeiffer 1977), feeding behaviour (Schemmel 1980), the distribution and density of the taste buds (Schemmel 1980), metabolic rate (Huppop 1986), the neuromasts of the lateral line (Teyke 1990) and in competitive abilities within the cave environment (Wilkens and Hüppop 1986). Although the epigean fishes can survive and breed in darkness (contrary to the evidence of Rasquin and Rosenbloom 1954) they are out-competed by the better adapted cave fish (Wilkens and Hüppop 1986). It is certain that the hypogean fishes could neither compete nor survive on the surface. The genetic distance (as calculated by Nei's D parameter) is also relevant to this discussion. Values for D of 0.142 (Pachon population) and 0.105 (Sabinos population) (Chakraborty and Nei 1974) fall within the ranges for both subspecies (0.004 ‑ 0.351) and species (0.004 ‑ 3.000) and above that for local races (0.000 ‑ 0.049) as given by Nei (1987). A simple reading of the biological species concept (Mayr 1970:12) would confine both surface and cave fishes to the same species as a result of their interfertility. Rosen (1979:275‑278; see also Kottelat (1997:10-20)) has argued however that the biological species concept is worthless as a determiner of relationships since its primary definer, reproductive compatibility, is a primitive (plesiomorphic) attribute of members of a lineage. It therefore has no power to specify relationships within a genealogical framework. In the present case it is obvious that the cave form exhibits a number of autapomorphies (see above). The two forms should therefore be considered as good separate sister species which have not yet attained reproductive isolation.
The taxonomic consequences of this would be: one species of cave‑dwelling fish Astyanax jordani (Hubbs and Innes 1936) with one junior objective synonym, Anoptichthys jordani Hubbs and Innes 1936, and two junior subjective synonyms, Anoptichthys antrobius Alvarez 1946 and Anoptichthys hubbsi Alvarez 1947.
The above discussion is based principally on morphology. Recent work by Richard Borowsky (e.g. Borowsky 1994, 1996; Borowsky and Espinasa 1997; Borowsky and Wilkens 2002; Espinasa and Borowsky 2000, 2001), indicates that there may have been at least three independent invasions of surface fishes all of which now exhibit similar troglomorphic facies. If this is the case, and we accept that genetic characters are useful, then there should have three different names (see Kottelat (1997) for an excellent discussion of these points). Recently Dowling, Martasian and Jeffery (2002), Strecker, Bernatchez and Wilkens (2003) and Wilkens and Strecker (2003) have also shown that some cave populations are independently derived from surface fishes.
Oliveira et al. (2011) made an extensive ingroup study of the Family Characidae. Their results strongly support a sister group relationship between Astyanax jordani and a group containing Astyanax aeneus, Bramocharax caballeroi and Bramocharax baileyi (Figure below), and explicitally not a sister group relationship with Astyanax mexicanus, which is sister to the four species listed above.
The above discussion was largely written for the first edition of my book (Proudlove 2006) and needs revising in the light of much information discovered in the 14 years since it was writen. However, it is worth empasising that the conclusion of the discussion, that the cave fishes should be called Astyanax jordani, is strongly supported in the two most recent reviews of the these fishes, their habitats and their history (Wilkens and Strecker 2017:70-74 and Elliott 2018:39-44) and in an extensive phylogentic study of the Family Characidae (Oliveira et al. 2011) - see phylogenetic tree below.
Conservation Status
[NE]
R (IUCN, 1990), VU A1ac+2c,B1+2c,D2 (IUCN, 1996, 2000). These criteria indicate: (A1ac+2c) that the population has been, or will be, reduced by 20% over the past 10 years (and/or over the next 10 years) as a result of habitat loss or degeneration, (B1+2c) that the area of occupancy is less than 2000 km2 and a severely fragmented population with a decline in extent or quality of habitat, (D2) that the population exists in 5 or less sites. This latter criterion is not valid as the species is known from 31 sites (Mitchell, Russell and Elliott 1977, Elliott 2018). Special Concern (Contreras-Balderas, Almada-Villela, Lozano-Vilano and Garcia-Ramirez 2003).
Museum Holdings
Anoptichthys jordani: BMNH 1973.9.10:20
Anoptichthys hubbsi: BMNH 1951.12.3:14‑17 (Paratypes)
Internet Resources
The 6th Annual Cavefish Meeting will be held March 17th-20th 2019 at Hotel Mision, in Queretaro, Mexico. Horst Wikens (University of Hamburg) and Craig Albertson (University of Massachusetts) will be Keynote Speakers
The Astyanax research community
Association for Mexican Cave Studies
How and why does the cave fish lose its eyes?
Bill Elliott's Astyanax web site
Bill Elliott's chapter 1 in "Biology and evolution of the Mexican cavefish" (Keene et al. 2016)
Bill Elliott's chapter 3 in "Biology and evolution of the Mexican cavefish" (Keen et al. 2016)
Key References
This species has been studied in much greater detail than any other subterranean fish, and probably any other subterranean organism. Consequently the literature is very large. Anyone working with this species, or taking a serious interest in it, will need to follow the primary literature which is published across a very wide array of primary scientific journals. Those people starting out in research on Astyanax jordani, and those with a passing interest, will have to read and fully digest all of the major review publications, outlined below, all of which are required initial reading. Only by being fully familiar with these works can it be possible to move onto the primary literature with confidence that all the necessary background is firmly embedded in memory. In chronological order these are:
Mitchell, Russell and Elliott (1977) - Mexican eyeless characin fishes, genus Astyanax: Environment,distribution and evolution
Wilkens (1988) - Evolution and genetics of epigean and cave Astyanax fasciatus (Characidae, Pisces): support for the neutral mutation theory
Wilkens (1992) - Neutral mutations and evolutionary progress
Jeffery (2001) - Cavefish as a model system in evolutionary developmental biology
Fish (2004) - Karst hydrology of the Sierra de El Abra [Originally a thesis at McMaster University, Fish (1977)]
Wilkens (2005) - Fish
Protas et al. (2007) - Regressive evolution in the Mexican cave tetra, Astyanax mexicanus
Jeffery (2008) - Emerging model systems in evo-devo: cavefish and microevolution of development
Jeffery (2009) - Regresive evolution in Astyanax cavefish
Jeffery (2009) - Evolution and development in the cavefish Astyanax
Borowsky (2010) - The evolutionary genetics of cave fishes: Convergence, adaptation and plieotropy
Jeffery and Strickler (2010) - Development as an evolutionary process in Astyanax cavefish
Jeffery (2012) - Astyanax mexicanus: A model organism for evolution and adaptation
Wilkens (2012) - Neutral mutations
Trontelj (2012) - Natural selection
Gross (2012) - The complex origin of Astyanax cavefish
Protas and Jeffery (2012) - Evolution and development in cave animals: from fish to crustaceans
Niemiller and Soares (2015) - Cave environments
Keene, Yoshizawa and McGaugh (2016) - Biology and evolution of the Mexican cavefish
Wilkens and Strecker (2017) - Evolution in the dark: Darwin's loss without selection
Elliott (2018) - The Astyanax caves of Mexico: Cavefishes of San Luís Potosí, Tamaulipas, and Guerrero
Borowsky (2018) - Primer. Cavefish
Gore, Jeffery, Retaux and Rohner (2018) - Cafefish development
Also, not a review, McGaugh et al. (2014) - The cavefish genome reveals candidate genes for eye loss
Also useful, though mostly superceeded by Elliott (2018), are Russell and Raines (1967) and Morris (1989).
Selected bibliography
| | | | |
| --- | --- | --- | --- |
| Hubbs, C.L. and Innes, W.T. | Journal Article | 1936 | The first known blind fish of the family Characidae: A new genus from Mexico |
| Bridges, W. | Journal Article | 1940 | The blind fish of La Cueva Chica |
| Gresser, E. B. and Breder, C. M. | Journal Article | 1940 | The histology of the eye of the cave characin, Anoptichthys |
| Breder, C. M. and Gresser, E. B. | Journal Article | 1941 | Behaviour of Mexican cave characins in reference to light and cave entry |
| Breder, C. M. and Gresser, E. B. | Journal Article | 1941 | Correlations between structural eye defects and behaviour in the Mexican blind characin |
| Breder, C. M. and Gresser, E. B. | Journal Article | 1941 | Further studies on the light sensitivity and behaviour of the Mexican blind characins |
| Breder, C. M. | Journal Article | 1942 | Descriptive ecology of La Cueva Chica, with especial reference to the blind fish, Anoptichthys |
| Breder, C. M. | Journal Article | 1943 | Apparent changes in phenotypic ratios of the characins at the type locality of Anptichthys jordani Hubbs and Innes |
| Breder, C. M. | Journal Article | 1943 | Problems in the behaviour and evolution of a species of blind cave fish |
| Osorio Tafall, B. F. | Journal Article | 1943 | Observaciones sobra la fauna aquatica de las Cuevas de la region de Valles, San Luis Potosi (Mexico) |
| Breder, C. M. | Journal Article | 1944 | Ocular anatomy and light sensitivity studies on the blind fish Cueva de Los Sabinos, Mexico |
| Alvarez, J. | Journal Article | 1946 | Revision del genero Anoptichthys con descripcion de una especie nueva (Pisc., Characidae) |
| Breder, C. M. and Rasquin, P. | Journal Article | 1947 | Evidence for the lack of a growth principle in the optic cyst of the Mexican cave fish |
| Alvarez, J. | Journal Article | 1947 | Descripcion de Anoptichthys hubbsi caracindo ciego de la Cueva de Los Sabinos, S.L.P |
| Schlagel, S. R. and Breder, C. M. | Journal Article | 1947 | A study of the oxygen consumption of blind and eyed cave characins in light and in darkness |
| Breder, C. M. and Rasquin, P. | Journal Article | 1947 | Comparative studies on the light sensitivity of blind characins from a series of Mexican caves |
| Rasquin, P. | Journal Article | 1949 | The influence of light and darkness on thyroid and pituitary activity of the characin Astyanax mexicanus and its cave derivatives |
| Luling, K. H. | Journal Article | 1953 | Die Heimat und die Entdeckng unseres Blindfisches Anoptichthys jordani |
| Luling, K. H. | Journal Article | 1953 | Uber das Sehen jugendlicher Anptichthys jordani (Hubbs und Innes) |
| Luling, K. H. | Journal Article | 1953 | Uber die fortschreitende Augendegenerations des Anoptichthys jordani Hubbs und Innes (Characidae) |
| Stefanelli, A. | Journal Article | 1954 | It tetto ottico di Pesci ciechi cavernicoli nei riguardi del differenziamento specifico dei neuroni |
| Stefanelli, A. | Journal Article | 1954 | The differentiation of optic lobe neurones in a blind cave teleost |
| Rasquin, P. and Rosenbloom, L. | Journal Article | 1954 | Endocrine imbalance and tissue hyperplasia in teleosts maintained in darkness |
| Luling, K. H. | Journal Article | 1954 | Untersuchungen am Blindfisch Anoptichtys jordani Hubbs und Innes (Characidae). I Einige Beobachtungen uber das Verhalten des Blindfisches Anoptichthys jordani beim Laichen |
| Luling, K. H. | Journal Article | 1954 | Untersuchungen am Blindfisch Anoptichtys jordani Hubbs und Innes (Characidae). II Beobachtungen und Experimente an Anoptichthys jordani zur Prufung der Einstellung zum Futter, zumlicht und zur Wassertubulenze |
| Thines, G. | Journal Article | 1954 | Etude comparative de la photosensibilite des poissons aveugles Caecobarbus geertsii Blgr et Anoptichthys jordani Hubbs et Innes |
| Luling, K. H. | Journal Article | 1955 | Untersuchungen am Blindfische Anoptichthys jordani, Hubbs und Innes (Characidae). III Vergleichende anatomisch-histologische studien an den Augen des Anoptichthys jordani |
| Luling, K. H. | Journal Article | 1955 | Zur Augenreduktion des aus Mexikanischen Hohlen stammenden blinden Salmlers Anoptichthys jordani (Hubbs und Innes) |
| Sadoglu, P. | Journal Article | 1956 | A preliminary report on the genetics of the Mexican cave characin |
| Thines, G. and Kahling, J. | Journal Article | 1957 | Untersuchungen uber die Farbempfindlichkeit des Hohlenfisches Anoptichthys jordani (Characidae) |
| Sadoglu, P. | Journal Article | 1957 | A Mendelian gene for albinism in natural cave fish |
| Sadoglu, P. | Journal Article | 1957 | Mendelian inheritance in the hybrids between the Mexican blind cave fishes and their overground ancestors |
| Grobbel, G. and Hahn, G. | Journal Article | 1958 | Morphologie und Histologie der Seitenorgane des augenlosen Hohlenfisches Anoptichthys jordani im Vergleich zu anderen Teleosteern |
| Cahn, P. H. | Journal Article | 1958 | Comparative optic development in Astyanax mexicanus and in two of its blind cave derivatives |
| Kahling, J. | Journal Article | 1961 | Untersuchungen uber den Lichtsinn und dessen Lokalisation bei dem Hohlenfisch Anoptichthys jordani Hubbs und Innes (Characidae) |
| Luling, K. H. | Journal Article | 1962 | Untersuchungen am Blindfisch Anoptichthys jordani Hubbs und Innes (Characidae). IV Bemerkungen zur Okologie und Tiergeographie |
| Burgers, A. C. J., Bennink, P. J. H. and van Oordt, G. J. | Journal Article | 1963 | Investigations into the regulation of the pigmentary system in the blind Mexican cave fish Anoptichthys jordani |
| Franck, A. | Journal Article | 1964 | Vergleichende Untersuchungen am Hohlebfisch Anoptichthys antrobius und seinem oberirdischen Vorfahren Astyanax mexicanus |
| Thines, G., Wolff-Van Ermengem, F., Boucquey, C. and Soffie, M. | Journal Article | 1965 | Etude comparative de l'activite du poisson cavernicole Anoptichthys antrobius Alvarez, et de son ancetre epige Astyanax mexicanus (Filippi) |
| Boucquey, C., Thines, G. and Van Der Borght, C. | Book Section | 1965 | Etude compartive de la capacite photopathique et de l'activite chex les poisson cavenicole Anoptichthys antrobius chez la forme epigee ancestrale Astyanax mexicanus,et chez les hybrides F1 (Astyanax x Anoptichthys) et F2 |
| Thines, G., Soffie, M. and Vandenbussche, E. | Journal Article | 1966 | Analyse du comportement alimentaire du poisson cavernicole aveugle Anoptichthys Gen. et d'hybrides F1 (Astyanax x Anoptichthys) et F2 |
| Reed, M. | Journal Article | 1966 | Raising and breeding the blind cave characin |
| Peters, N. and Peters, G. | Journal Article | 1966 | Das Auge zweier Hohlenformen von Astyanax mexicanus Filippi (Characidae, Pisces) |
| Carmignani, M. P. A. | Journal Article | 1966 | Distributuzione dei follicoli tiroidei lungo la regione branchiale nel teleosteo cieco Anoptichthys jordani Hubbs e Innes |
| Cavicchioli, G. and Guarnieri, P. | Journal Article | 1966 | Nota preliminari su gli organi di senso cutanei della testa e del corpo di un pesce cavernicolo Anoptichthys jordani (Cypriniformes, Characidae) |
| Popper, A. N. and Tavolga, W. N. | Journal Article | 1967 | Hearing thresholds in the Mexican blind cavefish |
| Sadoglu, P. | Journal Article | 1967 | The selective value of eye and pigment loss in Mexican cave fish |
| Schemmel, C. | Journal Article | 1967 | Vergleichende Untersuchungen an den Hautsinnesorganen ober- und unterirdisch lebender Astyanax-Formen. Ein Beitrag zur evolution der Cavernicolen |
| Walters, V. and Liu, R. K. | Book Section | 1967 | Hydrodynamics of navigation by fishes in terms of the mucus-water "interface" |
| Pfeiffer, W. | Journal Article | 1967 | Die Korrelation von Augengrosse und Mittelherngrosse bei Hybriden aus Astyanax x Aoptichthys (Characidae, Pisces) |
| Pfeiffer, W. | Journal Article | 1967 | Die Korrelation von Korperlange, Augen-, Linsen, und Papillengrosse bei Hybriden aus Astyanax, Anoptichthys (Characidae, Pisces) |
| Wilkens, H. | Journal Article | 1968 | Beitrag zur Degeneration des Auges bei Cavernicolen, Genzahl und Manifestationsart (Untersuchungen an mexikanischen Hohlenfischen) |
| Mattheij, J. A. | Journal Article | 1968 | The cell types in the adenohypophysis of the blind Maexican cave fish Anoptichthys jordani (Hubbs and Innes) |
| Mattheij, J. A. | Journal Article | 1968 | The ACTH cells in the adenohypophysis of the Mexican cave fish Anoptichthys jordani, as identified by metopirone (SU 4885) treatment |
| Carmignani, M. P. A. | Journal Article | 1968 | Morfologia ed attivita neurosecretoria del nucleo proottico e del nucleo paraipofisario nel teleosteo cieco Anoptichthys jordani Hubbs e Innes |
| Mattheij, J. A. | Journal Article | 1969 | The thyrotropin secreting basophils in the adenohypophysis of Anoptichthys jordani |
| Sadoglu, P. and McKee, A. | Journal Article | 1969 | A second gene that affects eye and body colour in Mexican blind cave fish |
| Mattheij, J. A. and Sprangers, J. A. P. | Journal Article | 1969 | The site of prolactin secretion in the adenohypophysis of the stenohaline teleost Anoptichthys jordani and the effects of this hormone on mucous cells |
| Weiss, B. A. | Journal Article | 1969 | Sonic sensitivity of blind cave fish (Anoptichthys jordani) |
| Gertychowa, R. | Journal Article | 1970 | Studies on the ethology and space orientation of the blind cave fish Anoptichthys jordani Hubbs et Innes 1936 (Characidae) |
| Gertychowa, R. | Journal Article | 1970 | The blind fish of Cueva Chica |
| Wilkens, H. | Journal Article | 1970 | Beitrag zur Degeneration des Auges bei Cavernicolen. Genzhal und Manifestationsart, Untersuchungen an Mexikanischen Hohlenfischen |
| Wilkens, H. | Journal Article | 1970 | Beitrage zur Degenerations des Melaninpigments bei cavernicolen Sippen des Astyanax mexicanus (Filippi) (Characidae, Pisces) |
| Wilkens, H. | Journal Article | 1970 | Der Bau des Auges cavernicolen Sippen von Astyanax fasciatus (Characidae, Pisces). Beitrag zur Problematik degenerativer Evolutionsprozesse |
| Mattheij, J. A. | Journal Article | 1970 | The function of the basophilic cells in the mesoadenohypophysis of the blind cave fish, Anoptichthys jordani |
| Mattheij, J. A. | Journal Article | 1970 | The gonadotrophic cells in the adenohypophysis of the blind Mexican cave fish Anoptichthys jordani |
| Weiss, B. and Martini, J. | Journal Article | 1970 | Lateral line sensitivity in the blind cave fish (Anoptichthys jordani) |
| Whitt, G. S. and Maeda, F. S. | Journal Article | 1970 | Lactate dehydrogenase gene function in the blind cave fish, Anoptichthys jordani, and other characins |
| Popper, A. N. | Journal Article | 1970 | Auditory capacities of the Mexican blind cave fish (Astyanax jordani) and its eyed ancestor (Astyanax mexicanus) |
| Wiley, S. and Mitchell, R. W. | Book Section | 1971 | A bibliography of the Mexican eyeless characib fishes of the genus Astyanax |
| Popper, A. N. | Journal Article | 1971 | The morphology of the Weberian ossicles of two species of the genus Astyanax |
| Gertychowa, R. | Journal Article | 1971 | Heliotaktyzm mlodych rybek jaskiniowych Anoptichthys jordani Hubbs et Innes |
| Wilkens, H. | Journal Article | 1971 | Genetic interpretation of regressive evolutionary processes: Studies on hybrid eyes of two Astyanax cave populations (Characidae, Pisces) |
| Zaccone, G. | Journal Article | 1971 | Histomorphological and histochemical study of the ultimobranchial body of the blind teleost Anoptichthys jordani |
| Wiley, S. and Mitchell, R. W. | Book | 1971 | A bibliography of the Mexican eyeless characin fishes of the genus Astyanax. Preliminary compilation |
| Wilkens, H. and Burns, R. J. | Journal Article | 1972 | A new Anoptichthys cave population (Characidae, Pisces) |
| Thines, G. and Wissocq, N. | Journal Article | 1972 | Etude comparee du comportement alimentaire de deux poissons cavenicoles (Anoptichthys jordani Hubbs et Innes et Ceacobarbus geertsii Blgr) |
| Wilkens, H. | Journal Article | 1972 | Uber das phylogenetische Alter von Hohlentieren |
| Wilkens, H. | Journal Article | 1972 | Uber Praadaptionen fur das Holhlenleben, untersucht am Laichverhalten ober- und unterirdischer Populationen des Astyanax mexicanus (Pisces) |
| Wilkens, H. | Journal Article | 1972 | Zur phylogenetischen Ruckbildung des Auges Cavernicler. Untersuchungen an Anoptichthys jordani (= Astyanax mexicanus), Characidae, Pisces |
| Avise, J. C. and Selander, R. K. | Journal Article | 1972 | Evolutionary genetics of cave-dwelling fishes of the genus Astyanax |
| Zaccone, G. | Journal Article | 1972 | Comparative histochemical investigations on the mucous cells of the branchial epithelium of Mugil cephalus and Anoptichthys jordani |
| Thines, G. and LeGrain, J. M. | Journal Article | 1973 | Effets de la substance d'alarme sur le comportement des poissons cavernicoles Anoptichthys jordani (Characidae) et Caecobarbus geertsii (Cyprinidae) |
| Zeitlin, S. M. | Journal Article | 1973 | Hormonal induction of ovulation and spawning in the blind cave fish, Anoptichthys jordani with the use of human chorionic gonadotropin |
| Durand, J. P. | Journal Article | 1973 | Aspects ultrastructuraux des mechanismes de la rudimentation retinienne chez l'Anoptichthys adulte forme cavernicole aveugle de l'Astyanax mexicanus (Caracidae, Pisces) |
| Zeitlin, S. M. and McDevitt, D. S. | Journal Article | 1973 | Flourescent antibody study of the developing lens of the blind cave fish |
| Voneida, T. J. | Journal Article | 1973 | A comparative study of retino-tectal projections in the blind cave characin, Astyanax hubbsi, and its sighted ancestor Astyanax mexicanus |
| Yasuda, K. | Journal Article | 1973 | Comparative studies on the swimming behaviour of the blind cave fish and the goldfish |
| Schemmel, C. | Journal Article | 1973 | Les organes sensoriels cutanes du genre Astyanax (Pisces, Characidae) chez les formes occupant des biotopes souterraines |
| Mitchell, R. W. | Book Section | 1973 | Introgression between the Mexican eyeless characin fishes and their epigean ancestors |
| Sligar, C. | Journal Article | 1974 | An investigation of tectal efferents in the blind cave fish, A. hubbsi |
| Chakraborty, R. and Nei, M. | Journal Article | 1974 | Dynamics of gene differentiation between incompletely isolated populations of unequal size |
| Schemmel, C. | Journal Article | 1974 | Ist die cavernicole Micos-population von Astyanax mexicanus (Characidae, Pisces) hybriden ursprungs ? |
| Schemmel, C. | Journal Article | 1974 | Genetische Untersuchungen zur Evolution des Geschmacksapparates bei cavernicolen Fischen |
| Sadoglu, P. | Book Section | 1975 | Genetic paths leading to blindness in Astyanax mexicanus |
| Peters, N., Scholl, A. and Wilkens, H. | Journal Article | 1975 | Der Micos-Fisch, Hohlenfisch in statu nascendi oder Bastard ?Ein Beitrag zur Evolution der Hohlentiere |
| Omura, Y. | Journal Article | 1975 | Influence of light and darkness on the ultrastructure of the pineal organ in the blind cave fish, Astyanax mexicanus |
| Sligar, C. and Voneida, T. J. | Journal Article | 1976 | Tectal efferents in the blind cave fish Asyanax hubbsi |
| Durand, J. P. | Journal Article | 1976 | Rudimentation des yeux chez les poissons et urodeles souterraines |
| Herwig, H. J. | Journal Article | 1976 | Ultrastructural investigations on the pineal organ of a cave fish, Anoptichthys jordani and its ancestor, Astyanax mexicanus |
| Voneida, T. J. and Sligar, C. | Journal Article | 1976 | A comparative neuroanatomic study of retinal projections in two fishes: Astyanax hubbsi (the blind cave fish) and Astyanax mexicanus |
| Erckens, W. and Weber, F. | Journal Article | 1976 | Rudiments of an ability for time measurement in the cavernicolous fish Anoptichthys jordani Hubbs and Innes (Pisces, Characidae) |
| Wilkens, H. | Journal Article | 1976 | Genetic and phenotypic variability in cave animals. Studies on phylogenetically young cave populations of Astyanax mexicanus (Filippi) (Characidae, Pisces) |
| Herwig, H. J. | Journal Article | 1976 | Comparative ultrastructural investigations on the pineal organ of the blind cave fish, Anoptichthys jordani and its ancestor, the eyed rive fish, Astyanax mexicanus |
| Zaccone, G. | Journal Article | 1977 | Histology, innervation, and histochemistry of the UB [Ultimobranchial] gland in the Mexican cave fish Anoptichthys jordani Hubbs et Innes (Teleostei, Characidae) |
| Kirby, R. F., Thompson, K. W. and Hubbs, C. | Journal Article | 1977 | Karyotypic similarities between the Mexican and blind tetras |
| Wilkens, H. | Journal Article | 1977 | Die Rudimenation des Rumpfkanals bei kavernicolen Populationen des Astyanax (Characidae, Pisces) |
| Yew, D. T. and Yoshihara, H. M. | Journal Article | 1977 | An ultrastructural study of the retina of the blind cave fish Astyanax hubbusi (sic) |
| Mitchell, R. W., Russell, W. H. and Elliott, W. R. | Journal Article | 1977 | Mexican eyeless characin fishes, genus Astyanax: Environment,distribution and evolution |
| Thines, G. and Weyers, M. | Journal Article | 1978 | Responses locomotrices du poisson cavernicole Astyanax jordani (Pisces, Characidae) a des signaux periodiques et aperiodiques de lumiere et de temperature |
| Durand, J. P. | Journal Article | 1978 | Phenomenes de convergences tissulaires et cytologiques, lies aux processus degeneratifs qui affectent l'oeil chez deux teleoteens cavericoles Asytyanax (Anoptichthys) mexicanus (Characidae) et Lucifuga (Stygicola) dentatus (Ophidiidae) |
| Durand, J. P. | Journal Article | 1979 | Aspects ultrastructuraux des mechanismes de la rudimentation retinienne chez l'Anoptichthys adult, forme cavernicole aveugle de l'Astyanax mexicanus (Characidae, Pisces) |
| Wilkens, H., Peters, H. and Schemmel, C. | Journal Article | 1979 | Gesetzmassigkeiten der regressiven Evolution |
| Sadoglu, P. | Journal Article | 1979 | A breeding method for blind Astyanax mexicanus based on annual spawning patterns |
| Woodhead, A. D. and Achey, P. M. | Journal Article | 1979 | Photoreactivating enzyme in the blind cave fish, Anoptichthys jordani |
| Quinn, T. P. | Journal Article | 1980 | Locomotor responses of juvenile blind cavefish, Astyanax jordani, to the odors of conspecifics |
| Wilkens, H. | Journal Article | 1980 | Prinzipien der Manifestation polygener Systeme |
| Schemmel, C. | Journal Article | 1980 | Studies on the genetics of feeding behaviour in the cave fish Astyanax mexicanus f. Anoptichthys. An example of apparent monofactorial inheritance by polygenes |
| Wilkens, H. | Journal Article | 1980 | Zur Problematik der Rudimentation, untersucht an der Ontogenie des Auges von Hohlenfischen (Astyanax mexicanus) |
| Weissert, R. | Book Section | 1980 | Formunterscheidung durch einer blinden Hohlenfisch (Anoptichthys jordani, Hubbs et Innes) |
| Reddell, J. R. | Book | 1981 | A review of the cavernicole fauna of Mexico, Guatemala and Belize |
| Campenhausen, C., Riess, I. and Weissert, R. | Journal Article | 1981 | Detection of stationary objects by blind cave fish Anoptichthys jordani (Characidae) |
| Herwig, H. J. | Thesis | 1981 | The pineal organ. An ultrastructural and biochemical study on the pineal organ of Hemigrammus caudovittatus and other closely related characid fish with special reference to the Mexican blind cave fish Astyanax mexicanus |
| Weissert, R. and Campenhausen, C. | Journal Article | 1981 | Discrimination between stationary objects by the blind cave fish Anoptichthys jordani (Characidae) |
| Jankowska, M. and Thines, G. | Journal Article | 1982 | Etude comparative de la densite de groupes de poissons cavernicoles et epigee (Characidae, Cyprinidae, Clariidae) |
| Erckens, W. and Martin, W. | Journal Article | 1982 | Exogenous and endogenous control of swimming activity in Astyanax mexicanus (Characidae, Pisces) by direct light response and by circadian oscillator. I Analyses of the time control system of an epigean river population |
| Erckens, W. and Martin, W. | Journal Article | 1982 | Exogenous and endogenous control of swimming activity in Astyanax mexicanus (Characidae, Pisces) by direct light response and by a circadian oscillator. II Features of time controled behaviour of a cave population and their comparison to an ancestral epig |
| Tabata, M. | Journal Article | 1982 | Persistence of pineal photosensory function in blind cave fish, Astyanax mexicanus |
| Rose, F. L. and Mitchell, R. W. | Journal Article | 1982 | Comparative lipid values of epigean and cave adapted Astyanax |
| Lamprecht, G. and Weber, F. | Book Section | 1982 | A test for the biological significance of circadian clocks: Evolutionary regression of the time measuring ability in cavernicolous animals |
| Zilles, K., Tillmann, B. and Bennemann, R. | Journal Article | 1983 | The development of the eye in Astyanax mexicanus (Characidae,Pisces), its blind cave derivative, Anoptichthys jordani (Characidae, Pisces, and their crossbreeds. A scanning and transmission electron microscopic study |
| Romero, A. | Journal Article | 1983 | Introgressive hybridisation in the Astyanax fasciatus (Pisces, Characidae) population at La Cueva Chica |
| Parzefall, J. | Journal Article | 1983 | Field observations in epigean and cave populations of the Mexican characid Astyanax mexcanus (Pisces, Characidae) |
| Voneida, T. J. and Fish, S. E. | Journal Article | 1984 | Central nervous system changes related to the reduction of visual inputs in a naturally blind fish (Astyanax hubbsi) |
| Schuppa, M. | Thesis | 1984 | Morphometrische und meristische Untersuchungen an verschiedenen Astyanax-populationen (Characidae) Mexicos |
| Romero, A. | Thesis | 1984 | Responses to light in cave and surface populations of Astyanax fasciatus (Pisces, Characidae): An evolutionary interpretation |
| Romero, A. | Journal Article | 1984 | Behaviour in an 'intermediate' population of the subterranean dwelling characid Astyanax fasciatus |
| Wilkens, H. | Journal Article | 1984 | Zur Evolution von Polygensystemen, untersucht an ober- unt unterirdischen Populationen des Astyanax mexicanus (Characidae, Pisces) |
| Lamprecht, G. and Weber, F. | Journal Article | 1985 | Time-keeping mechanisms and their ecological significance in cavernicolous animals |
| Burchards, H., Dolle, A. and Parzefall, J. | Journal Article | 1985 | The aggressive behaviour of an epigean population of Astyanax mexicanus (Characidae, Pisces) and some observations of three subterranean popukations |
| Teyke, T. | Journal Article | 1985 | Collision with and avoidance of obstacles by blind cave fish Anoptichthys jordani (Characidae) |
| Romero, A. | Journal Article | 1985 | Ontogenetic change in phototactic responses of surface and cave populations of Astyanax fasciatus (Pisces, Characidae) |
| Wilkens, H. | Journal Article | 1985 | The evolution of polygenic systems, studies on epigean and cave poplations of Astyanax fasciatus (Characidae, Pisces) |
| Parzefall, J. | Book Section | 1986 | Behavioural ecology of cave-dwelling fishes |
| De Fraipont, M. and Thines, G. | Journal Article | 1986 | Responses of the cave fish Astyanax mexicanus (Anoptichthys antrobius) to the odor of know or unknown conspecifics |
| Wilkens, H. and Huppop, K. | Journal Article | 1986 | Sympatric speciation in cave fishes ? Studies on a mixed population of epi- and hypogean Astyanax (Characidae, Pisces) |
| De Fraipont, M. and Thines, G. | Journal Article | 1986 | La detection chimique de l'odeur des predaeurs chex Astyanax mexixanus (formes cavernicoles et epigees) |
| Hassan, E. S. | Journal Article | 1986 | On the discrimination of spatial intervals by the blind cave fish Anoptichthys jordani |
| De Fraipont, M. | Journal Article | 1986 | La detection chimique de l'odeur des congeneres chex Astyanax mexicanus (forme cavernicole). Responses observees pour des cencentrations egales etablies a partir de groupes de densites differentes |
| Huppop, K. | Journal Article | 1986 | Oxygen consumption of Astyanax fasciatus (Characidae, Pisces): a comparison of epigean and hypogean populations |
| Fraipont, M. | Journal Article | 1986 | La detection chimique chez Astyanax mexicanus (forme cavernicole) en fonction de la densite des groupes |
| Romero, A. | Journal Article | 1986 | Charles Breder and the Mexican blind cave Characid |
| Wilkens, H. | Journal Article | 1986 | The evolution of polygenic systems. Studies on epigean and cave populations of Astyanax fasciatus (Characidae, Pisces) |
| Wilkens, H. | Journal Article | 1987 | Genetic analysis of evolutionary processes |
| Huppop, K. | Journal Article | 1987 | Food finding ability in cave fish (Astyanax fasciatus) |
| De Fraipont, M. | Journal Article | 1987 | La detection chimique chez Astyanax mexicanus (forme cavernicole, Pisces, Characidae), en fonction du sexe |
| De Fraipont, M. | Journal Article | 1987 | La detection chimique chez Astyanax mexicanus (Teleostei, Characidae) (forme cavernicole) en fonction de la densite des groupes |
| De Fraipont, M. | Journal Article | 1988 | The responses of Astyanax mexicanus (Pisces, Characidae, epigean form) to chemical traces of conspecific groups of varying densities |
| Teyke, T. | Journal Article | 1988 | Flow field, swimming velocity and boundary layers: parameters which affect the stimulus for the lateral line organ in blind fish |
| Wilkens, H. | Journal Article | 1988 | Evolution and genetics of epigean and cave Astyanax fasciatus (Characidae, Pisces): support for the neutral mutation theory |
| Fricke, D. | Journal Article | 1988 | Reaction to alarm substance in cave populations of Astyanax mexicanus (Characidae, Pisces) |
| Huppop, K. | Thesis | 1988 | Phanomene und Bedeutung der Energieersparnis bei dem Hohlenfisch Astynax fasciatus |
| Huppop, K. | Journal Article | 1989 | Genetic analysis of oxygen consumption in cave and surface fish of Astyanax fasciatus (Characidea, Pisces): Further support for the neutral mutation theory |
| Langecker, T. G. | Journal Article | 1989 | Studies of the light reaction of epigean and cave populations of Astyanax fasciatus (Characidea, Pisces) |
| Hassan, E. S. | Book Section | 1989 | Hydrodynamic imaging of the surroundings by the lateral line of the blind cave fish Anoptichthys jordani |
| Fack, H. and Wilkens, H. | Journal Article | 1989 | Eye reduction in hybrids and a naturally viable cave form Astyanax fasciatus (Characidae, Pisces) |
| Teyke, T. | Journal Article | 1989 | Learning and remembering the environment in the blind cave fish Anoptichthys jordani |
| Fricke, D. and Parzefall, J. | Journal Article | 1989 | Alarm reaction, aggresion and scholing in cave and river populations of Astyanax fasciatus (Pisces, Characidae) and their hybrids |
| Langecker, T. G. | Thesis | 1990 | Das Licht als Evolutionsfaktor bei Hohlentieren- untersucht an ober- und unterirdisch lebenden Populationen des Astyanax fasciatus (Characidae, Pisces) |
| Parzefall, J. and Fricke, D. | Journal Article | 1990 | Alarm raection and schooling in population hybrids of Astyanax (Pisces, Characidae) |
| Peters, N., Schmidt, W. and Fricke, D. | Journal Article | 1990 | Die Feinstruktur der Kolbenzellen (Schreckstoffzellen) in der Epidermis von Astyanax mexicanus Fillippi 1853 (Characidae, Pisces) und seinen Hohlen derivaten "Anoptichthys" |
| Klimpel, B. and Parzefall, J. | Journal Article | 1990 | Comparative studies of predatory behaviour in cave and river populations of Astyanax fasciatus (Characidae, Pisces) |
| Abdel-Latif, H., Hassan, E. S. and von Campenhausen, C. | Journal Article | 1990 | Sensory performance of blind Mexican cave fish after destruction of the canal neuromasts |
| Yokoyama, R. and Yokoyama, S. | Journal Article | 1990 | Convergent evolution of the red- and green-like visual pigment genes in fish Astyanax fasciatus and human |
| Yokoyama, R and Yokoyama, S | Journal Article | 1990 | Isolation, DNA sequence and evolution of a color visual pigment gene of the blind cavefish Astyanax fasciatus |
| Teyke, T. | Journal Article | 1990 | Morphological differences in neuromasts of the blind cave fish Asyanax hubbsi and the sighted river fish Astyanax mexicanus |
| Huppop, K. and Wilkens, H. | Journal Article | 1991 | Bigger eggs in subterranean Astyanax fasciatus (Characidae, Pisces) |
| Huppop, K. | Journal Article | 1991 | Muskulatur als Fettspeicher beim mexikanischen Hohlensalmler Astyanax fasciatus |
| Campenhausen, C. | Journal Article | 1991 | Die Bedentung der "inneren Landkarte" fur die Orientierung - Untersuchungen an blinden Hohlenfischen |
| Parzefall, J. and Fricke, D. | Journal Article | 1991 | Alarm and schooling in population hybrids of Astyanax fasciatus |
| Riedel, G. and Krug, L. | Journal Article | 1991 | Olfaktorische Regionen im Vorderhirn des blinden Hohlenfisches Asyanax hubbsi |
| Langecker, T. G., Wilkens, H. and Junge, P. | Journal Article | 1991 | Introgresve hybridisation in the Pachon cave population of Astyanax fasciatus (Teleostei, Characidae) |
| De Fraipont, M. | Journal Article | 1992 | Response d'Astyanax mexicanus aux stimulations chimiques provenant de groupes de congeneres a differents stades de developpement |
| Parzefall, J. | Journal Article | 1992 | Schooloing behaviour in population hybrids of Astyanax fasciatus and Poecilia mexicana (Pisces, Characidae and Poeciliidae) |
| Lamprecht, G. and Weber, F. | Book Section | 1992 | Spontaneous locomotion behaviour in cavernicolous animals: The regression of the endogenous circadian system |
| Parzefall, J. | Book Section | 1992 | Behavioural aspects in animals living in caves |
| Wilkens, H. and Meyer, M. | Journal Article | 1992 | Eye formation and regression during early ontogeny in cave fishes |
| Langecker, T. G. and Longley, G. | Book Section | 1992 | Blind catfish (Trogloglanis pattersoni and Satan eurystomus) from dep artesian waters. A study on convergent adaptations to cave and deep sea biota |
| Hassan, E. S., Abdel-Latif, H. and Biebricher, R. | Journal Article | 1992 | Studies on the effects of ca++ and co++ on the swimmimg behaviour of the blind Mexican cavefish |
| Wilkens, H. | Book Section | 1992 | Neutral mutations and evolutionary progress |
| Parzefall, J. | Book Section | 1993 | Behavioural ecology of cave-dwelling fishes |
| Langecker, T. G. | Journal Article | 1993 | Genetic analysis of the dorsal light reaction in epigean and cave-dwelling Astyanax fasciatus (Teleostei, Characidae) |
| Langecker, T. G., Schmale, H. and Wilkens, H. | Journal Article | 1993 | Transcription of the opsin gene in degenerate eyes of cave dwelling Astyanax fasciatus (Teleostei, Characidae) and of its conspecific epigean ancestor during early ontogeny |
| Langecker, T. G., Schmale, H. and Wilkens, H. | Journal Article | 1993 | Strukturelle und molekulargenetische Untersuchungen zur Augenreduktion beim Hohlenfisch Astyanax fasciatus (Teleostei, Characidae) |
| Peters, N., Schacht, V., Schmidt, W. and Wilkens, H. | Journal Article | 1993 | Gehirnproportionen und Auspragungsgrad der Sinnesorgane von Astyanax mexicanus (Pisces: Characidae). Ein Vergleich zwischen dem Flussfisch ubd seinen Hohlen-derivaten 'Anoptichthus' |
| Hoffman, S. and Hausberg, C. | Journal Article | 1993 | The aggressive behaviour of the Micos cave population (Astyanax fasciatus, Characidae, Teleostei) after selection for functional eyes in comaprison to an epigean one |
| Borowsky, R. | Journal Article | 1994 | Blind cave tetras of the Sierra Madre Oriental |
| Teyke, T. and Schaerer, S. | Journal Article | 1994 | Blind Mexican cave fish (Astyanax hubbsi) respond to moving visual stimuli |
| Langecker, T. G., Neumann, B., Hausberg, C. and Parzefall, J. | Journal Article | 1995 | Evolution of the optical releasers for aggressive behaviour in cave-dwelling Astyanax fasciatus (Teleostei, Characidae) |
| Langecker, T. G., Wilkens, H. and Schmale, H. | Journal Article | 1995 | Developmental constraints in regressive evolution: Studies of the expression of the delta-s crystallin gene in the developing lens of cave-dwelling Astaynax fasciatus (Cuvier, 1819) (Teleostei, Characidae) by in situ hybridisation |
| Yokoyama, S., Meany, A., Wilkens, H. and Yokoyama, R. | Journal Article | 1995 | Initial mutational steps towards loss of opsin gene function in cavefish |
| Borowsky, R. | Journal Article | 1996 | The Sierra de El Abra of Northeastern Mexico: blind fish in the worlds largest cave system |
| Riedel, G. | Journal Article | 1997 | The forebrain of the blind cave fish Astyanax hubbsi (Characidae). I. General anatomy of the telencephalon |
| Borowsky, R. and Espinasa, L. | Journal Article | 1997 | Antiquity and origins of troglobitic Mexican tetras, Astyanax fasciatus |
| Riedel, G. and Krug, L. | Journal Article | 1997 | The forebrain of the blind cave fish Astyanax hubbsi (Characidae). II. Projections of the olfactory bulb |
| Behrens, M., Langecker, T.G., Wilkens, H. and Schmale, H. | Journal Article | 1997 | Comparative analysis of Pax-6 sequence and expression in the eye development of the blind cavefish Astyanax fasciatus and its epigean conspecific |
| Wilkens, H. | Book Section | 1998 | Genetics of cave fishes |
| Behrens, M, Wilkens, H and Schmale, H | Journal Article | 1998 | Cloning of the alpha A-crystallin genes of a blind cave form and the epigean form of Astyanax mexicanus: a comparative analysis of structure, expression and evolutionary conservation |
| Contreras-Balderas, S. and Lozano-Vilano, M.D.L. | Journal Article | 1998 | Problemas nomenclaturales de las formas mexicanas del genero Astyanax (Pisces: Characidae) |
| Jeffery, WR and Martasian, DP | Journal Article | 1998 | Evolution of eye regression in the cavefish Astyanax: apoptosis and the Pax-6 gene |
| Kullander, S. O. | Journal Article | 1999 | Fish species - how and why |
| Baker, CF and Montgomery, J | Journal Article | 1999 | The sensory basis of rheotaxis in the blind Mexican cave fish, Astyanax fasciatus |
| Jeffery, W. R., Strickler, A.G., Guiney, S., Heyser, D.G. and Tomarev, S.I. | Journal Article | 2000 | Prox1 in eye degeneration and sensory organ compensation during development and evolution of the cavefish Astyanax |
| Yamamoto, Y. and Jeffery, W. R. | Journal Article | 2000 | Central role for the lens in cave fish eye degeneration |
| Ford, D.C. | Book Section | 2000 | 5.3.1. Deep phreatic caves and groundwater systems of the Sierra de El Abra, Mexico |
| Espinasa, L. and Borowsky, R. | Journal Article | 2000 | Eyed cave fish in a karst window |
| Jeffery, W. R. | Journal Article | 2001 | Cavefish as a model system in evolutionary developmental biology |
| Strickler, A.G., Yamamoto, Y. and Jeffery, W. R. | Journal Article | 2001 | Early and late changes in Pax6 expression accompany eye degeneration during cavefish development |
| Espinasa, L. and Borowsky, R. | Journal Article | 2001 | Origins and relationships of cave populations of the blind Mexican tetra, Astyanax fasciatus, in the Sierra de El Abra |
| Boudriot, F and Reutter, K | Journal Article | 2001 | Ultrastructure of the taste buds in the blind cave fish Astyanax jordani ("Anoptichthys") and the sighted river fish Astyanax mexicanus (Teleostei, Characidae) |
| Montgomery, J.C., Coombs, S. and Baker, C.F. | Journal Article | 2001 | The mechanosensory lateral line system of the hypogean form of Astyanax fasciatus |
| Krejca, J. | Journal Article | 2002 | Recent field investigations of blind Astyanax |
| Dowling, TE, Martasian, DP and Jeffery, WR | Journal Article | 2002 | Evidence for multiple genetic forms with similar eyeless phenotypes in the blind cavefish, Astyanax mexicanus |
| Berg, A. and Watson, G.M. | Journal Article | 2002 | Rapid recovery of sensory function in blind cave fish treated with anemone repair proteins |
| Strickler, AG, Famuditimi, K and Jeffery, WR | Journal Article | 2002 | Retinal homeobox genes and the role of cell proliferation in cavefish eye degeneration |
| Romero, A., Jeffery, W.R. and Yamamoto, Y. | Journal Article | 2002 | When cave fish see the light: Reaction norm to light exposure during development in epigean, troglomorphic, and hybrids of Astyanax fasciatus (Charicidae) |
| Borowsky, RL and Wilkens, H | Journal Article | 2002 | Mapping a cave fish genome: Polygenic systems and regressive evolution |
| Strecker, U. | Journal Article | 2003 | Polymorphic microsatellites isolated from the cave fish Astyanax fasciatus |
| Wilkens, H. and Strecker, U. | Journal Article | 2003 | Convergent evolution of the cavefish Astyanax (Characidae, teleostei): Genetic evidence from reduced eye-size and pigmentation |
| Strecker, U., Bernatchez, L. and Wilkens, H. | Journal Article | 2003 | Genetic divergence between cave and surface populations of Astyanax in Mexico (Characidae, Teleostei) |
| Sarma, SSS, Lopez-Romulo, A and Nandini, S | Journal Article | 2003 | Larval feeding behaviour of blind fish Astyanax fasciatus (Characidae), black tetra Gymnocorymbus ternetzi (Characidae) and angel fish Pterophyllum scalare (Cichlidae) fed zooplankton |
| Contreras-Balderas, S, Almada-Villela, P, Lozano-Vilano, M de L and Garcia-Ramirez, ME | Journal Article | 2003 | Freshwater fish at risk or extinct in Mexico |
| Porter, M.L. and Crandall, K.A. | Journal Article | 2003 | Lost along the way: the significance of evolution in reverse |
| McCauley, DW, Hixon, E and Jeffery, WR | Journal Article | 2004 | Evolution of pigment cell regression in the cavefish Astyanax: a late step in melanogenesis |
| Protas ME, Hersey C, Kochanek D, Zhou Y, Wilkens H, Jeffery WR, Zon LI, Borowsky R, Tabin CJ. | Journal Article | 2006 | Genetic analysis of cave fish reveals molecular convergence in the evolution of albinism |
| Protas, M., Conrad, M., Gross, J.B., Tabin, C. and Borowsky, R.L. | Journal Article | 2007 | Regressive evolution in the Mexican cave tetra, Astyanax mexicanus |
| Protas, M, Tabansky, I, Conrad, M, Gross, JB, Vidal, O, Tabin, C and Borowsky, RL | Journal Article | 2008 | Multi-trait evolution in a cave fish, Astyanax mexicanus |
| Gross, JB, Protas, M, Conrad, M, Scheid, PE, Vidal, O and others | Journal Article | 2008 | Synteny and candidate gene prediction using an anchored linkage map of Astyanax mexicanus |
| Jeffery, WR | Journal Article | 2009 | Regresive evolution in Astyanax cavefish |
| Kowalko, J, Gross, JB, Protas, M, Borowsky, RL and Tabin, C | Journal Article | 2009 | Genetic approaches to studying morphological and behavioural traits in Astyanax mexicanus |
| Kowalko, J, Rohner, N, Borowsky, RL and Tabin, C | Journal Article | 2011 | Cave fish as a model to elucidate the genetic basis of the evolution of behaviour |
| Esquivel-Bobadilla, S | Thesis | 2011 | Análisis genético de Astyanax mexicanus (Characidae, Teleostei, Pisces) de la vertiente atlántica de México usando microsatélites. |
| Bradic, M, Beerli, P and Borowsky, RL | Journal Article | 2011 | Population genetic evidence for convergance and parallelism in the Mexican blind cavefish (Astyanax mexicanus) |
| Dufton, M, Hall, BK and Franz-Odendaal, T. | Journal Article | 2012 | Early lens ablation causes dramatic long-term effects on the shape of bones in the craniofacial skeleton of Astyanax mexicanus |
| Jeffery, W.R. | Book Section | 2012 | Astyanax mexicanus: A model organism for evolution and adaptation |
| Wilkens, H. | Book Section | 2012 | Neutral mutations |
| Trontelj, P. | Book Section | 2012 | Natural selection |
| Gross, J.B. | Journal Article | 2012 | The complex origin of Astyanax cavefish |
| Bradic, M., Beerli, P., Garcia-de Leon, F. J., Esquivel-Bobadilla, S. and Borowsky, R. L. | Journal Article | 2012 | Gene flow and population structure in the Mexican blind cavefish complex (Astyanax mexicanus) |
| Protas, M. and Jeffery, W. R. | Journal Article | 2012 | Evolution and development in cave animals: from fish to crustaceans |
| Stahl, AL | Journal Article | 2013 | An evaluation of eyelessness in cave dwelling Astyanax mexicanus using RNA-seq technology |
| Atukorala, A. D. S., Hammer, C., Dufton, M. and Franz-Odendaal, T. A. | Journal Article | 2013 | Adaptive evolution of the lower jaw dentition in Mexican tetra (Astyanax mexicanus) |
| Pazza, R | Journal Article | 2013 | Molecular systematics of the genus Astyanax - Starter edition |
| Elliott, William R. | Journal Article | 2013 | Astyanax: Looking back 45 years |
| Kowalko, J.E., Rohner, N., Rompani, S.B., Peterson, B.K., Linden, T.A., Yoshizawa, M., Kay, E.H., Weber, J., Hoekstra, H.E., Jeffery, W.R., Borowsky, R. and Tabin, C.J. | Journal Article | 2013 | Loss of schooling behavior in cavefish through sight-dependent and sight-independent mechanisms |
| Rohner, N., Jarosz, D.F., Kowalko, J.E., Yoshizawa, M., Jeffery, W.R., Borowsky, R.L., Lindquist, S. and Tabin, C.J. | Journal Article | 2013 | Cryptic variation in morphological evolution: HSP90 as a capacitor for loss of eyes in cavefish |
| Bibliowicz, J., Alie, A., Espinasa, L., Yoshizawa, M., Blin, M., Hinaux, H., Legendre, L., Pere, S. and Retaux, S. | Journal Article | 2013 | Differences in chemosensory response between eyed and eyeless Astyanax mexicanus of the Rio Subterraneo cave |
| Rohner, N | Journal Article | 2013 | HSP90 as a capacitor for the evolution of eye loss in fish |
| Kowalko, J., Rohner, N., Linden, T.A., Rompani SB, Warren, W.C., Borowsky, R, Tabin, C.J., Jeffery, W.R. and Yoshizawa M. | Journal Article | 2013 | Convergence in feeding posture occurs through different loci in independently evolved cave populations of Astyanax mexicanus. |
| Bradic, M., Teotonio, H. and Borowsky, R. L. | Journal Article | 2013 | The population genomics of repeated evolution in the blind cavefish Astyanax mexicanus |
| Gross, J.B., Furterer, A., Carlson, B.M. and Stahl, B.A. | Journal Article | 2013 | An Integrated Transcriptome-Wide Analysis of Cave and Surface Dwelling Astyanax mexicanus |
| Stahl, B. A. and Gross, J. B. | Journal Article | 2013 | Pigmentation loss in cave animals: A high-resolution study of destructive genetic mutations |
| Espinasa, L., Bartolo, N.D. and Newkirk, C.E. | Journal Article | 2014 | DNA sequences of troglobitic nicoletiid insects supports Sierra de El Abra and the Sierra de Guatemala as a single biogeographic area: Implications for Astyanax |
| Atukorallaya, D. and Franz-Odendaal, T. | Journal Article | 2014 | Astyanax mexicanus-A novel model of tooth shape formation and regeneration |
| McGaugh, S.E., Gross, J.B., Aken, B., Blin, M., Borowsky, R., Chalopin, D., Hinaux, H., Jeffery, W.R., Keene, A., Ma, L., Minx, P., Murphy, D., O'Quin, K.E., Retaux, S., Rohner, N., Searl, S.M., Stahl, B.A., Tabin, C., Volff, J.N., Yoshizawa M, Warren WC. | Journal Article | 2014 | The cavefish genome reveals candidate genes for eye loss |
| Atukorala, A. D. S. and Franz-Odendaal, T. A. | Journal Article | 2014 | Spatial and temporal events in tooth development of Astyanax mexicanus |
| Moran, D., Softley, R. and Warrant, E.J. | Journal Article | 2014 | Eyeless Mexican cavefish save energy by eliminating the circadian rhythm in metabolism |
| Elliott, W.R. | Journal Article | 2014 | Sotano de Yerbaniz |
| Bradic, M, Rohner, N, Tabin, C and Borowsky, R. | Journal Article | 2015 | Caves with eyed and eyeless populations of Astyanax |
| Rohner, N | Journal Article | 2015 | Hungry, fat and healthy - Studying the physiological basis of cave adaptation |
| Stahl, Bethany A. and Gross, Joshua B. | Journal Article | 2015 | Alterations in Mc1r gene expression are associated with regressive pigmentation in Astyanax cavefish |
| Stahl, B. A., Ma, L and Gross, J. B. | Journal Article | 2015 | High resolution genomic mapping reveals genes contributing to complex melaophore variation in Astyanax mexicanus cavefish |
| McGaugh, S. E. | Journal Article | 2015 | Population genomics of cavefish |
| Dufton, Megan and Franz-Odendaal, Tamara A. | Journal Article | 2015 | Morphological diversity in the orbital bones of two teleosts with experimental and natural variation in eye size |
| Silva, D. M. Z. A., Utsunomia, R., Pansonato-Alves, J.C., Oliveira, C. and Foresti, F. | Journal Article | 2015 | Chromosomal Mapping of Repetitive DNA Sequences in Five Species of Astyanax (Characiformes, Characidae) Reveals Independent Location of U1 and U2 snRNA Sites and Association of U1 snRNA and 5S rDNA |
| Moran, D., Softley, R. and Warrant, E.J. | Journal Article | 2015 | The energetic cost of vision and the evolution of eyeless Mexican cavefish |
| Yoshizawa, Masato, Robinson, Beatriz G., Duboue, Erik R., Masek, Pavel, Jaggard, James B., O'Quin, Kelly E., Borowsky, Richard L., Jeffery, William R. and Keene, Alex C. | Journal Article | 2015 | Distinct genetic architecture underlies the emergence of sleep loss and prey-seeking behavior in the Mexican cavefish |
| Hinaux, Helene, Blin, Maryline, Fumey, Julien, Legendre, Laurent, Heuze, Aurelie, Casane, Didier and Retaux, Sylvie | Journal Article | 2015 | Lens Defects in Astyanax mexicanus Cavefish: Evolution of Crystallins and a Role for alphaA-Crystallin |
| Fumey, J. | Journal Article | 2015 | Evidence of late Pleistocene origin of Astyanax mexicanus cavefish |
| Jaggard, J. B. | Journal Article | 2015 | Distinct neural mechanisms underlie the convergent evolution of sleep loss in Astyanax |
| Devos, Lucie, Alie, A. and Retaux, S | Journal Article | 2015 | Developmental evolution of the basal forebrain in cavefish |
| Aspiras, A.C., Rohner, N., Martineau, B., Borowsky, R.L. and Tabin, C.J. | Journal Article | 2015 | Melanocortin 4 receptor mutations contribute to the adaptation of cavefish to nutrient-poor conditions |
| Caballero-Hernandez, O., Hernandez-Patricio, M., Sigala-Regalado, I., Morales-Malacara, J. B. and Miranda-Anaya, M. | Journal Article | 2015 | Circadian rhythms and photic entrainment of swimming activity in cave-dwelling fish Astyanax mexicanus (Actinopterygii: Characidae), from El Sotano La Tinaja, San Luis Potosi, Mexico |
| Rohner, Nicolas | Book Section | 2016 | Selection Through Standing Genetic Variation |
| Gross, J.B., Stahl, B.A., Powers, A.K. and Carlson, B.M. | Journal Article | 2016 | Natural bone fragmentation in the blind cave-dwelling fish, Astyanax mexicanus: candidate gene identification through integrative comparative genomics |
| Aspiras, A., Tabin, C. and Rohner, N. | Conference Paper | 2016 | Astyanax mexicanus as a natural model for metabolic adaptation |
| Casane, D and Retaux, S | Journal Article | 2016 | Evolutionary genetics of the cavefish Astyanax mexicanus |
| Yoshizawa, M., Settle, A., Macaspac, C., Fernandes, V. Yoshida, M. and Keene, A. | Conference Paper | 2016 | Adaptation through changes of behavioral and morphological traits in Mexican Cavefish |
| O'Quin, Kelly and McGaugh, Suzanne E. | Book Section | 2016 | Mapping the Genetic Basis of Troglomorphy in Astyanax: How Far We Have Come and Where Do We Go from Here? |
| Atukorala, A. D. S. and Franz-Odendaal, Tamara A. | Book Section | 2016 | Evolution and Development of the Cavefish Oral Jaws: Adaptations for Feeding |
| Beale, A., Whitmore, D. and Moran, D. | Journal Article | 2016 | Life in a dark biosphere: A review of circadian physiology in "arrhythmic" environments |
| Keene, A.C., Yoshizawa, M. and McGaugh, S.E. | Book | 2016 | Biology and Evolution of the Mexican Cavefish |
| Schmitter-Soto, JJ | Journal Article | 2016 | A phylogeny of Astyanax (Characiformes: Characidae) in Central and North America |
| Retaux, Sylvie, Alie, Alexandre, Blin, Maryline, Devos, Lucie, Elipot, Yannick and Hinaux, Helene | Book Section | 2016 | Neural Development and Evolution in Astyanax mexicanus: Comparing Cavefish and Surface Fish Brains |
| Jaggard, J. B., Robinson, B. G., Stahl, B, Oh, I, Masek, P, Yoshizawa, M and Keene, A. | Journal Article | 2017 | The lateral line confers evolutionarily derived sleep loss in the Mexican cavefish. |
| Krishnan, J and Rohner, N | Journal Article | 2017 | Cavefish and the basis for eye loss |
| Stahl, B | Journal Article | 2017 | The evolution of neural circuitry regulating sleep and arousal in the blind mexican cavefish |
| Alvarado, C.G. | Journal Article | 2017 | Parallel evolution of body shape in Astyanax (Characidae) morphotypes |
| Stahl, B.A. and Gross, J.B. | Book | 2017 | A comparative transcriptomic analysis of development in two Astyanac cave populations |
| Yoshizawa, M | Journal Article | 2017 | Rapid evolution of the gut symbionts and asd-like behavior in the extreme cave environment |
| Fumey J, Hinaux H, Noirot C, Thermes C, Re´ taux S, Casane D. | Journal Article | 2017 | Evidence for Late Pleistocene origin of Astyanax mexicanus cavefish. |
| Lyon, A., Powers, A. K., Gross, J. B. and O'Quin, K. E. | Journal Article | 2017 | Two – three loci control scleral ossicle formation via epistasis in the cavefish Astyanax mexicanus |
| Jaggard, J. B. | Journal Article | 2017 | The lateral line confers evolutionarily derived sleep loss in the mexican cavefish |
| Wilkens, H. and Strecker, U. | Book | 2017 | Evolution in the Dark: Darwin's Loss Without Selection |
| Gross, J. B. | Journal Article | 2017 | Evolution and development of cranial asymmetry in Astyanax cavefish |
| Kaplan, S.A., Powers, A.K. and Gross, J.B. | Conference Paper | 2017 | Understanding the Origin of Cranial Bone Fragmentation: Live-fluorescent Imaging Across Astyanax mexicanus Development |
| Schmitter-Soto, JJ | Journal Article | 2017 | A revision of Astyanax (Characiformes: Characidae) in Central and North America, with the description of nine new species |
| Hinaux, H, Recher, G, Alie, A., Legendre, L, Blin, M. and Retaux, S | Journal Article | 2017 | Lens apoptosis in the Astyanax blind cavefish is not triggered by its small size or defects in morphogenesis |
| Ren, X.Y., Hamilton, N., Müller, F. and Yamamoto, Y. | Journal Article | 2018 | Cellular rearrangement of the prechordal plate contributes to eye degeneration in the cavefish |
| Alie, A., Devos, L., Torres-Paz, J., Prunier, L., Boulet, F., Blin, M., Elipot, Y. and Retaux, S. | Journal Article | 2018 | Developmental evolution of the forebrain in cavefish, from natural variations in neuropeptides to behavior |
| Espinasa, L. | Book Section | 2018 | The Guerrero fish population: Astyanax aeneus as a comparative cavefish model |
| Espinasa, L., Legendre, L., Fumey, J., Blin, M., Rétaux, S. and Espinasa, M. | Journal Article | 2018 | A new cave locality for Astyanax cavefish in Sierra de El Abra, Mexico |
| Elliott, W.R. | Book | 2018 | The Astyanax Caves of Mexico: Cavefishes of San Luís Potosí, Tamaulipas, and Guerrero |
| Carlson, B.M. and Gross, J.B. | Journal Article | 2018 | Characterization and comparison of activity profiles exhibited by the cave and surface morphotypes of the blind Mexican tetra, Astyanax mexicanus |
| Mirande, J.M. | Journal Article | 2018 | Morphology, molecules and the phylogeny of Characidae (Teleostei, Characiformes) |
| Borowsky, R. | Journal Article | 2018 | Primer. Cavefishes |
| Devitsina, G.V. and Golovkina, T.V. | Journal Article | 2018 | Structural Organization of the Taste Apparatus in Characins (Characidae, Teleostei |
| Sears, C.R. and Gross, J.B. | Conference Paper | 2018 | The RNA Architecture of Life in the Dark: A Transcriptomic Assessment of Varying Photic Conditions in the Blind Mexican Cavefish, Astyanax mexicanus |
| Tabin, J.A., Aspiras, A., Martineau, B., Riddle, M., Kowalko, J. Borowsky, R. Rohner, N. and Tabin, C.J. | Journal Article | 2018 | Temperature preference of cave and surface populations of Astyanax mexicanus |
| Stah, B.A., Sears, C.R., Ma, L., Perkins, M. and Gross, J.B. | Book Section | 2018 | Pmela and Tyrp1b contribute to melanophore variation in Mexican cavefish |
| Borowsky, R., Luk, A., He, X.J. and Kim, R.S. | Journal Article | 2018 | Unique sperm haplotypes are associated with phenotypically different sperm subpopulations in Astyanax fish |
| Riddle, M.R., Aspiras, A.C., Gaudenz, K., Peuß, R., Sung, J.Y., Martineau, B., Peavey, M., Box, A.C., Tabin, J.A., McGaugh, S., Borowsky, R., Tabin, C.J. and Rohner, N. | Journal Article | 2018 | Insulin resistance in cavefish as an adaptation to a nutrient-limited environment |
| Powers, A.K., Boggs, T.E. and Gross, J.B. | Journal Article | 2018 | Canal neuromast position prefigures developmental patterning of the suborbital bone series in Astyanax cave- and surface-dwelling fish |
| Rohner, N. | Journal Article | 2018 | Cavefish as an evolutionary mutant model system for human disease |
| Fumey, J., Hinaux, H., Noirot, C., Thermes, C., Rétaux, S. and Casane, D. | Journal Article | 2018 | Evidence for late Pleistocene origin of Astyanax mexicanus cavefish |
| Garita-Alvarado, C.A., Barluenga, M. and Ornelas-García, C.P. | Journal Article | 2018 | Parallel evolution of morphs of Astyanax species (Teleostei: Characidae) in México and Central America |
| Gross, J.B., Weagley, J., Stahl, B.A., Ma, L., Espinasa, L. and McGaugh, S.E. | Journal Article | 2018 | A local duplication of the Melanocortin receptor 1 locus in Astyanax |
| Devi, A., Atukorala, S. and Franz-Odendaal, T.A. | Journal Article | 2018 | Genetic linkage between altered tooth and eye development in lens-ablated Astyanax mexicanus |
| Yoshizawa, M., Settle, A., Hermosura, M.C., Tuttle, L.J., Cetraro, N., Passow, C.N. and McGaugh, S.E. | Journal Article | 2018 | The evolution of a series of behavioral traits is associated with autism-risk genes in cavefish |
| Pazza, R., Dergam, J.A. and Kavalco, K.F. | Journal Article | 2018 | Trends in karyotype evolution in Astyanax (Teleostei, Characiformes, Characidae): Insights from molecular data. |
| Retaux, S. | Journal Article | 2018 | The healthy diabetic cavefish conundrum |
| Blin, M., Tine, E., Meister, L., Elipot, Y., Bibliowicz, J., Espinasa, L. and Rétaux, S. | Journal Article | 2018 | Developmental evolution and developmental plasticity of the olfactory epithelium and olfactory skills in Mexican cavefish |
| Fernandes, V.F.L., Macaspac, C., Lu, L. and Yoshizawa, M. | Journal Article | 2018 | Evolution of the developmental plasticity and a coupling between left mechanosensory neuromasts and an adaptive foraging behavior |
| Kopp, J., Avasthi, S. and Espinasa, L. | Journal Article | 2018 | Phylogeographical convergence between Astyanax cavefish and mysid shrimps in the Sierra de El Abra, Mexico |
| Jaggard, J.B., Stahl, B.A., Lloyd, E., Prober, D.A., Duboue, E.R. and Keene, A.C. | Journal Article | 2018 | Hypocretin underlies the evolution of sleep loss in the Mexican cavefish |
| Kling, J. | Journal Article | 2018 | Insulin resistance grows in the dark |
| Ojha, A. and Watve, M. | Journal Article | 2018 | Blind fish: An eye opener |
| Chin, J.S.R., Gassant, C.E., Amaral, P.M., Lloyd, E., Stahl, B.A., Jaggard, J.B., Keene, A.C. and Duboue, E.R. | Journal Article | 2018 | Convergence on reduced stress behavior in the Mexican Blind Cavefish |
| Powers, A.K., Kaplan, S.A., Boggs, T.E. and Gross, J. | Journal Article | 2018 | Facial bone fragmentation in blind cavefish arises through two unusual ossification processes |
| Gore, A., Jeffery, W., Retaux, S. and Rohner, N. | Book | 2018 | Cavefish development |
| Stern, D.B and Crandall, K.A. | Journal Article | 2018 | The evolution of gene expression underlying vision loss in cave animals |
| Gore, A.V., Rohner, N., Rétaux, S. and Jeffery, W.R. | Journal Article | 2018 | Seeing a bright future for a blind fish |
| Xiong, S., Krishnan, J., Peuß, F. and Rohner, N. | Journal Article | 2018 | Early adipogenesis contributes to excess fat accumulation in cave populations of Astyanax mexicanus |
| Ma, L., Strickler, A.G., Parkhurst, A., Yoshizawa, M., Shi, J. and Jeffery, W.R. | Journal Article | 2018 | Maternal genetic effects in Astyanax cavefish development |