Metadata
Caecobarbus geertsii
Boulenger 1921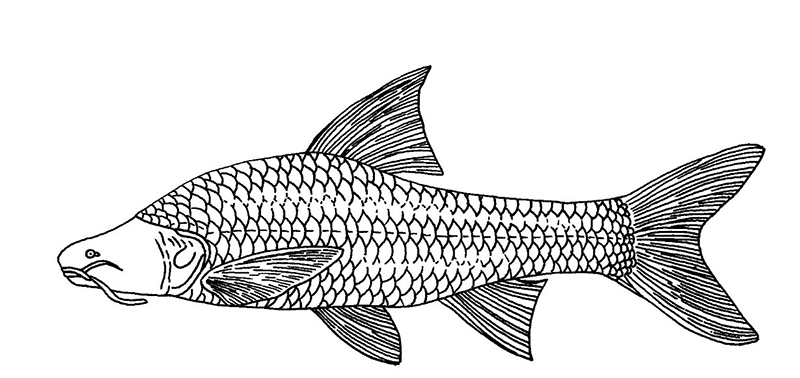 | ORDER | SUB-ORDER | FAMILY |
| --- | --- | --- |
| Cypriniformes | Cyprinoidei | Cyprinidae |
Synonyms
None.
None. Boulenger (1921) spelt the specific name geertsii but it has often been spelt without the final i (geertsi) as a result of a recommendation (International Commission on Zoological Nomenclature 1961:107) made by the second edition of the International Code of Zoological Nomenclature. However, under the rules of the third and fourth editions (International Commission on Zoological Nomenclature 1985: Article 33c,d; International Commission on Zoological Nomenclature 1999: Article 33.4) this is an incorrect subsequent spelling and should not be used.
Country
Democratic Republic of the Congo
Types
The description was based on a syntype series: MRAC 14.610 - 14.612 (3 specimens), BMNH (unknown number of specimens). This species is the type species by monotypy of the cave restricted genus Caecobarbus.
Distribution
Type locality: Grotte de Thysville, a tributary of the Kwilu River, itself a tributary of the lower Zaire River, Democratic Republic of Congo, western Africa (05o15'S, 14o52'E). Recorded also from a further six sites in the same area: Grotte de Gaz, Grotte de Nenga, Grotte de Kiasi, and three unnamed sites, B6c, B15, B20 (Heuts 1951; Heuts and Leleup 1954). Banister and Bailey (1979:210) recorded the species from "caves at Kanka near Mbanza-Ngungu (formerly Thysville), 05o18'S 14o50'E". Details of geology and other caves in the area are given by Quinif (1985).
Habitat
The area of distribution is a continuous karst area but there do not appear to be connections between the seven known sites. All are vadose stream caves which carry small streams in summer but flood in winter.
Systematics
Vervoort (1980) found a chromosome complement of 2n=50 with more than 80 chromosome arms. This arrangement is common among cyprinid fishes. This, together with the absence of karyotypes for other African cyprinid species, does not allow any conclusions about relationships to be made with this method. Howes (1991) placed this species (together with Barbopsis devecchii and Garra andruzzii) in the barbin lineage of the subfamily Cyprininae. Hayes and Armbruster (2017) studied the taxonomy and relationships of the Africa small barbs, a group to which C. geertsii belongs (with Barbopsis devecchii) but an a complete absence of tissue samples for these two subterranean species meant that they were excluded from the analysis. Heuts and Leleup (1954:52-54) note that the fishes in one cave, Grotte B16, have a small pigment patch on the operculum which is absent in all other populations. This may indicate that the B16 population is diverging, or divergent, from other populations (see photograph below). In a thorough phylogenetic classification of the Cypriniformes Tan and Armbruster (2018) placed Caecobarbus as incertae sedis within Cyprinidae as they were unable to determine the subfamily into which to place it.
Conservation Status
MG [VU B1ab(i,ii,iii,iv)+2ab(i,ii,iii,iv):3.1:2010]
R (IUCN 1990), E (IUCN 1993), VU A1e, B1+2e, D2 (IUCN 1996, 2000).
Sedimentation flowing into the caves poses the main threat to Caecobarbus geertsii. At least one cave is known to be used as a quarry. The species is known from more than five but fewer than 10 locations. The EOO and AOO are estimated to be far less than the criteria for the Vulnerable status, but the estimated number of locations restrict the assessment possibilities for this species to the Vulnerable status (Moelants, T. 2010. Caecobarbus geertsii. The IUCN Red List of Threatened Species 2010: http://dx.doi.org/10.2305/IUCN.UK.2010-3.RLTS.T3449A9866689.en. Downloaded on 03 July 2017).
This was the first African fish to receive some statutory protection when it was placed on a list of protected animals of the (then) Belgian Congo (together with the more prominent Gorilla and Chimpanzee) (Frechkop 1941). Skelton, Tweddle and Jackson (1991:230) report that this species is collected for the aquarium trade because of its novelty. This species was listed in CITES Appendix II in 1981 (CITES 1981) to protect it from this trade. This means that an export permit is required before animals can be removed from Democratic Republic of Congo. In 1993 1500 wild caught individuals were imported into the USA, 30, source unknown, to Japan in 1994 and 6, captive-bred, to Italy in 1996 (John Caldwell, WCMC, pers. comm.). See also Proudlove and Romero (2001).
This species is found in Ecoregion 80 (Thysville Caves) of Thieme et al. (2005). This is an area of subterranean and spring systems which is globally outstanding faunistically, with a conservation status of endangered and a priority class of 1 (Reid 2005).
Key References
| | | | |
| --- | --- | --- | --- |
| Pellegrin, J. | Journal Article | 1921 | Les poissons des eaux douces de l'Afrique de nord francaise (Maroc, Algerie, Tunisie, Sahara) |
| Schouteden, H. | Journal Article | 1924 | Un poisson congolais aveugle |
| Pellegrin, J. | Journal Article | 1931 | Les Cyprinides cavernicoles d'Afrique |
| Gerard, P. | Journal Article | 1936 | Sur l'existence de vestiges oculaires chez Caecobarbus geertsii |
| David, L. and Poll, M. | Journal Article | 1937 | Contribution a la faune ichthyologique de Congo Belge. Collections du Dr H. Schouteden (1924-1926) et d'autres recolteurs |
| Petit, G. and Besnard, W. | Journal Article | 1937 | Sur le comportement en aquarium du Caecobarbus geertsii Blgr |
| Petit, G. | Journal Article | 1938 | Au sujet de Caecobarbus geertsii Boulenger |
| Frechkop, S. | Journal Article | 1941 | Animaux proteges au Congo Belge |
| Heuts, M. J. | Journal Article | 1951 | Ecology, variation and adaptation of the blind African cave fish Caecobarbus geertsii Blgr |
| Heuts, M. J. | Journal Article | 1953 | Regressive evolution in cave animals |
| Thines, G. | Journal Article | 1953 | Recherches experimentales sur la photosensibilite du poisson aveugle Caecobarbus geertsi Boulenger |
| Thines, G. | Journal Article | 1954 | Etude comparative de la photosensibilite des poissons aveugles Caecobarbus geertsii Blgr et Anoptichthys jordani Hubbs et Innes |
| Heuts, M. J. and Leleup, N. | Journal Article | 1954 | La geographie et l'ecologie des grottes du Bas-Congo: les habitats de Caecobarbus geertsii Blgr |
| Olivereau, M. and Herlant, M. | Journal Article | 1954 | Etude histologique de l'hypophyse de Caecobarbus geertsi |
| Quaghebeur, M. | Thesis | 1955 | Onderzoekingen over blinde grotvissen in Verband Met de reductie in de ontwikkeling van hun ogen |
| Leleup, N. | Journal Article | 1956 | La faune cavernicole du Congo Belge et considerations sur les coleopteres reliques d'Afrique intertropicale |
| Leleup, N. | Journal Article | 1956 | Description de deux grottes du Bas-Congo |
| Olivereau, M. and Francotte-Henry, M. | Journal Article | 1956 | Etude histologique et biometrique de la glande thyroide de Caecobarbus geertsi |
| Quaghebeur, M. | Thesis | 1957 | Onderzoek over de reductie van de ogen, van de oogkas en van het tectum opticum bij blinde grotvissen |
| Quaghebeur, M. | Thesis | 1957 | Etude histologique et biometrique de l'oeil de Caecobarbus |
| Leleup, N. | Journal Article | 1957 | La faune cavernicole du Congo Belge |
| Luling, K. H. | Journal Article | 1957 | Caecobarbus geertsi Boulenger - seine Entdeckung, verbreitung und Lebensweise - und nochmals Anoptichthys jordani Hubbs und Innes |
| Thines, G. | Journal Article | 1958 | Beobachtungen uber die Phototaxis und die Thermotaxis des blinden Hohlenfisches, Caecobarbus geertsi (Cyprinidae) |
| Stolk, A. | Journal Article | 1959 | Experimenten met grotbewonende vissen |
| Nieuwenhuizen, A. van den | Journal Article | 1961 | Caecobarbus geertsi. Bericht uit Thysstad |
| van den Nieuwenhuizen, A. | Journal Article | 1961 | Caecobarbus geertsi, bericht uit Thysstad (naar gegevens van Julien de Beer) |
| Thines, G. and Wissocq, N. | Journal Article | 1972 | Etude comparee du comportement alimentaire de deux poissons cavenicoles (Anoptichthys jordani Hubbs et Innes et Ceacobarbus geertsii Blgr) |
| Thines, G. and LeGrain, J. M. | Journal Article | 1973 | Effets de la substance d'alarme sur le comportement des poissons cavernicoles Anoptichthys jordani (Characidae) et Caecobarbus geertsii (Cyprinidae) |
| Vervoort, A. | Journal Article | 1980 | Karyotype of Caecobarbus geertsii (Teleostei, Cyprinidae) |
| Berti, R. and Thines, G. | Journal Article | 1980 | Influence of chemical signals on the topographic orientation of the cave fish Caecobarbus geertsi Boulenger (Pisces, Cyprinidae) |
| CITES | Journal Article | 1981 | Proposal to include Caecobarbus geertsi and Appendix I and all other species of blind cave fishes (except the species commercially known as Anoptichthys jordani) in Appendix II |
| Leveque, C. and Daget, J. | Book Section | 1984 | Caecobarbus geertsii Boulenger, 1921 |
| Thys van den Audenaerde, D. F. E. | Journal Article | 1999 | A peacock, a blind barbel, a railway wagon and a disappointed ichthyologist |
| Romero, A. and Benz, K. | Journal Article | 2000 | The unsung heroes of speleology |
| Proudlove, G.S. and Romero, A. | Journal Article | 2001 | Threatened fishes of the world: Caecobarus geertsii Boulenger, 1921 (Cyprinidae) |
| Thieme, M.L., Abell, R., Stiassny, M.L.J.,Skelton, P., Lehner, B., Teugels, G., Dinerstein, E., Kamdem-Toham, A., Burgess, B., and Olson, D. | Book | 2005 | Freshwater ecoregions of Africa and Madagascar. A conservation assessment |
| Reid, G.M. | Book Section | 2005 | Ecoregion 80. Thysville Caves |
| Vreven, E., Kimbembi ma Ibaka, A. and Wamuini, S. | Book Section | 2011 | The Congo blind barb: Mbanza-Ngungu's albino cave fish |