Metadata
Sinocyclocheilus microphthalmus
Li 1989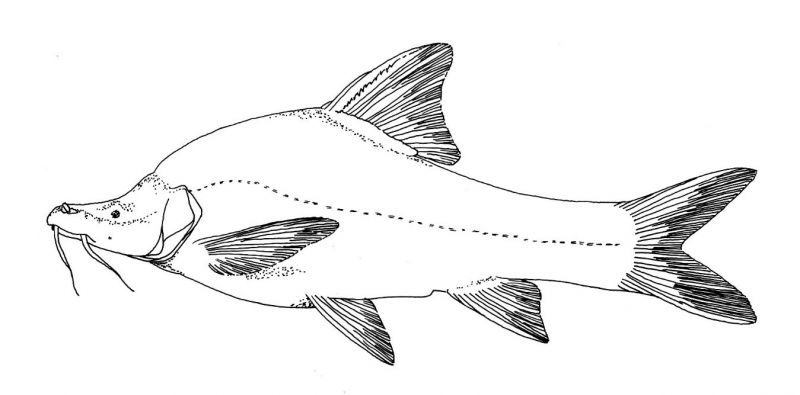 | ORDER | SUB-ORDER | FAMILY |
| --- | --- | --- |
| Cypriniformes | Cyprinoidei | Cyprinidae |
Synonyms
Anchicyclocheilus halfibindus Li and Lan 1992
Sinocyclocheilus halfibindus (Li and Lan 1992) Wang and Chen 1998
Types
Holotype: TMNH 8650212, 108.1mm SL. Paratypes (12): TMNH 8650211, 8650213-8650223, 55.5mm - 123.36mm SL. All paratypes except 8650221 and 8650222 are kept with the holotype. The latter two are kept at the Guangxi Museum.
Systematics
A member of the subfamily Barbinae. Most closely related to Sinocyclocheilus jii which may be a troglophilic species (Chen and Yang, 1993b). Wang and Chen (1998) revised the diagnosis of the genus Sinocyclocheilus.
Conservation Status
TLO [VU D2:2.3:1996]
(Kottelat, M. 1996. Sinocyclocheilus microphthalmus. The IUCN Red List of Threatened Species 1996: http://dx.doi.org/10.2305/IUCN.UK.1996.RLTS.T20254A9181750.en. Downloaded on 04 July 2017).
Museum Holdings
As above only.
Internet Resources
Lunghi et al. (2019) Open Access paper
Key References
| | | | |
| --- | --- | --- | --- |
| Li, G.L. | Journal Article | 1989 | On a new fish of the genus Sinocyclocheilus from Guangxi, China |
| Chen, Y.R. and Yang, J.X. | Journal Article | 1993 | Species and origin of cave dwelling Sinocyclocheilus fishes |
| Chen, Y.R. and Yang, J.X. | Journal Article | 1993 | A synopsis of cavefishes from China |
| Wang, D. and Chen, Y.Y. | Journal Article | 1998 | On the diagnosis of Sinocyclocheilus and the taxonomic position of its closely related genus Anchicyclocheilus (Cypriniformes: Cyprinidae: Barbinae) |
| Xiao, H, Zhang, R, Feng, J, Ou, Y., M, Li, W, Chen, S and Zan, R | Journal Article | 2002 | Nuclear DNA content and ploidy of seventeen species of fishes in Sinocyclocheilus |
| Li, J., Cai, Y. and Clarke, A. | Journal Article | 2006 | A new species of troglobitic freshwater prawn of the genus Macrobrachium from southern China (Crustacea: Decapoda: Palaemonidae) |
| Pan, Y., Hou, Z. and Li, S. | Journal Article | 2010 | Description of a new Macrobrachium species (Crustacea: Decapoda: Caridea: Palaemonidae) from a cave in Guangxi, with a synopsis of the stygobiotic Decapoda in China. |
| Jiang, Y., Fu, J., Zhang, D. and Zhao, Y. | Journal Article | 2016 | Investigation on the lateral line systems of two cavefish : Sinocyclocheilus macrophthalmus and S. microphthalmus (Cypriniformes: Cyprinidae) |
| Chen, H., Li, C., Liu, T., Chen, S. and Xiao, H. | Journal Article | 2019 | A metagenomic study of intestinal microbial diversity in relation to feeding habits of surface and cave-dwelling Sinocyclocheilus species |
| Lunghi, E., Zhao, Y., Sun, X. and Zhao, Y. | Journal Article | 2019 | Morphometrics of eight Chinese cavefish species |
| Li, P. and Yang, J. | Journal Article | 2019 | Complete mitochondrial genome and phylogenetic analysis of Sinocyclocheilus microphthalmus (Cypriniformes: Cyprinidae) |
| Xu, G. Li, J., Huang, T., Gu, W., Cui, L., Zhang, Y. and Wang, B. | Journal Article | 2019 | The complete mitochondrial genome of Sinocyclocheilus qujingensis (Cyprinoidea: Cyprinidae) |
| Xu, G., Li, J., Huang, T., Gu, W., Cui, L., Zhang, Y. and Wang, B. | Journal Article | 2019 | The complete mitochondrial genome of Sinocyclocheilus huizeensis (Cypriniformes: Cyprinidae) |
| Mao, T.-R., Liu, Y.-W., Meegaskumbura, M., Yang, J., Ellepola, G., Senevirathne, G., Fu, C.-H., Gross, J.B. and Pie, M.R. | Journal Article | 2020 | Evolution in Sinocyclocheilus cavefish is marked by rate shifts, reversals and origin of novel traits |
| Lunghi, E. and Zhao, Y. | Journal Article | 2020 | Do Chinese cavefish show intraspecific variability in morphological traits? |
| Zhao, Y., Zhang, C. and Proudlove, G.S. | Book | 2021 | Fishes of the Genus Sinocyclocheilus (Cypriniformes: Cyprinidae) in China. Systematics, biology, biogeography and cave adaptation |