Metadata
Garra widdowsoni
(Trewavas 1955) Hamidan, Geiger and Freyhof 2014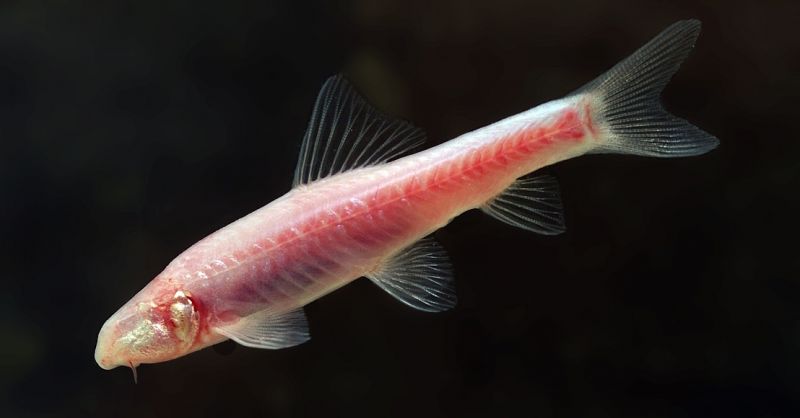 | ORDER | SUB-ORDER | FAMILY |
| --- | --- | --- |
| Cypriniformes | Cyprinoidei | Cyprinidae |
Synonyms
Typhlogarra widdowsoni Trewavas 1955
Country
Iraq
Types
Holotype ("Type" in Trewavas, 1955): BMNH 1953.12.31:1 47.5mm SL. Paratype: BMNH 1953.12.31:2 43mm SL. This species is the type-species by original designation and monotypy of the cave-restricted genus Typhlogarra.
Distribution
Type locality: a "sink-hole" (= small natural chamber in floor of quarry, phreatic zone exposed) near to the Sheik Hadid Shrine, 500m west of the Euphrates on the northern outskirts of the town of Haditha (34o04'N, 42o24'E). This is also the type locality of Caecocypris basimi and the two species coexist. The only other known collection site is the Pigeon Hole, 12 km south of the type locality. A cave dwelling fish was collected from this site around 1950 (Widdowson 1954) but was lost and not identified. A specimen in the BMNH (BMNH 1960.3.1:31) is recorded from this site thus confirming the presence of the species. In a study of intra-populational variation Niazi (1965) was only able to obtain specimens from the type locality.
Habitat
Nothing known. The collection locality is simply a small window into the local phreas.
Systematics
Post (1965) reported that the haploid chromosome number (n) for this species is 24. This appears to be the plesiomorphic state for many teleosts. Niazi (1965) examined 69 specimens (juvenile to adult, 12.0mm - 47.5mm SL) and showed that there is a degree of intra-populational variation within the species. This species belongs to a monophyletic group termed 'labeine cyprinids' by Reid (1978, 1982), where it is joined by other cave-dwelling species, (Garra longipinnis, Garra typhlops, Garra anduzzii, Garra dunsirei, Garra lorestanensis and Garra tashanensis) Howes (1991) accepts this placement, calling it the labeine lineage which is member of the subfamily Cyprininae.
Conservation Status
[CR B1ab(i,ii,iii,iv:3.1:2014]
Freyhof, J. 2014. Typhlogarra widdowsoni. The IUCN Red List of Threatened Species 2014: http://dx.doi.org/10.2305/IUCN.UK.2014-1. RLTS.T22601A19006932.en. Downloaded on 03 July 2017. R (IUCN 1990), R (IUCN 1994), VU D2 (IUCN 1996).
Museum Holdings
As above plus: BMNH 1955.11.23:1-2, 1960.3.1:31, 1979.9.4:7-13 (13 alizarin preparation), 1979.9.4:35-36, 1981.9.21:36-47.
Key References
Need to add Nebeshwar and Vishwanath (2017)
| | | | |
| --- | --- | --- | --- |
| Widdowson, A. G. | Journal Article | 1954 | Explorers of subterranean by-ways |
| Trewavas, E. | Journal Article | 1955 | A blind fish from Iraq, related to Garra |
| Marshall, N. B. and Thines, G. | Journal Article | 1958 | Studies of the brain, sense organs and light sensitivity of a blind cave fish (Typhlogarra widdowsoni) from Iraq |
| Niazi, A. D. | Journal Article | 1965 | Intrapopulational variation within Typhlogarra widdowsoni Trewavas (Cyprinidae) with some observations on their behaviour |
| Peters, N. and Peters, G. | Journal Article | 1965 | Die degneration der augen von Typhlogarra widdowsoni (Cyprinidae, Pisces) |
| Post, A. | Journal Article | 1965 | Vergleichende Untersuchungen der chromosomen-zahlen bei susswasser-Teleosteen |
| Reid, G. McG. | Thesis | 1978 | A sytematic study of labeine cyprinid fishes with particular reference to the comparative morphology, functional morphology and morphometrics of African Labeo species |
| Banister, K. E. and Bunni, M. K. | Journal Article | 1980 | A new blind cyprinid fish from Iraq |
| Reid, G. McG. | Journal Article | 1982 | The form, function and phylogenetic significance of the vomero-palatine organ in Cyprinid fishes |
| Whitear, M. and Mittal, A. K. | Journal Article | 1983 | Fine structure of the club cells in the skin of Ostariophysan fishes |
| Sandford, M. | Journal Article | 1983 | Ervaringen met enkele minder bekende holenvissen |
| Howes, G. J. | Book Section | 1991 | Systematics and biogeography: an overview |
| Sayyadzadeh, G, Esmaeili, HR and Freyhof, J | Journal Article | 2015 | Garra mondica, a new species from the Mond River drainage with remarks on the genus Garra from the Persian Gulf basin in Iran |
| Esmaeili, HR, Sayyadzadeh, G, Coad, B. W. and Eagderi, S | Journal Article | 2016 | Review of the genus Garra Hamilton, 1822 in Iran with description of a new species: a morpho-molecular approach (Teleostei: Cyprinidae) |